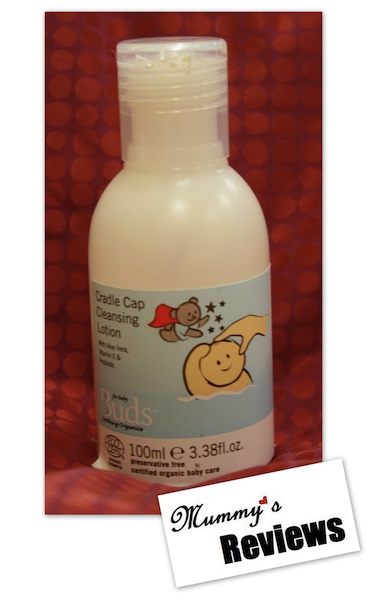 I almost exclusively use Buds products on Baby V's skin since they are do not contain harmful preservatives and are PEG-free. Recently, a new range of organic products has been launched.
Baby V's scalp has been bothered by cradle cap. Even though I have removed them using Buds Baby Oil, the condition recurred after a few days and Baby V's scalp looked very dry.
Then I came across Buds Cradle Cap Cleansing Lotion at Chubby Chubby, Desa Parkcity. Since Buds is one of my trusted brands, I decided to give it a try even though the small bottle costs RM39.90.
After clearing the cradle cap using Buds Baby Oil, I applied a small amount of the lotion (using cotton wool) in a circular motion on Baby V's scalp and washed off the excess with water. (This step replaces shampooing the cradle cap area since shampoo tends to dry the scalp.) I shampooed the rest of his head using Buds Head-to-Toe Bath Wash for Newborns as usual.
Voila! Baby V's scalp was very moisturised after the wash and the cradle cap returned only after about 2 weeks, affecting a much smaller area. I removed it using Buds Baby Oil again and continued to use Buds Cradle Cap Cleansing Lotion in his front scalp in replacement of shampoo and the cradle cap has not returned since.
I am very satisfied with the results and would recommend this new product to babies affected by cradle cap.
Pros:
Organic content
Lives up to its name as a solution for cradle cap
Cons: Cannot think of any
—
Get Your Own: This lotion is available at major baby stores, departmental stores and baby-mel.com.