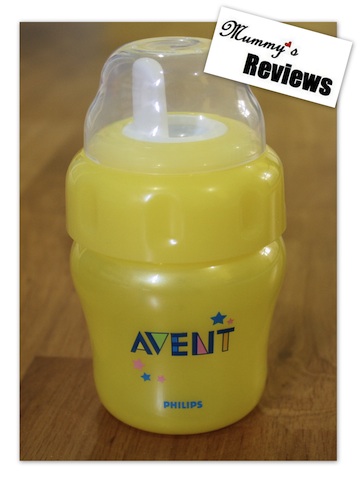 Baby V has been exclusively breastfed since birth; as a Stay-At-Home-Mum, I enjoy the convenience of direct feeding. I gave him a bottle-feed 1-2 times a week so that he would get used to the bottle teat. When I observed that he LOVED the bottle teat, complacency set in and I stopped offering him expressed breastmilk (EBM) for a while (he was 3 months 3 weeks old).
A month later, I gave him a bottle-feed and he totally rejected it! Panic set in and I quickly searched for an alternative, which was when I bought AVENT Magic Cup Soft Spout.
For the past month, I have been offering Baby V about 10ml of EBM almost daily using the Magic Cup. He neither rejects the spout nor drinks from it; he simply bites it (maybe treating it as a huge teether) and plays with it using his tougue. Hopefully, he will learn to drink from the cup soon.
Pros:
Non-spill
Colourful design attracts baby's attention
Cons:
The spout has a small part, which needs to be attached to it before use and detached for washing. This tiny piece can easily get lost during washing.
—
Update on 27 May 2010:
Vee is now 15 months old and drinks well from open cups. I was curious if he could now sip from this cup. If he does, I could use it as his water bottle. I let him try the cup, yet he still does not sip from it. Guess this cup is fated to belong to the next baby.
—
Get Your Own
AVENT Magic Cup Soft Spout is available in most major baby stores and departmental stores.
You may also check the price at Amazon.com here: Avent 7oz Magic Trainer Cup Twin Pack
*
*: affiliate link to support the growth and maintenance of Mummy's Reviews™