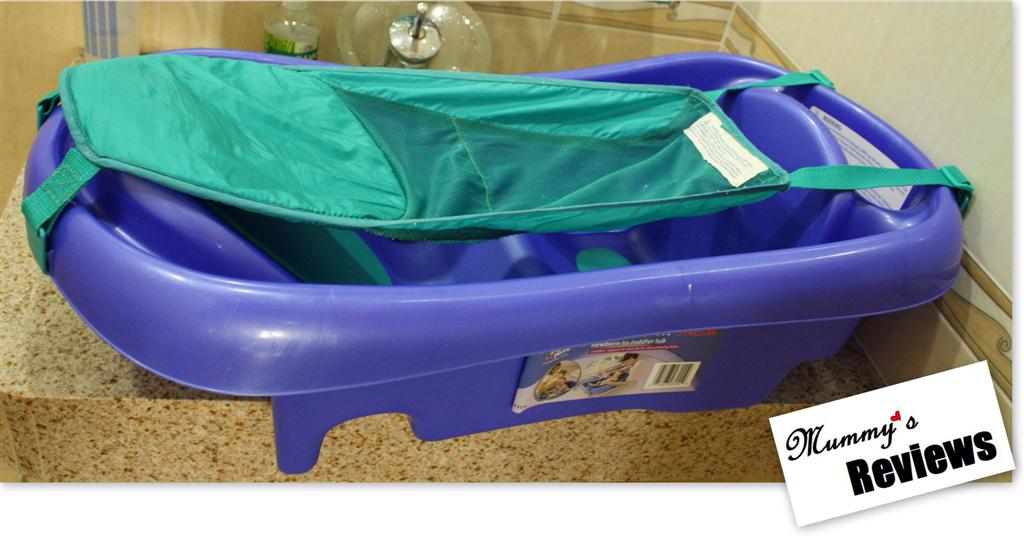 As a first-time mummy, I was paranoid about the baby sliding off my arms when I bathed him, so I wanted a bath tub that ensured safety. After shopping around, I decided on The First Years Newborn-to-Toddler Bath Tub, which is one of my best buys for Baby V. Mine is the previous version with a green mesh sling, bought when it was steeply discounted at Isetan (in Kuala Lumpur).
The bath tub's sling allows my hands to be free when bathing Baby V. Therefore, it is a breeze to add more water or grab the towel, even when he was a newborn. The clever design makes bathing baby a much safer, calmer and enjoyable experience. No wonder Baby V loves his daily bath!
Even my confinement lady commented the bath tub and recommended it to a friend with a preemie baby.
Pros:
Keeps hands free to reach for things when baby is having a bath
Comfortable padded head-rest
Newborn lies comfortably in sling when bathing
Safe — older baby can sit in tub without sliding down
Cons:
Small crevices that need a good scrub every now and then
—
Get Your Own
The First Years Newborn-to-Toddler Bath Tub is available in most major departmental and baby stores.
You may also check the price at Amazon.com here: The First Year's Infant To Toddler Tub with Sling
*
*: affiliate link to support the growth and maintenance of Mummy's Reviews™