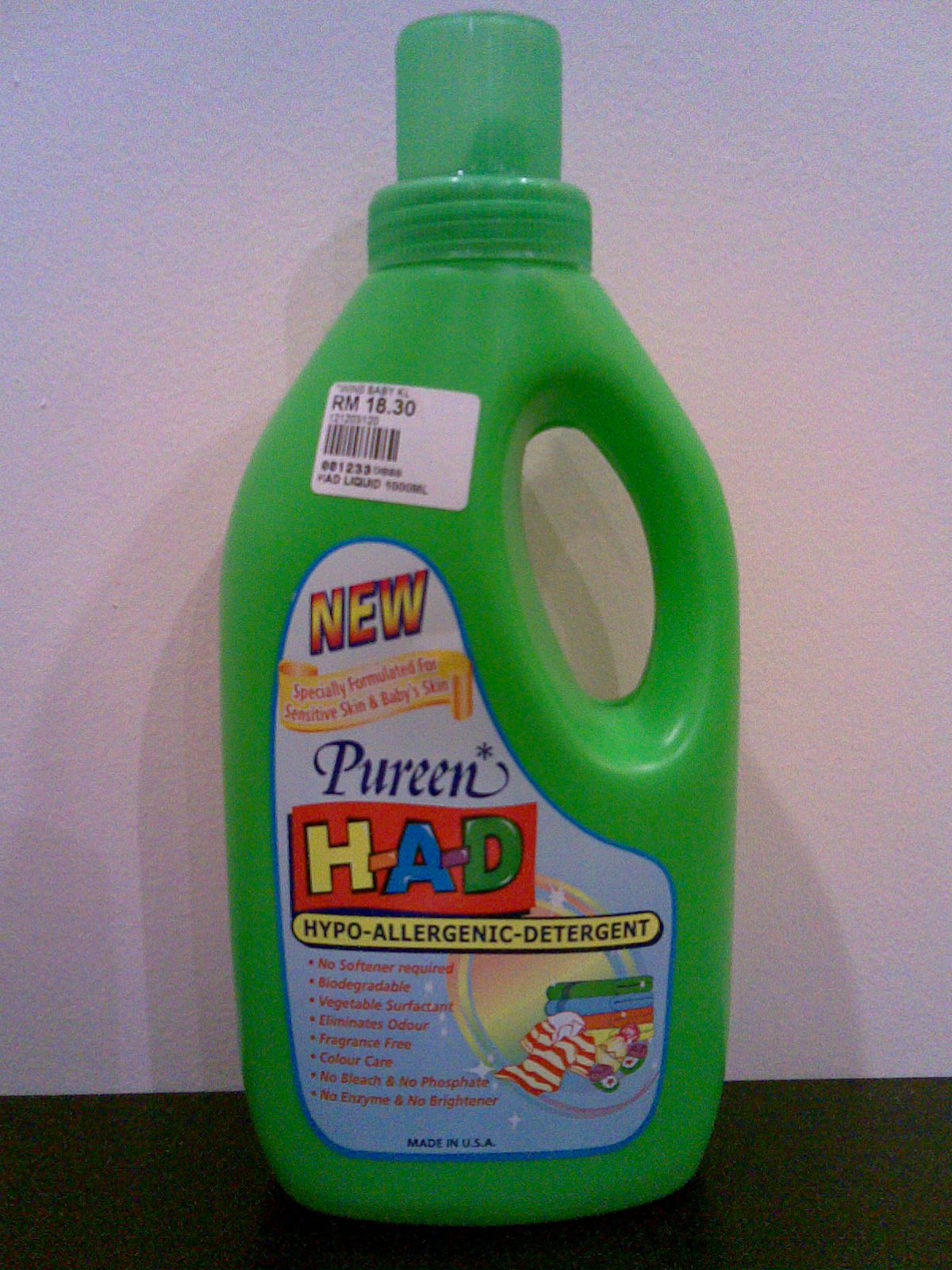 After reading up on cloth diapering, I realised that the choice of detergent is important to protect the performance of cloth diapers. Most importantly, the detergent should not contain whitening enzymes, fabric softener and chlorine bleach.
Pureen H-A-D Liquid Detergent meets the requirements needed to wash cloth diapers; it is also specially formulated for babies' sensitive skin. For the past 6 months, I have laundered Baby V's clothes and diapers using the detergent. It is very foamy; 1/4 cup or less is sufficient to clean Baby V's daily laundry load.
It leaves his clothes clean and smelling fresh (no artificial fragrances). Although I stripwash his cloth diapers only once in every 1-2 months, I have not had an issue with detergent build-up (that could cause diapers to repel liquid and lead to leakage).
Price could vary significant at different retailers, ranging from RM16+ to RM18+. I have found the detergent at Village Grocer at Bangsar Village and BabyJaya and do hope that they still carry it.
—
Update on 27 April 2015:
These are where we've found stocks:
Singapore:
Kuala Lumpur, Malaysia:
Village Grocer (Bangar Village, KL)
Parkson, Pavilion, KL
At a recent baby fair, a Pureen staff told me that they are still importing Pureen H-A-D.
—
Pros:
Cleans cloth diapers well and does not affect their performance
1/4 cup or less is sufficient to clean a full-load of baby clothes and diapers (Baby V's clothes/diapers are washed daily and each 1-litre bottle can last about 3 months.)
Gentle on baby's skin (no artificial fragrances)
Cons:
Only available in 1-litre bottle (I would prefer 2-litre bottles for cost-savings and environmental-friendliness.)
Few places retail it