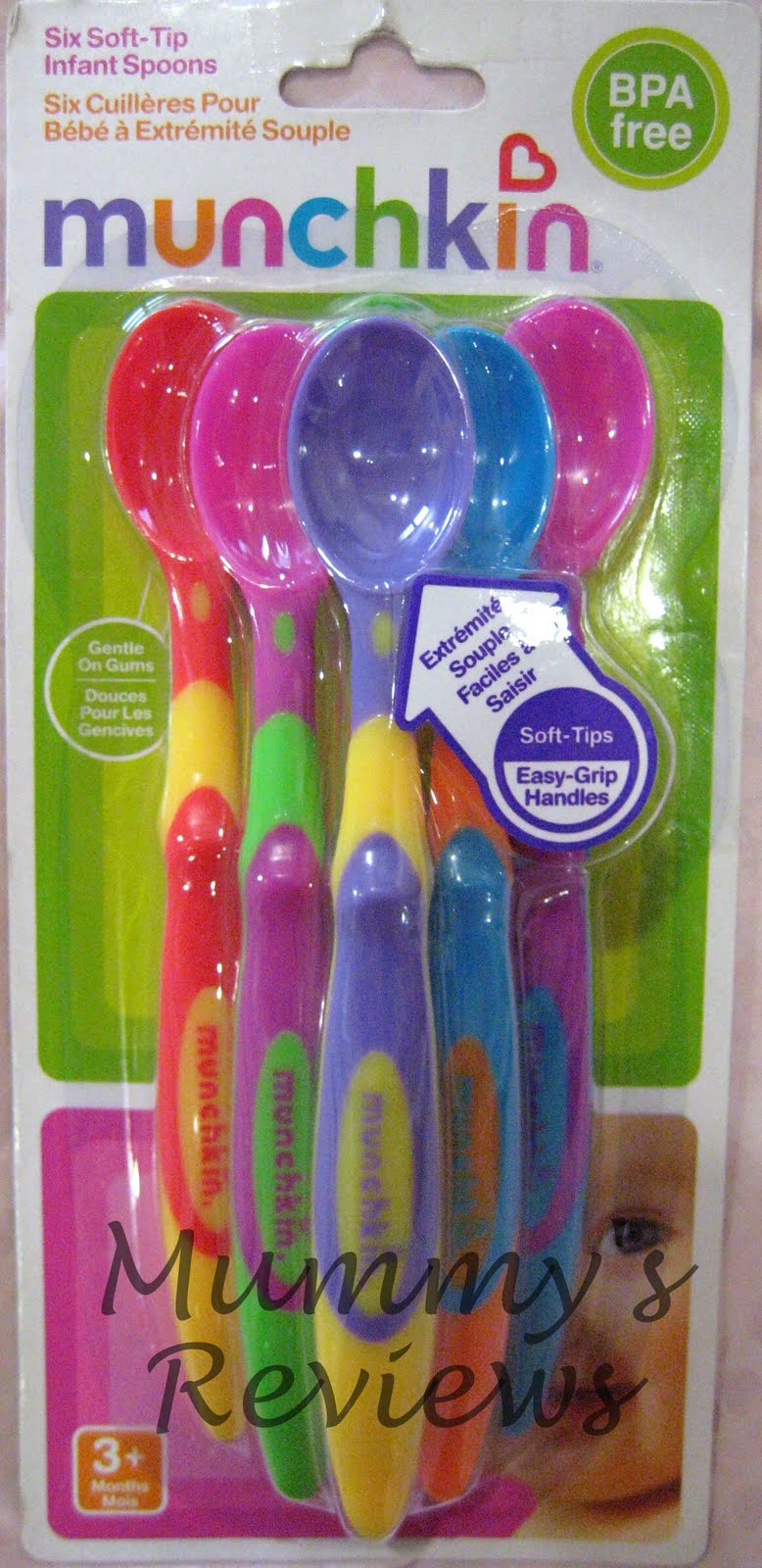 I bought these Munchkin Soft-Tip Infant Spoons to go with the Stay-Put Bowls for Baby V's meals. They came in a pack of 6 for RM29.90 at Robinsons (The Gardens, Mid Valley), which is value-for-money.
For each meal, I get ready at least 3 clean spoons — 1 to feed, 1 to keep baby's hands busy, and 1 as spare in case of dropped spoon(s). It works in reducing chaos during meal-time!
The attractive spoons provide a non-slip grip and the tips are just the right size for small mouths. (Baby V's mouth is really tiny relative to his large built!) They are also significantly longer than other infant feeding spoons, allowing adults' big hands to grip them well.
The first time Baby V held the spoon, he directed the tip right into his mouth and I was impressed! Credits go to the designer of these spoons.
Pros:
Value-for-money pack
Non-slip grip
Long — great for adults' hands
Washes well
Attractive colours keep baby interested during meals
Cons:
Made of plastic instead of stainless steel
Plastic tip subject to wear and tear, especially when baby bites hard on it during teething
Update on 13 November 2012: For Baby Jae, I've swopped to using stainless steel teaspoons. He loves biting on them when teething and no worries about wear and tear.
—
Get Your Own
Munchkin Soft-Tip Infant Spoons are available in most major babystores. We bought them at the baby department in Robinsons (KL, Mid Valley).
You may also check the price at Amazon.com here: Munchkin Soft-Tip Infant Spoon – 6 Pack
*
—
Disclosure: I bought my own Munchkin Soft-Tip Infant Spoons.
Mummy's Reviews™ is a review site that receives compensation if readers make purchases from affiliate links (these are marked with an *). If we receive compensation from the companies whose products we review, this would be disclosed. These compensation help to maintain and grow Mummy's Reviews™. We test each product thoroughly and give ratings according to our experience with it. We are independently owned and the opinions expressed here are our own.
—
Read more on Feeding Solids.