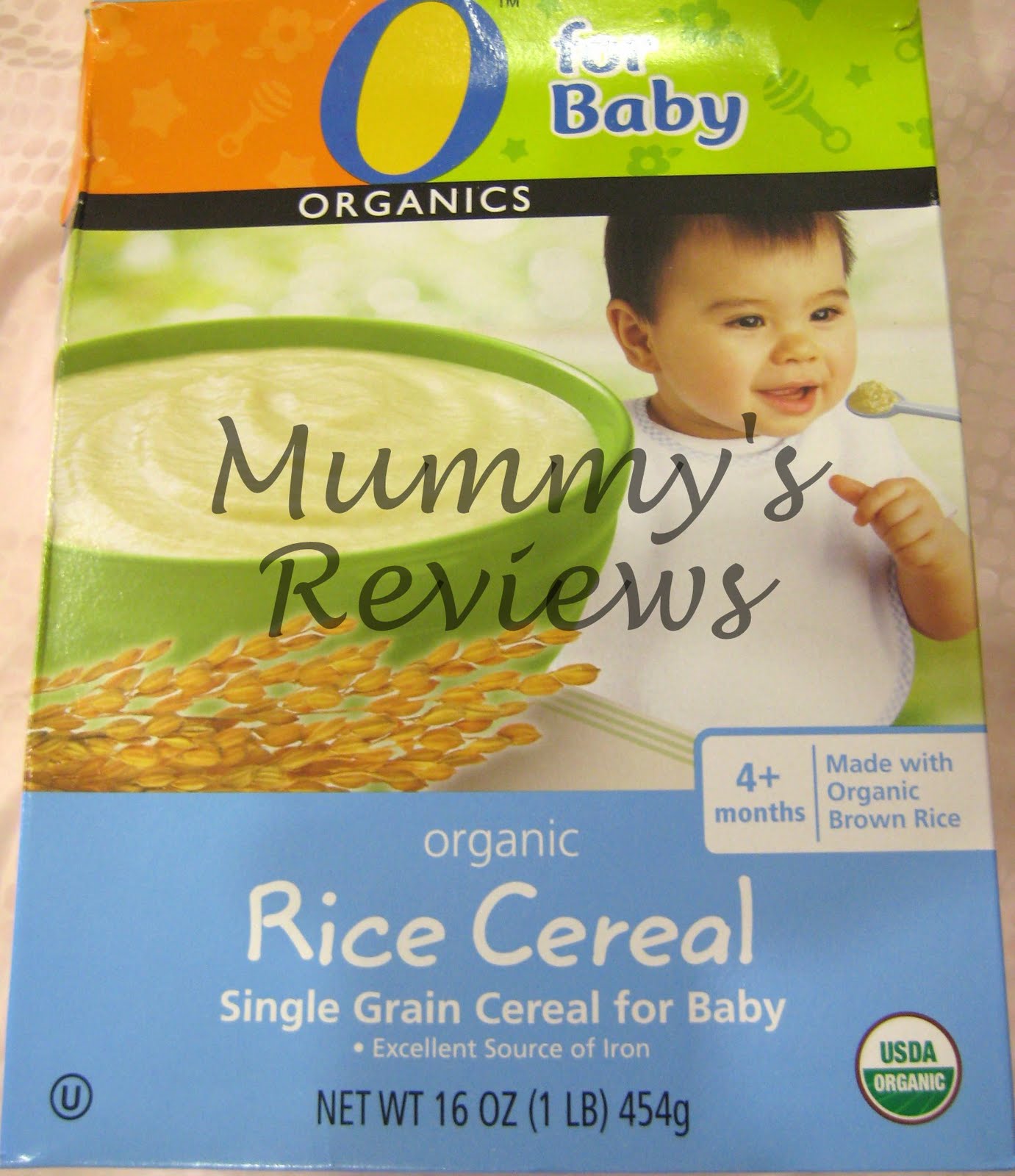 For Baby V's first semi-solid meal, I was looking for an organic rice cereal and bought O Organics Single Grain Rice Cereal from Country Farm Organics (Bangsar Village) to try. The purchase was out of convenience rather than a diligent shopping effort.
The 16oz (454g) pack costs about RM45 and has to be consumed within 30 days of opening. This is a product of Safeway in the U.S.A. and consists of organic brown rice, alpha-amylase (enzyme) and electrolytic iron. After adding milk or water to the cereal to the desired consistency, it would be ready for consumption.
The cereal came in a cardboard package with a spout opening at the side. I tried pouring the cereal from the spout but they became stuck at the opening. In the end, I tore the box from the top flap and stored the cereal in Tupperware containers instead. As the cereal flakes were small and paper-thin, they dispersed easily. I was unaware of this initially and a fan blew right at the cereal when I was scooping it, creating a mess in the room. Hmmph!
For Baby V's first meal, I added expressed breastmilk and cooled boiled water to 1 tablespoon of cereal. The mixture was very easily prepared. As the cereal was rather liquid and contained the familiar taste of breastmilk, Baby V finished the entire portion. I tried a bit of the mixture and it tasted fine.
For his second meal, I added only water to 2 tablespoons of cereal until a relatively thick consistency was achieved. He finished the portion again and wanted more!
However, the pack is too big for a baby to finish in 30 days, so I had to eat the cereal for breakfast as well.
I would be shopping around for other brands of organic baby rice cereal. If you have any recommendations, feel free to drop me a message. Thank you very much!
Pros:
Easy to prepare
Smooth consistency
Baby V enjoyed eating it
Cons:
Packaging needs improvement — cereal could not be poured easily from side spout and box was not easily opened to empty contents
Pack is too big for baby to finish in 30 days
Update on 13 November 2012:
For Baby Jae, my current favourite baby rice cereal is Earth's Best Organic Whole Grain Rice Cereal (Check details and reviews at
iHerb here*
)
—
Disclosure: I bought my own O Organics Single Grain Rice Cereal.
Mummy's Reviews™ is a review site that receives compensation if readers make purchases from affiliate links (these are marked with an *). If we receive compensation from the companies whose products we review, this would be disclosed. These compensation help to maintain and grow Mummy's Reviews™. We test each product thoroughly and give ratings according to our experience with it. We are independently owned and the opinions expressed here are our own.