At the rate that Baby V is growing, I figured that he would burst his M-size Drybees Pocket Diapers by 8 months old (he is now 6.5 months old). Before he was born, I naively thought that he would be using M-size cloth diapers until toddlerhood!
My hunt for pocket diapers that fit chubby babies with thunder thighs thus began. I searched various brands; explored both one-size and sized diapers; and emailed the manufacturers or retailers to confirm the largest waist and thigh settings for their diapers.
The two finalists were Knickernappies 2G Large and Happy Heinys One-Size Pocket Diaper (Snap) (listed price: S$36.50), both available at Babe Hause. Happy Heinys falls into No.2 position because it is packaged with two microfibre inserts, so comes at a higher price tag. I have recently stocked up on inserts and certainly did not need any more. However, I was sold by the cute Silly Monkeys print: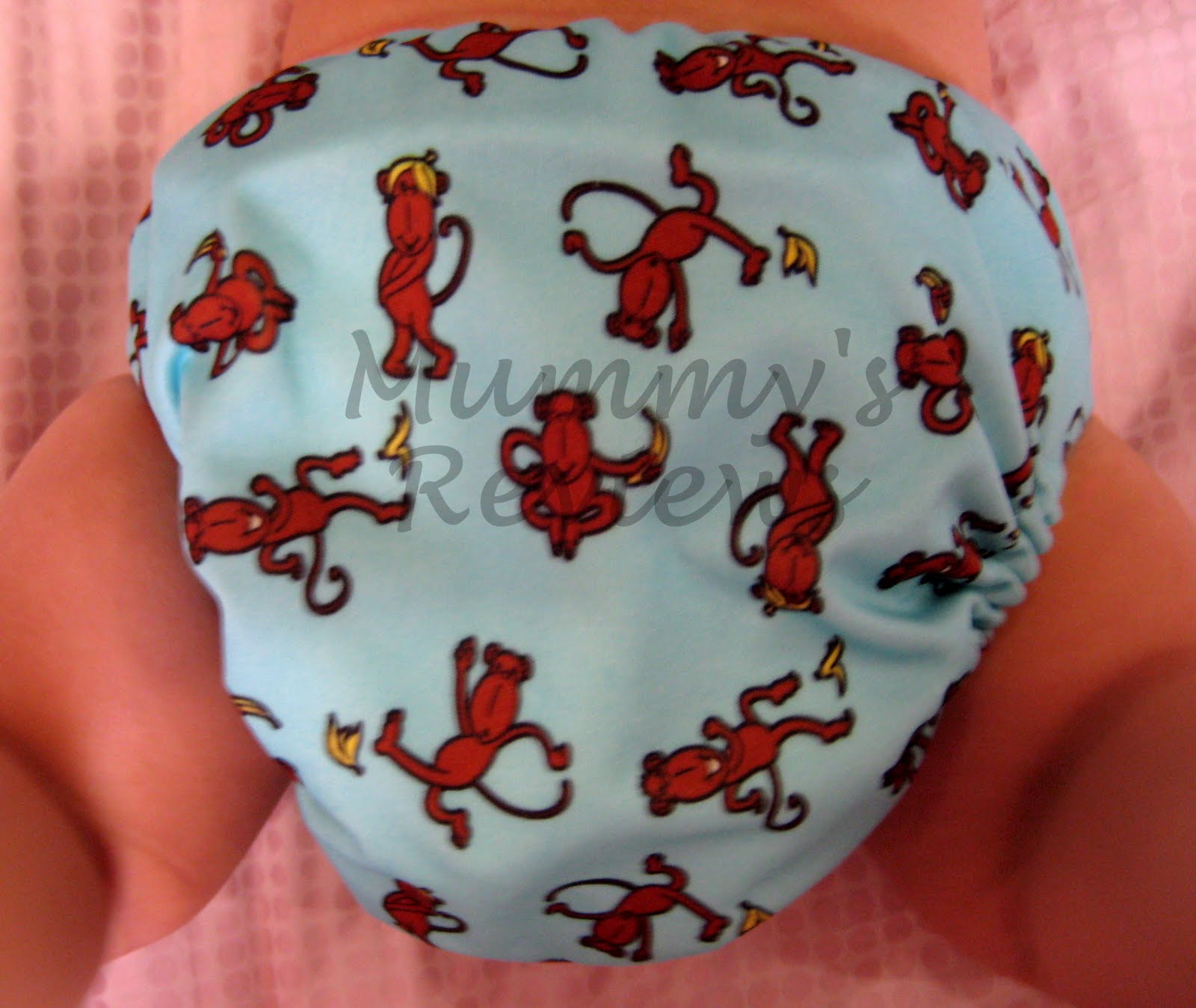 Anyway, the Happy Heinys diaper arrived first and I tried it on Baby V after pre-washing it and the inserts 3 times. It was my first experience with one-size snap diaper and the DOZENS of snaps certainly overwhelmed me! After spending a few minutes figuring out the best settings for the squirmy baby, I was pleased at how well it fitted, with lots of room for future growth.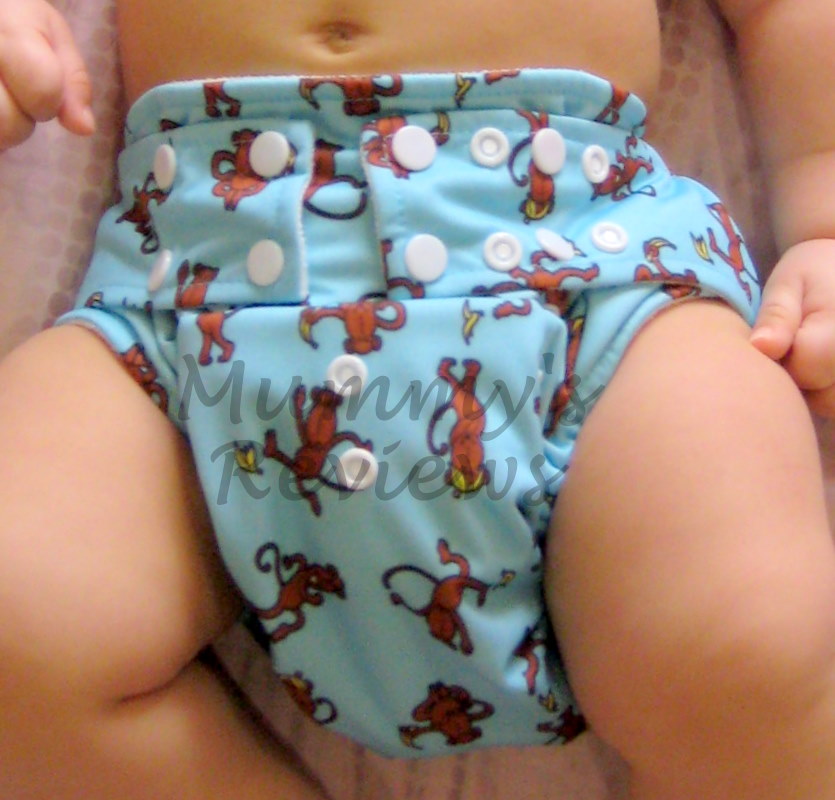 Both the inner fleece and outer PUL layers were very trim and soft. The elastics were also gentle and did not leave any red marks on Baby V's chunky thighs. However, the inner fleece layer feels damp whenever I am changing Baby V. My conclusion is that fleece is not as stay-dry as suedecloth (used in Drybees).
Pros:
Largest settings are huge: up to 19-inch thighs and 31.5-inch waist*!
Gentle elastics
Trim and soft
Cute designs available
Packaged with 2 microfibre inserts, so is cost-efficient for mums new to cloth-diapers
Cons:
Packaged with 2 microfibre inserts, so is more pricey for mums with a large stash of inserts
Inner fleece layer feels damp during diaper changes
Happy Heinys can make mums happier by giving an option to buy the diapers without inserts. I will decide which diaper to stock up on after trying out Knickernappies.
*Fully stretched, measured by retailer
—
Get Your Own
Happy Heinys One-Size Pocket Diaper is available at MummyKnowsBestShop.com (Singapore).
(Update on January 2013: They're on clearance sale at SGD25 each, instead of the usual SGD35!)
You may also check the price at Amazon.com here: Happy Heiny's One Size Cloth Diapers
*
—
Disclosure: Mummy's Reviews™ is a review site that receives compensation if readers make purchases from affiliate links (these are marked with an *). If we receive compensation from the companies whose products we review, this would be disclosed. These compensation help to maintain and grow Mummy's Reviews™. We test each product thoroughly and give ratings according to our experience with it. We are independently owned and the opinions expressed here are our own.