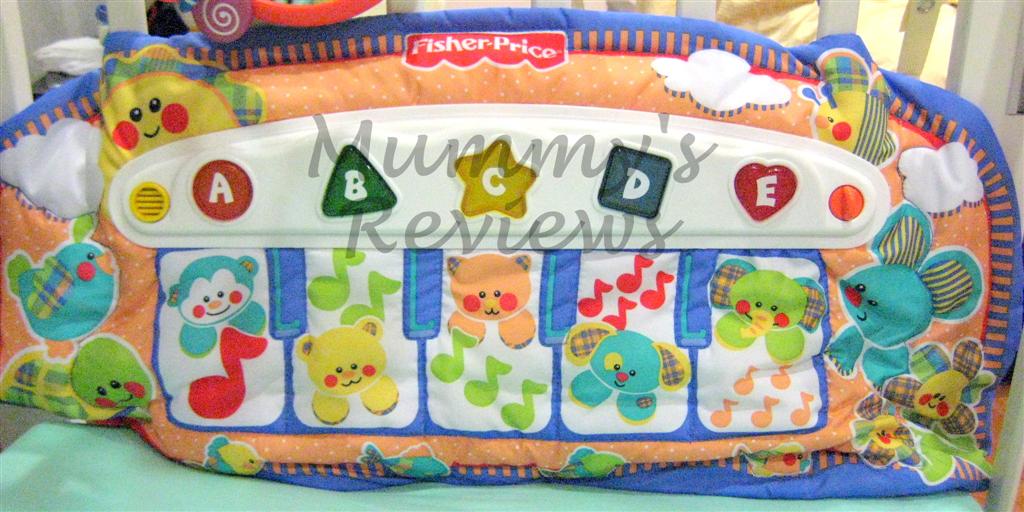 Baby V received this Kick 'n' Learn Piano as a gift. It was tied to one end of his crib when he was about 3 months old and started kicking a lot. At the lying down position, he was unable to see the piano. After I guided his feet to kick the piano, which responded by playing sounds, he got the hang of it quite easily and had his daily kicking exercise with the piano for a few weeks.
By the time he mastered rolling over at 5 months, he preferred to be on his tummy during playtime. The musical medley mode with random lights keeps him entertained for a while, giving me some much-needed freedom.
Pros:
Musical medley with lights keeps baby well-entertained
Energy-efficient
Cons:
Baby cannot see the piano when lying down, so can only kick at it randomly, hoping to hit some buttons
—
Get Your Own
Fisher-Price Kick 'n' Learn Piano is available in major departmental and baby stores.
You may also check the price at Amazon.com here: Fisher Price Link-a-doos Kick & Play Piano
*
*: affiliate link to support the growth and maintenance of Mummy's Reviews™