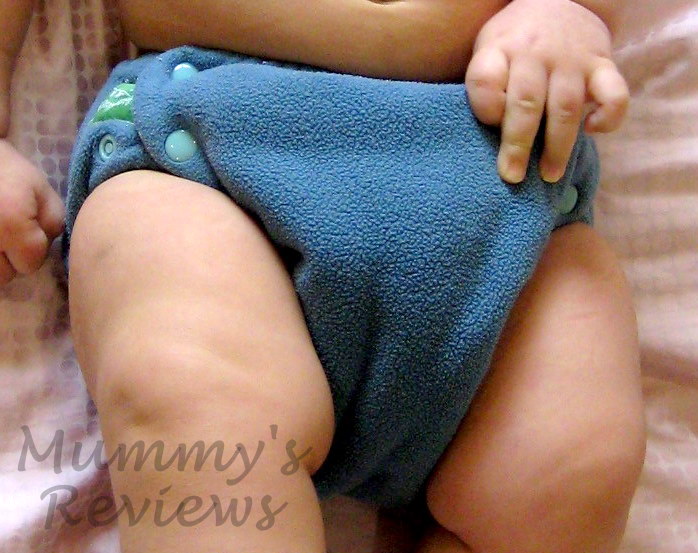 I bought two GAD Mid-Weight Windpro with Microfleece Pocket Diapers (1 small and 1 medium) with the intention for night-time use. However, the S-size diaper leaked several times (the pee flowed right out from between the side snaps, without being absorbed into the diaper insert) and I racked my brains to figure out the cause. Despite a lot of cleaning and changing, I persisted as I loved (and still loves) the diaper's trimness, softness and breathablity. Moreover, side-snapping diapers are very suitable for babies with chunky thighs as the the snaps for waist and thighs can be adjusted independent of each other.
Shannon from GAD replied very promptly to my email enquiry with a few ideas:
Tuck the flaps back onto themselves so that they don't "get in the way"
Add a microfibre towel to GAD hemp insert. Hemp insert may work in other diapers alone, but it may be the fit of the fleece diaper needs a little more to fill it up in the front so that is can work better
Make sure when you put the diaper on him his "goods" are pointed down.
Not every diaper works for every baby and your baby might just work better with front closing diapers until he gets bigger. Side-snapping diapers are fantastic for mobile babies because they can be put on while the baby is standing.
When Baby V grew a little bigger and fitted into the largest setting of the S-size diaper, it seldom leaked (provided he did not squirm about too much during breastfeeding). The M-size fits him perfectly now, as shown in the picture above. Due to the initial leakage experience, I only use this diaper on him for afternoon naps.
Since Baby V has learnt to roll over and fidgets a lot during diaper changes and breastfeeding, side snap diapers are probably not suitable for him at night.
Pros:
Very soft, comfortable and breathable fabric that is great for baby's skin
Trim-fitting fleece diapers
Gentle elastics
Poo is easily removed from inner material
Wash well and inner material is coloured so cannot see stain (even if there is any)
Cons:
Potential leakage through in between snaps, especially when baby squirms about or breastfeeds in side-lying position