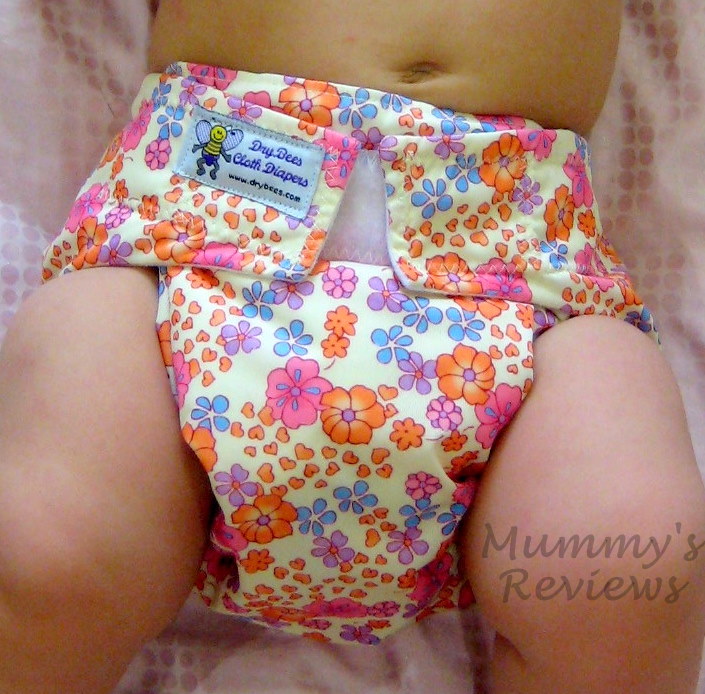 Before investing in modern cloth diapers, I read tonnes of reviews during my pregnancy and decided on Drybees Pocket Diapers. My first purchase was 5 S-size Drybees from Babe Hause (discounted newborn package) and I used them on Baby V from his second month.

They ran out extremely fast as Baby V poo-ed from 8 to 11 times a day! I did not like traditional cloth diapers (lampin) as it was time-consuming to fold them and they felt very wet around Baby V's waist.
I bought another 5 S-size Drybees from Babe Hause; the 10 diapers were sufficient for most days.
Even though Drybees Pocket Diapers are popular, the production is stopped this year. When I first received the news, I armed myself with 10 M-size Drybees from Babe Hause and MiaBambina before they run out.
Baby V is a large baby with chunky thighs and he started using M-size when he turned 5 months (~8.4kg). I admit to squeezing him a little into S-size for a week or two!
Babe Hause is doing a clearance sale for Drybees pocket diapers at 25% to 30% off. Grab them while stocks last!
Pros:
Velcro tabs: very easy to use and adjust (Daddy changes Baby V's diapers and supports Drybees too.)
Inner suedecloth layer keeps baby's skin dry and rash-free
Sunning the diapers removes poo stains easily
Leak-free when worn properly (for Baby V: up to 3-4 hours using 1 Drybees microfibre insert)
Roomy pocket for inserts
Attractive prints: save money on buying shorts and satisfy mummy's vanity
Cons:
Velcro tabs: those on 2 diapers curled outwards after washes, so may not stick as well as before
Elastic not encased with extra row of stitching, so needs to 'roll' inner suedecloth layer into the diaper (around baby's thighs) for better coverage
Inner suedecloth material: 2 different materials used in my 10 diapers. In 3 diapers, the inner material pilled badly. I wished only the pill-free material was used.
Despite the above concerns, I still love Drybees pocket diapers.
Read more about other pocket cloth diapers that I love here: