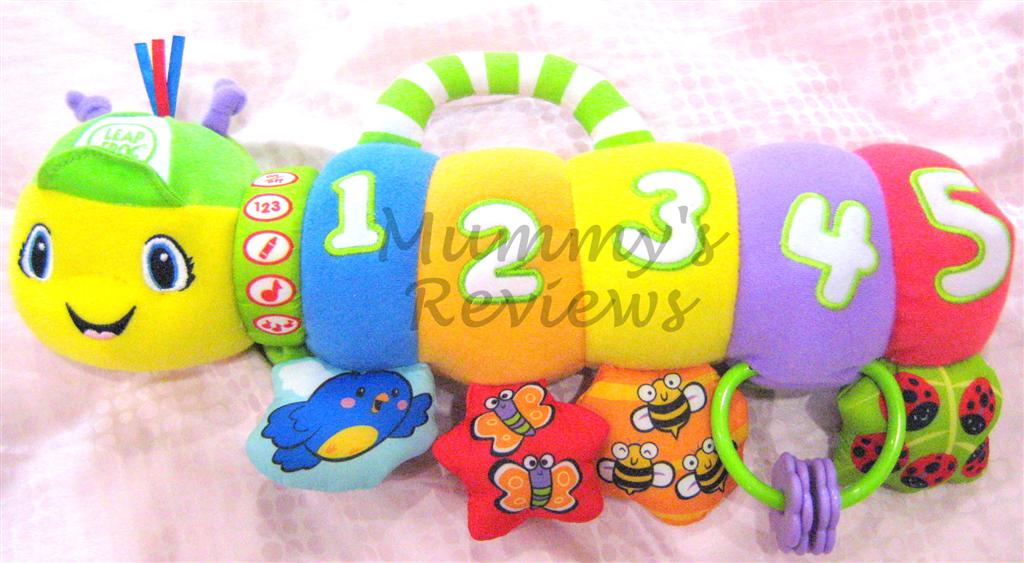 Baby V received the LeapFrog Baby Counting Pal Plush as a gift and it is now his toy on-the-go. It entertains him well with a musical medley of classical tunes while he is in the car seat. I certainly understand how challenging it is to keep babies contented when they have to be strapped up for a long time. This adorable caterpillar did a great job during our recent 4-hour road trip to Singapore and Baby V loves holding on to the mini rattle for a sense of security.
The pair of velcro tabs allows the toy to be attached to the front bar of his Combi Miracle Turn stroller, although it can catch the fabric on the front bar, which is a general downside of velcro tabs. (Snaps would have been much better and lasting too.) Attaching the Baby Counting Pal Plush to the baby stroller provides music-on-demand — important to distract Baby V at times, such as when he feels edgy in lifts.
Besides classical tunes, there is a selection of songs that introduce numbers, colours and animals. However, the woman's voice did not really appeal to Baby V and myself. I was quite alarmed by one part where she sang "bluuuuuuue…" in a super-high note!
The buttons on the left of the toy are rather small and difficult to press, so I need to help Baby V with them. The 'On/Off' button does not seem to work at times too.
Pros:
Entertaining musical medley of classical tunes
Portable — can be attached to stroller and provides music-on-demand
Baby V loves the handy rattle
Cons:
Velcro tabs may catch fabric; do not attach well after several uses
'On/Off' button does not work at times
—
Get Your Own
LeapFrog Baby Counting Pal Plush is available in major departmental and baby stores.
You may also check the price at Amazon.com here: LeapFrog Baby Counting Pal™ Plush
*
*: affiliate link to support the growth and maintenance of Mummy's Reviews™