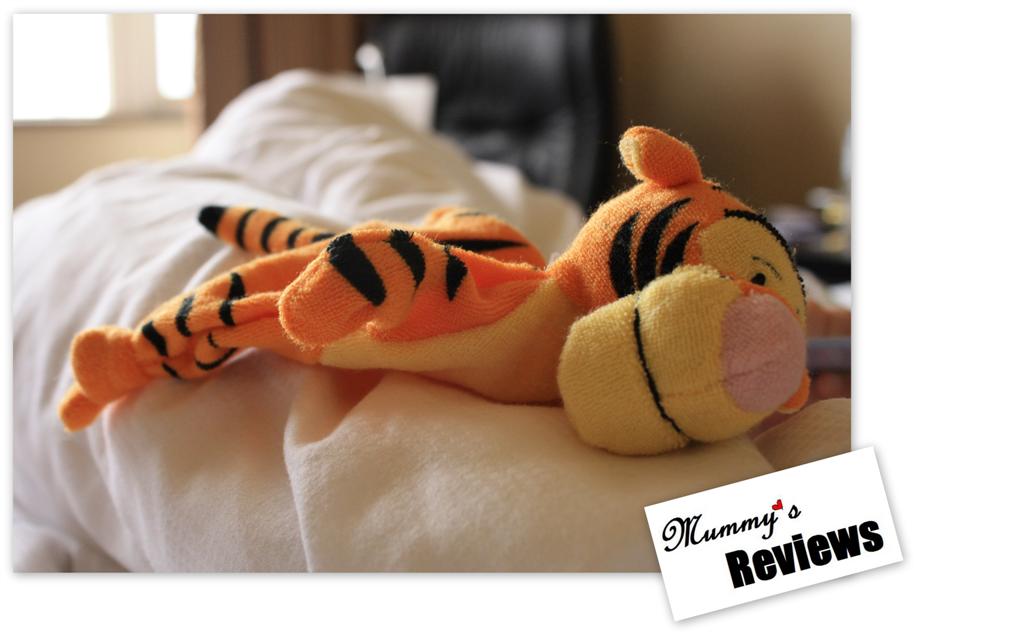 Baby V received this ultra-adorable Tigger Terry Teether as a gift, which was bought at The First Few Years (Paragon, Singapore) (listed price: S$13.90). This is his first cloth teether and his cousin loves hers, so I was eager to see his reaction to it.
Ironically, Baby V plays with the cloth Tigger as a rattle and does not put it into his mouth, even though he has been teething and bites all sorts of things — from his Fisher-Price shape sorter to my beloved Tupperware containers. Oh yes, and not forgetting my fingers too! He usually gives his Combi teethers tough bites as well. Maybe he prefers to bite hard items instead of soft ones such as cloth.
Since he has a habit of pulling my clothes and PINCHING me during nursing, I let him hold the soft Tigger to save my blouse and myself. It is also a good toy to distract him during diaper changes, perhaps until its novelty wears off.
Pros:
Gentle way to soothe tender gums during teething
Soft and adorable rattle that is easy for small hands to hold
Machine-washable (Can you believe that I once saw a teething cloth that is NOT washable? How unhygienic!)
Cons:
Baby V did not use it as a teether
Made of non-organic fabric
—
Get Your Own
Our relative bought this Tigger Terry Teether at The First Few Years (Paragon, Singapore).
You may also check the price at Amazon.com here: Disney Babies Terry Friend Teether (Tigger)
*
—
Disclosure: Mummy's Reviews™ is a review site that receives compensation if readers make purchases from affiliate links (these are marked with an *). If we receive compensation from the companies whose products we review, this would be disclosed. These compensation help to maintain and grow Mummy's Reviews™. We test each product thoroughly and give ratings according to our experience with it. We are independently owned and the opinions expressed here are our own.