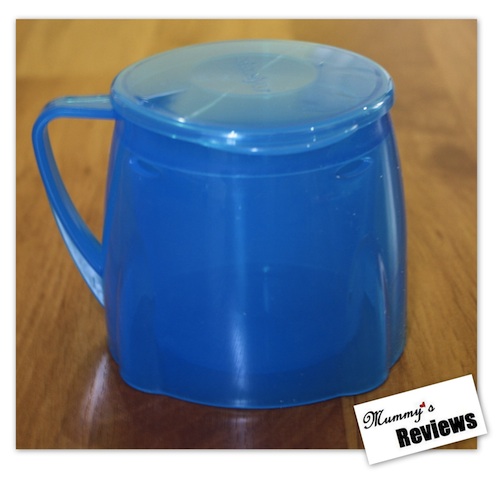 Although Baby V has been drinking well from the Medela Disposable Baby Cup Feeder, I searched for a cup which has a handle and lid so that he can learn to drink by himself. It was a futile effort as all the 'training cups' we came across have either a soft spout, hard spout or straw. It seemed like there was no open cup designed for babies here.
Steadyco offers Steadycup and Steadycup Maxi, which I found at Chubby Chubby (Desa Parkcity). Some brief differences:
Steadycup: holds 6oz, no lid, available in a pack of 1 or 3 cups, suitable from 12 months old
Steadycup Maxi: holds 8oz, has lid, sold singly, suitable from 18 months old
I bought the Maxi version (listed price: RM39.90) as it comes with a lid. There was a discount of 30% for members and 20% for non-members.
When I tested the cup at home, I was disappointed that the lid did not snap tight to the cup. It was easily removed no matter how tight I tried to close it. Steadyco's website describes the lid as a 'Leak Proof Travel Lid', so I am wondering if I received a defective item.
It was easy for Baby V to drink from the cup and I like the wide base; however, I have to search for another cup with a TIGHT lid, so that it is more baby-friendly.
—
Update on 27 May 2010:
Since Vee is being weaned off to drink fresh milk several times a day, he needs a few cups as I prefer to wash his utensils and cutlery once in the evening. This saves time and water. Thus, I brought out this cup again for his use. Interestingly, when I used my palm to press the lid down to the cup, it snapped tightly! I wonder what went wrong when we tried it initially and the lid would not snap. Now. this is a wonderful cup.
—
Pros:
Wide base keeps the cup steady and prevents spillage
12 month warranty/guarantee period
Washes well easily (due to its simple design)
Cons:
Difficult to snap lid tightly to the cup