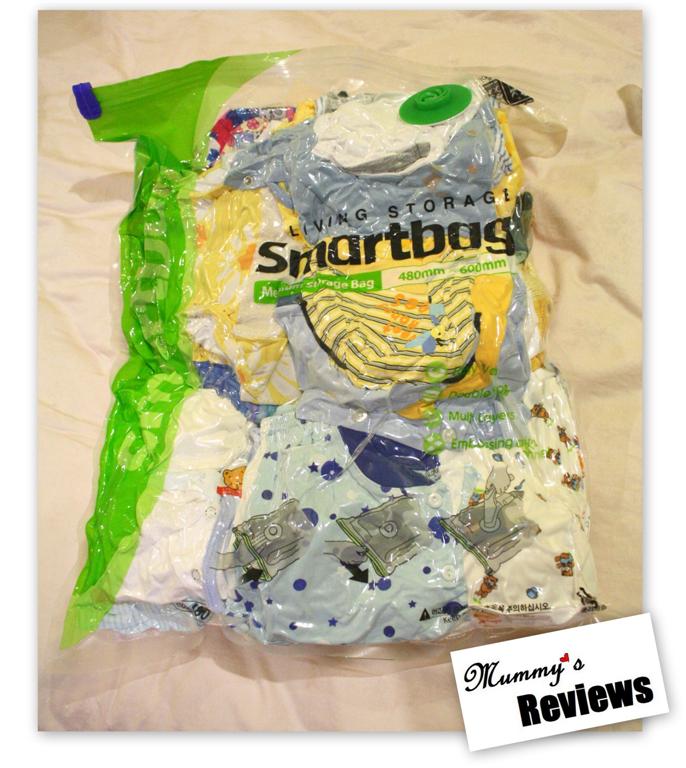 As most parents already know, babies outgrow their clothes very fast in their first year. At 8.5 months old, Baby V has almost tripled his birth weight and is already wearing clothes meant for 12 months old and above.
His smaller-sized clothes, cloth diapers and larger hand-me-downs from his cousin add up to a whole MOUNTAIN of items that need to be archived while staying clean from dirt, mould and insects. Efficient use of precious wardrobe space is also important as there are a zillion other things in the room when a baby arrives.
Think King-size mattress, crib, changing station, chest of drawers, Gymini, play table with stools, boxes of books and toys, potty chair, laundry basket, diaper pail and no wonder we hardly have any walking space!
I was delighted to find a range of attractively-priced Lock&Lock Smartbags (or vacuum bags) from Home-Fix. They come in a variety of sizes to suit different storage needs and I love the Medium ones (listed price: RM28.90 each). At 480mm x 600mm, each is spacious enough to hold many pieces of baby clothes, while taking up a small amount of wardrobe space. I've already filled four bags and shall be buying more as Baby V grows, since it will be some time before we would even think about trying for Baby #2.
Moreover, the Smartbags are a breeze to use with our Kärcher vacuum cleaner; a few seconds of vacuuming and viola! A super-compressed package. I believe most other vacuum cleaners would be able to do the same.
The Smartbag came in useful during a 9-days trip to Singapore when only one was enough to hold almost Baby V's entire collection of cloth diapers and inserts. By the way, travelling overseas with a baby is like shifting house!
Pros:
Easy-to-use with vacuum cleaner
Easy to zip with slider provided
Various sizes to choose from
Reasonable price
Cons:
Slider may separate easily from bag if it is right at the edge
1 zip was torn after some use. (The other bags have been of lasting quality though, so I still continue to buy them.)