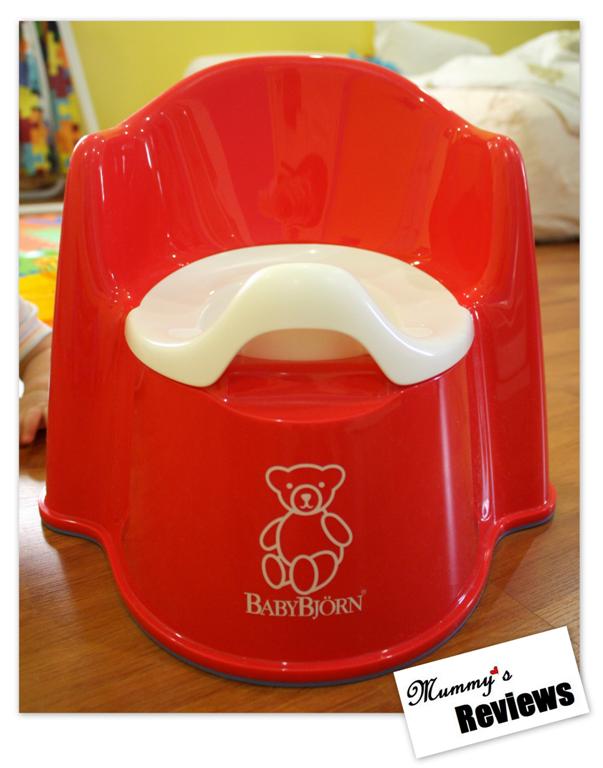 Hope you are not reading this during meal-time. I am totally inspired to write this review because Baby V has done a BIG poo in his fire-engine red BABYBJÖRN Potty Chair, at a few days before turning 9 months old. It is the first time that cleaning his post-poo bums is a breeze — needing one instead of three cloth wipes. It suddenly occurred to me that he is big baby now and that we have come a long way from up to 11 times of explosive breastfed-baby poo in a day.
After reading some pages of The No-Cry Potty Training Solution
* by Elizabeth Pantley (P.S. I have not finished reading it, so the review is pending), I learnt about the importance of pre-potty training. Therefore, I started scouring the Internet for a suitable potty. The 'winner' turned out to be the BABYBJÖRN Potty Chair because of its easy-to-clean surfaces, high back support and armrests for comfort, and a splashguard (which is useful for boys). I bought it in at My First Years (Paragon, Singapore) (listed price S$66.90) and saw it at Mothercare (Kuala Lumpur) as well.
For approximately the past four weeks, I have propped Baby V onto the potty chair for a couple of minutes just before his bath, and letting him know that he could pee in the potty if he wished to. He sits very comfortable on the potty chair, with his feet just touching the floor. Nothing happened until last weekend when he did his first pee in the potty, which gave me a pleasant surprise! Since that first pee, he has been repeating the feat once to twice a day. (Peeing in the potty just before changing him into his night cloth diapers has been especially useful in keeping them drier in the morning.)
Then yesterday, he did his first poo in it. I was so thrilled at the achievement that I took a picture of it and emailed my husband!
Pros:
Ergonomic design enables child to sit comfortably on the potty (I believe that feeling relaxed is important to 'let go'.)
Easy to clean due to its simple design
Rounded edges are safe for child
Splashguard is useful for boys
Cons:
No cover — the room stinks if I need a few more minutes before dumping poo away!
Tip: Be careful when lifting baby up from the potty chair. Once, the inner potty stuck to Baby V's bums when I was carrying him, then it fell and spilled pee all over my feet. EEEEEKS!!!
—
Get Your Own
The BABYBJÖRN Potty Chair is available at many large baby stores.
You may also check the price at BABYBJÖRN Potty Chair
*
—
*: Affiliate link to support the growth and maintenance of Mummy's Reviews™