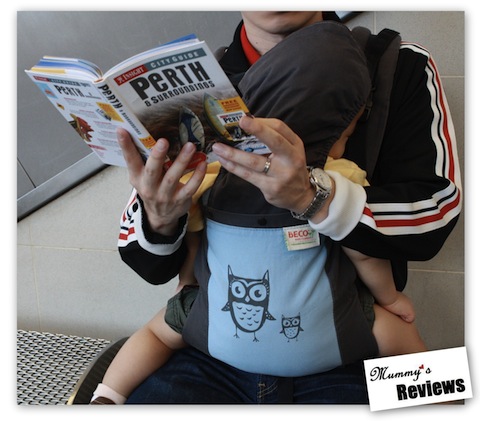 As Baby V grew beyond 8kg, it became strenuous to carry him in a sling, which places his entire weight on one shoulder. Another carrier that we owned also did not work because it strained the back. I read about soft baby carriers that provide an ergonomic sitting position (as opposed to baby's legs dangling by the crotch) and became very interested in getting one.
A good friend recommended Beco Butterfly 2 to us and we pounced on the opportunity to try it out at Cozy Babies (a distributor) while in Singapore. We compared it with another well-known soft baby carrier and Beco won hands down. Since both the designer (HUES) and organic (DUO) fabric collections are listed at S$250, we chose the latter. We learnt from the owner of Cozy Babies, Ashley, that it is not possible for a front-facing baby to being carried ergonomically in a carrier (due to the way our spine is structured), therefore the Beco carrier cannot be used to carry a front-facing baby.
The straps fit narrower Asian shoulders well without the tendency to slip down; it is possible to back-carry the baby at an earlier age; and also possible to transfer the baby easily from one adult to another whilst in the carrier.
The wide padded waist belt effectively supports the lumbar spine and distributes weight away from the shoulders. The clips at the shoulder straps have safety features (need to be pressed at the front and sides) so that the baby cannot undo them, which is especially important during back-carry.
After a couple of practices, it became easy to adjust the straps for the perfect fit or transit from front to back-carry or vice versa.
For the past 1.5 months, we have been using the Beco carrier for our outdoor trips since Baby V prefers to be carried over sitting in the stroller. On a few occasions, the fussy-sleeper could even fall asleep in it easily, which are when the sleeping hood would come in useful.
Every morning, Baby V is also carried on my back as I prepare the ingredients for his meals. It is a breeze to do some light housework while he is on my back, even though he weighs about 10kg now.
I have recommended the carrier to my sister-in-law, who bought it from Baby Slings and Carriers when there was a promotion. She is very pleased with her Beco too!
What we like about it:
Ergonomic design — baby sits instead of dangles by the crotch
Even weight distribution — makes carrying baby a breeze
Safe to carry baby at the back
Long usage span — can be used to carry child up to 20kg (many carriers have a relatively lower limit)
Organic fabric option available at the same price as regular fabric
Easy to wash  — machine washable
Many attractive prints to choose from
What can be improved:
I wish the price were low enough to get two so that it can be washed more regularly
—
Get Your Own
In Singapore, Beco carriers are available in at Cozy Babies (distributor) and Baby Slings and Carriers (retailer). Both stores deliver to Malaysia too.
You may also check the price at Amazon.com here: Beco Butterfly II Baby Carrier
*
—
*: affiliate link to support the growth and maintenance of Mummy's Reviews™