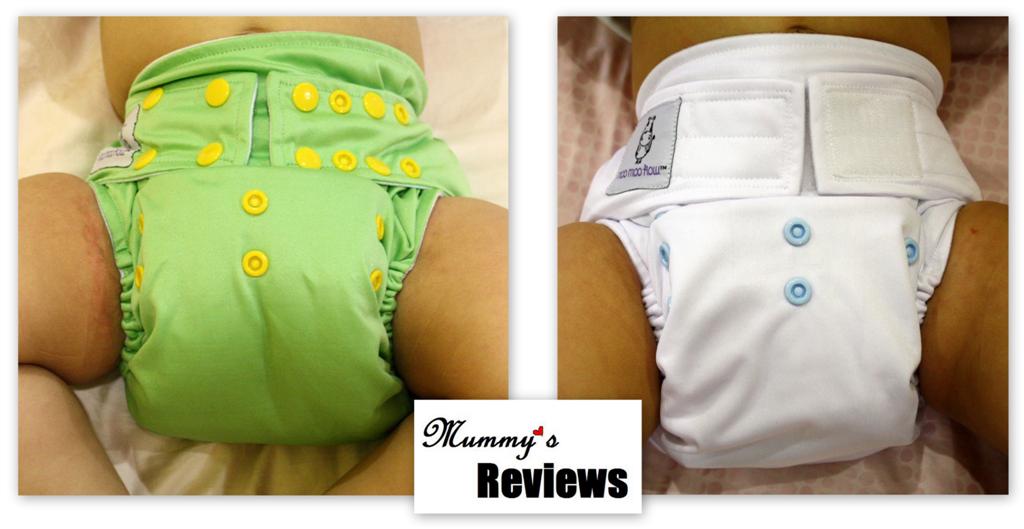 I received a Moo Moo Kow™ One-Size Snap Diaper (Mint Green) and a Moo Moo Kow™ One-Size Aplix Diaper (White with Blue Snaps) from Abby (who owns Babe Hause and developed the Moo Moo Kow™ brand) to review, in conjunction with Mummy's Reviews first Giveaway.
Moo Moo Kow™ is a new cloth diaper brand registered in Singapore (my hometown, yeah!) and manufactured in China. Like many parents, I am cautious in using products made in China on Baby V and myself. When the diaper samples reached, my husband and I were wowed by them! Each diaper was professionally packaged with clear washing instructions (essential in ensuring the long life-span of cloth diapers) and looked yummy-licious!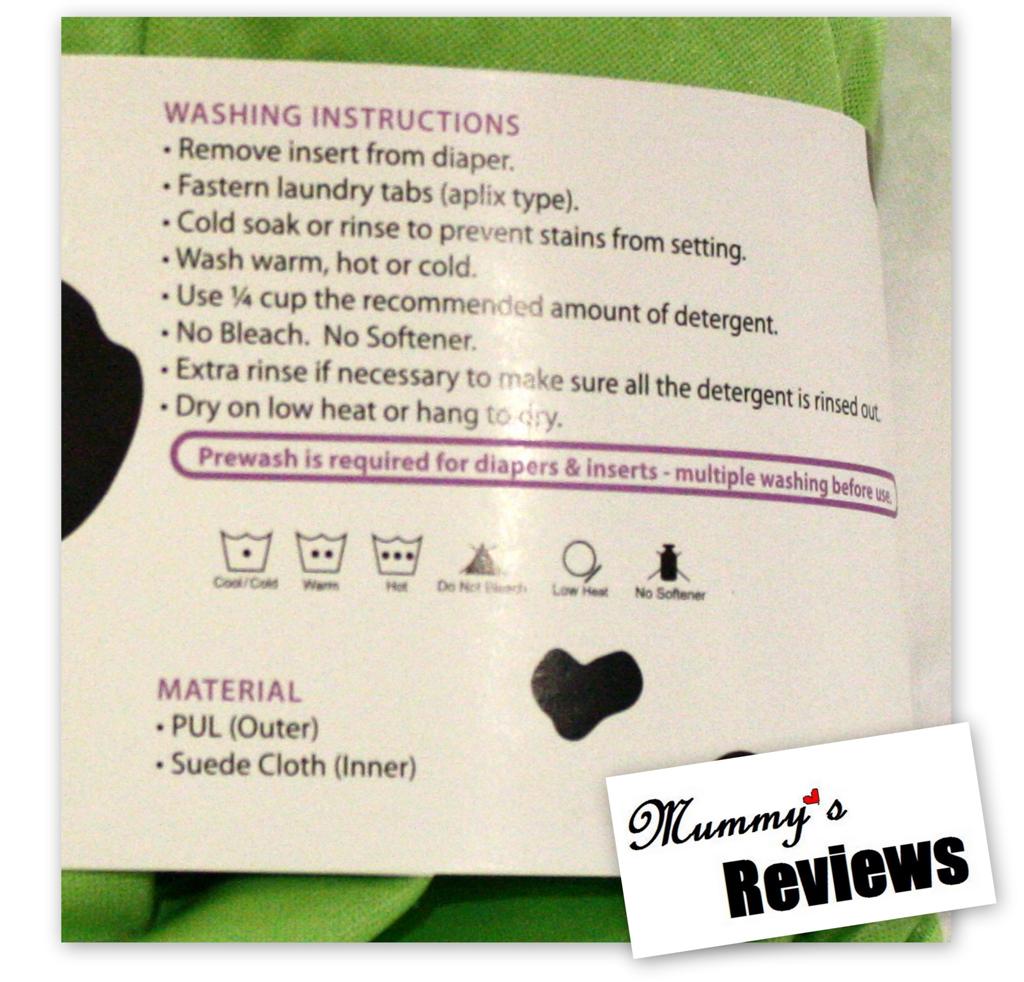 The next thing that impressed me was the two HUGE microfibre inserts that came with each diaper. One insert is large; the other even LARGER, which make each diaper pack seem great value for money.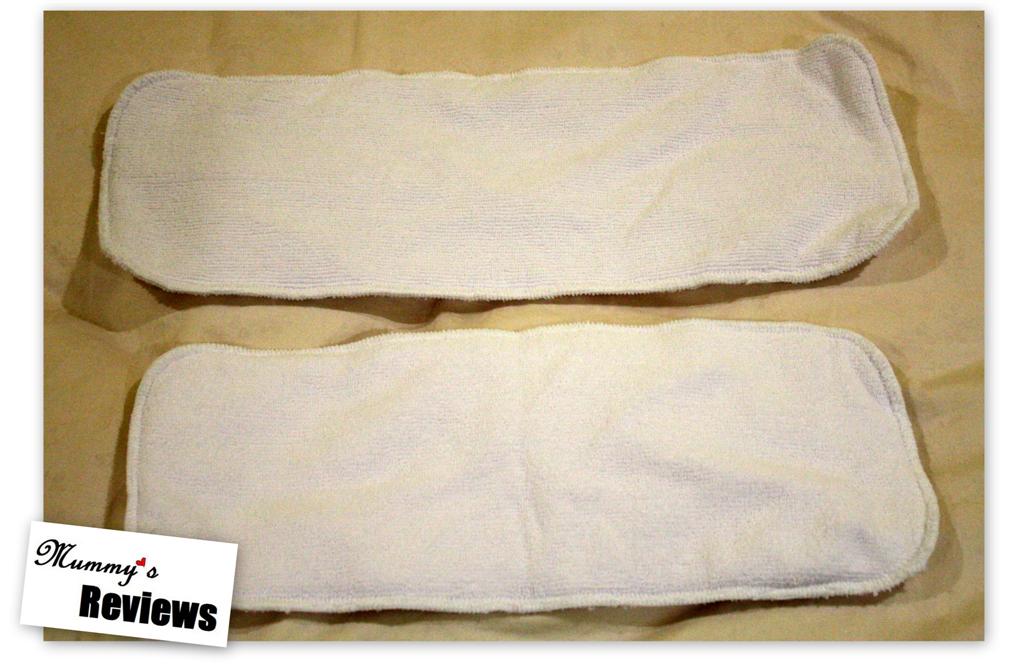 The listed price of each diaper including inserts is S$30 or RM73, with discount on packaged bundles. Similar one-size diapers would cost about 17% more. For a mum building a new stash of cloth diapers, the savings would be very significant.
Most importantly, the diapers function as well as they look — they are easy to put on (since I am familiar with one-size diapers), have gentle elastics and held on well without any leak through 3 to 4 hours, when Baby V would be changed. I love the dryness provided by the inner suedecloth (as compared to microfleece which feels damp). There aren't many one-size diapers that uses suedecloth.
By mere chance, for the sample snap diaper, the laminate separated from the outer fabric. After I notified Abby, she discovered that this was confined to a particular batch of diapers. Being the usual honest Abby, she immediately checked with customers who have bought similar diapers, was relieved that their diapers were perfectly fine and provided assurance for exchanges should the laminate separate.
By the way, I have learnt this from other cloth-diapering mothers: to seal the PUL for some diapers, you may try throwing them into the dryer for one hot cycle.
Moo Moo Kow™

Snap or Moo Moo Kow™

Aplix?
When Baby V was younger, I enjoyed the convenience of using diapers with Aplix/Velcro tabs, which can provide the perfect fit. Now that he tries to roll over/stand/jump/crawl away during diaper changes, I find snaps much faster in getting the correct fit. It is wise to get a mixture of Aplix or snap diapers to find out for yourself which type you prefer.
From personal observation, Aplix diapers are preferred by Dads, Grannies and first-time cloth-diapering Mums. If you intend to use the diapers on several children, then snap diapers may be able to last longer.
What I like about them:
Outer PUL fabric is the breathable type*
Inner suedecloth layer stays dry
Elastics at the back of the suedecloth layer keeps messes in
Choice of snap or Aplix to fit different preferences
One large and one extra-large microfibre inserts included for high absorbency
Attractively-priced at S$30 or RM73, including two huge inserts
What can be improved:
Only plain colours available — add cute prints?
To get your own Moo Moo Kow™ diapers, visit the list of retailers here or participate in the Giveaway.
* PUL fabric comes in breathable and non-breathable types. The manufacturer has confirmed that breathable PUL fabric is used to make Moo Moo Kow™.
—
Update after 6 months of use:
Our Moo Moo Kow™ Snap and Aplix diapers still perform as good as new. I find myself using the Snap diaper more regularly than the Aplix one to prevent the tab from wearing out. This way, I could reserve the Aplix diaper for my future baby.
Due to the value-for-money bundle and attractive packaging, Moo Moo Kow™ cloth diaper is currently my favourite baby shower gift to introduce new parents to modern cloth diapering. Several friends have converted to using cloth diapers for their babies and a Daddy friend just bought 12 pieces for his son!
P.S. To stay updated on latest cloth diaper and baby product reviews, join Mummy's Reviews™ Parents Club now: