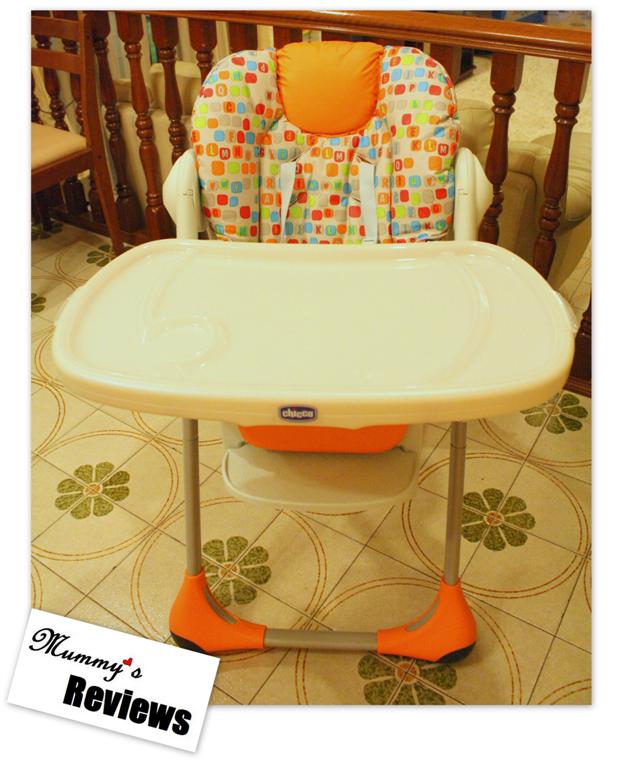 After I re-joined the family for meals post-confinement, someone in the family had to carry Baby V while I gobbled down my food. The exception was when he was sleeping in a sling.
A few months of carrying-baby-during-meals passed by before we decided to outsource the task to a highchair. I scoured through reviews and upon balancing functionality, style and price, we bought the Chicco Polly 2 in 1 Highchair at about RM540. (Opting for a past-season fabric design saved us 10% off the original price.)
Although the highchair was meant for babies above 6 months old, we placed Baby V in it when he was about 4 months old as his head was stable and the seat could be reclined. At that early age, we only allowed him in the chair for a short while, just to free everyone's hands for meals.
The real test for the Chicco highchair came in when Baby V started to have lunch at 6.5 months old. He (and perhaps most babies/toddlers) has the ability to create a HUGE MESS during meals — amusing himself by blowing broccoli purée AT MY FACE; sneezing with a mouth full of food; pouring water all over himself; and maybe something new tomorrow.
The five-point harness keeps him safely seated, and the tray cover is easily removed for washing. The seat padding, though comfortable, is difficult to remove for washing and as difficult to fit onto the chair. I have been deterred from washing it such that I only wipe the visible mess off. Fortunately, Baby V has targeted most of his mess at the tray instead of the seat padding.
The highchair is rather heavy to wheel around the dining area and it cannot be moved easily with one hand as there are only two wheels. The straps are also very difficult to adjust to fit baby who has grown taller.
If not for needing the highchair when Baby V was very young, I'd prefer a booster seat that takes up little space.
Pros:
Adjustable height, back rest and leg rest makes the chair very versatile
Tray cover is easily removed for washing
Two wheels allow mobility
Two seat padding allows rotation in wash
Five-point harness keeps the child safely seated
Cons:
Safety straps are VERY difficult to adjust
Bits of food gets trap in small crevices, especially under the padding
Seat padding made of vinyl — not sure if it's phthalates free
Update on 12 July 2012:
There's a
voluntary recall
for Chicco Polly High Chairs due to laceration hazard. The pegs on the back legs intended for tray storage are a hazard if a child falls onto any of them. More details at
CPSC website here
.
—
Get Your Own
We bought our Chicco Polly 2 in 1 Highchair at Chicco (Pavilion, Kuala Lumpur) and have seen it at Isetan too.
You may check the price at Amazon.com here: Chicco Polly Double Pad Vinyl High Chair*. As mentioned above, I'd prefer a booster seat instead.
—
Disclosure: We bought our own Chicco Polly High Chair.
Mummy's Reviews™ is a review site that receives compensation if readers make purchases from affiliate links (these are marked with an *). If we receive compensation from the companies whose products we review, this would be disclosed. These compensation help to maintain and grow Mummy's Reviews™. We test each product thoroughly and give ratings according to our experience with it. We are independently owned and the opinions expressed here are our own.