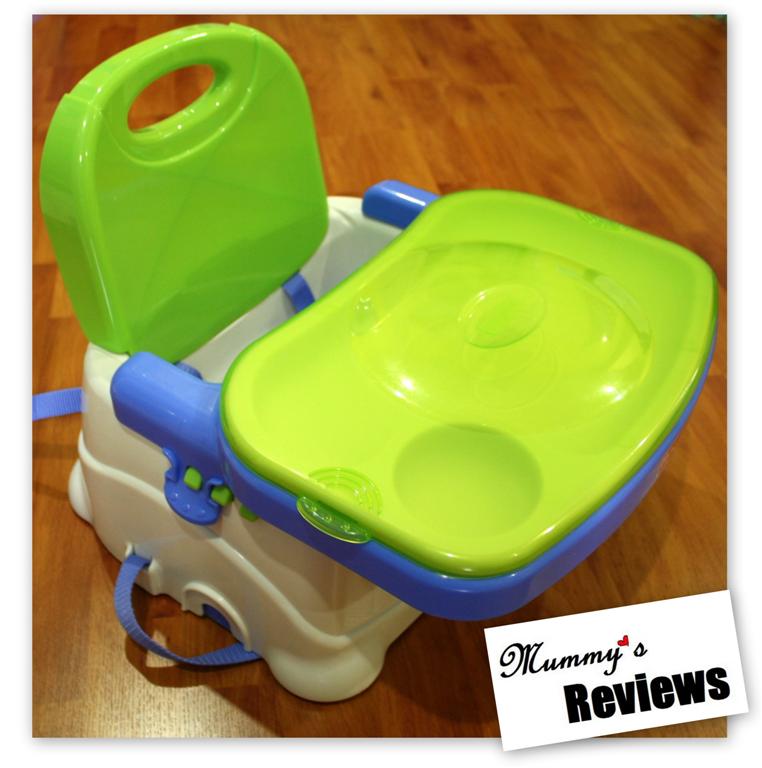 Before plopping Baby V into a highchair when we dine out of home, I would wipe (more like scrub) the seat thoroughly with a wet wipe. However, there are occasions when being armed with wet wipes is not enough:
One Japanese restaurant had ONLY 2 highchairs when there are 3 children in our dining group
One eatery had many highchairs, which were full of RUST (I didn't even want to touch them!)
One restaurant had highchairs without straps (Baby V was constantly turning his entire body around and I was paranoid that he'd fall out of it any moment.)
To prepare ourselves for the many dining out occasions ahead, we shopped around for a portable booster seat and decided on the Fisher-Price Healthy Care™ Deluxe Booster Seat (bought at Chubby Chubby, listed price RM199). It was easy to assemble out of the box and the simple rounded edges mean easy cleaning. I like that the tray comes with a cover to keep the surface clean, and it is adjustable to accommodate bigger tummies as the child grows. The height of the seat is adjustable as well.
We keep the portable seat in the car and have used it twice at neighbourhood eateries. One of the straps dual-functions as a shoulder strap to carry the seat around. It took only a short while to secure the seat onto an adult chair. Once Baby V is in the booster seat and secured with a three-point harness, I can enjoy my meal in peace knowing that he is in a safe and clean chair.
An improvement that the seat needs is the way the tray is clipped onto it when it is to be carried via the shoulder strap. The tray clips on rather loosely and may fall out easily. Otherwise, we are rather satisfied users of this booster seat.
Update on 11 Jan 2011: We love the booster seat so much that we just bought another one! One for the dining room and one in the car boot, so that we won't forget to bring it along.
—
Pros:
Adjustable options allow the chair to 'grow' with the child
Easy to use outdoors
Easy to clean
Shoulder strap makes it convenient to carry about
Cons:
When carrying the seat, be careful as the tray may fall out (

Tip

: Fasten strap over tray to keep it in place)
—
Get Your Own
Fisher-Price Healthy Care™ Deluxe Booster Seats are available in most major department and baby stores. We bought ours in Chubby Chubby (KL) and Isetan (KLCC).
You may also check the price at Amazon.com here: Fisher-Price Healthy Care Deluxe Booster Seat
*
—
*: affiliate link to support the growth and maintenance of Mummy's Reviews™
—
Read more on Feeding Solids.