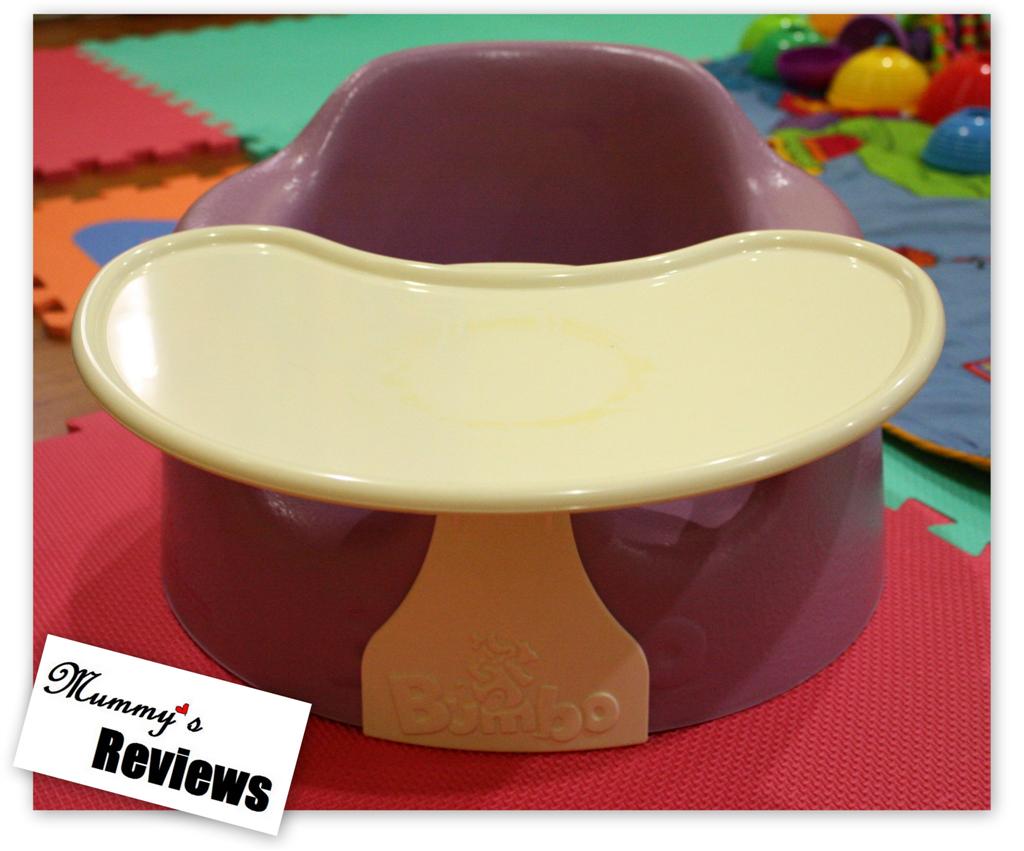 The Bumbo Baby Seat seemed highly popular and we waited for a good deal before getting one at Chubby Chubby (original price: RM199, discounted price RM129). Since the play tray looked useful, we bought it as well (listed price: about RM49). This set was purchased before the highchair and portable booster seat reviewed yesterday.
Even though Baby V could sit well with support since about 4 months old, he enjoyed being on his tummy much more than sitting in the Bumbo Baby Seat. After he has been in the chair for a while, the strong boy would arch his back to try to get out of it. When he could sit independently at 6+ months old, there were even less opportunities to use the seat.
Nowadays, Baby V is in it for about ten minutes every morning when he watches me have breakfast in the bedroom. I have not bothered using the play tray because it is too tedious and heavy to lift the 10kg boy-with-Bumbo assembly, fix the tray, and after ten minutes, lift the 10kg boy-with-Bumbo assembly AGAIN to remove the tray before PULLING the boy out of the seat. 'Pulling' is not an understatement because the seat wraps his Buddha belly and thunder thighs very snugly, ever since months ago. It is also a mystery why yellowish stains have developed on the play tray when it is hardly used.
The Bumbo seat with the play tray attached is perhaps the most useful when I need to trim Baby V's fingernails, as it prevents him from moving away from me.
Baby V took his first semi-solids meal in the Bumbo seat and that was it; he has been having his meals in the highchair at the dining table, which has more space for me to prepare his meals.
Without the play tray, the Bumbo seat does not restrain Baby V at all, so I cannot leave him in the seat unattended. You may wish to know that at least 28 children have suffered serious head injuries when they fell out their Bumbo Baby Seats, which had been placed on tables. The news released by U.S. CPSC on 25 Oct 2007 also mentioned the following:
The new warning label will state: "WARNING – Prevent Falls; Never use on any elevated surface." Consumers should use the Bumbo seat at ground level, but should never leave a child unattended.
Pros:
Easy to clean surfaces
Allows baby to sit with support at a young age, facilitating feeding, playing and trimming of nails
Cons:
Can be used only at ground level
Child is not securely restrained, so caregiver must watch him/her closely at all times
Insufficient space to accommodate big bellies and chunky thighs
Difficult to fix and remove play tray with heavy child in the seat
A  strong toddler can yank the play tray off easily
I hope to find more uses out of the chair to justify its cost. Do you have a Bumbo Baby Seat? If so, when do you find it useful?
—
Update on 8 June 2010:
Finally, we found two good uses for our Bumbo Baby Seat!
Great place for Vee to have his hair cut at home. The seat is very easy to clean after each haircutting session.
Every morning, Vee has his Shichida Method™ home practice session in the seat. The height is just right and he can use the play tray for simple activities such as matching small puzzles and drawing.
We actually love the seat more when Vee is a toddler.
—
Update on 11 Jan 2011:
For the past few months, strong Vee has figured out how to yank the play tray off the seat. He finds it real funny while I don't! I really have a love-hate relationship with this Bumbo Seat. Ha!
—
Get Your Own
Bumbo Baby Seats are available in most major babystores. We bought ours at Chubby Chubby (KL).
You may also check the prices at Amazon.com here:
Bumbo Baby Seat
*
Bumbo Seat Play Tray
*
—
*: affiliate link to support the growth and maintenance of Mummy's Reviews™
—
Read more on Feeding Solids.