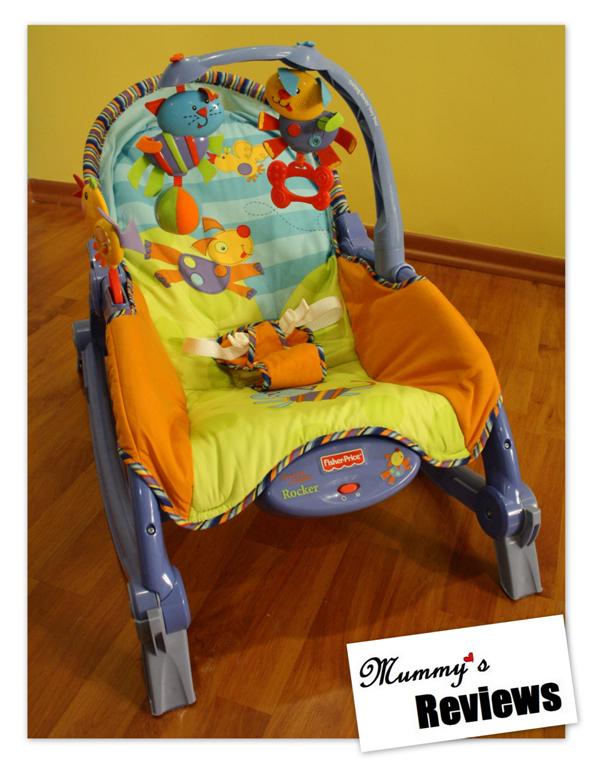 Before giving birth to Baby V, our baby shopping list consisted of a bouncer. From my understanding, babies from a few weeks old like to lie at a slightly inclined angle to observe things around them and interact with their family. However, a bouncer would only serve its purpose until the baby starts to roll over at a few months old, so I was hesitant to get one.
A few hours of surfing the Internet led me to the Fisher-Price Newborn-to-Toddler Portable Rocker, which could serve as a rocker (similar to a bouncer) and a chair. Bravo! When it was on sale, we grabbed one (cannot recall the price though) before it flew off the shelf.
For Play
When Baby V was about three weeks old, I placed him in the rocker for an hour of interactive play during the day. This helped to keep him awake for a while so that he can reserve more sleeping time for the night.
For Freeing Hands
In the early months, the rocker was a good place to keep Baby V entertained (with the toy bar) while being securely strapped up. This freed my hands to take a quick shower with him in sight, since the lightweight rocker could be placed just outside the bathroom. In such situations, I convert it into a chair so that it is more stable.
For Cosy Naps
Initially, Baby V slept in his cot — with natural light and household noise going on during the day. Then, he became as stubborn as a bull (suits his Chinese horoscope exactly) and INSISTED on being carried and rocked to sleep for every nap and at night.
From 10 weeks old, he became very alert and interested in EVERYTHING in the bedroom and started resisting naps (even though he was obviously tired) to the extent that I spent more than five hours coaxing him until he finally closed his peepers. It was extremely tiring carrying a fussy, screaming 5kg baby for that long since I was his sole caregiver. At times, I felt like going mad! After spending all those hours putting the Baby Bull to sleep, he woke up after about 45 minutes.
The No Cry-Nap Solution assured me that it was fine to rock as baby to sleep, as long as he (and I) rested. Therefore, I started rocking Baby V to sleep in the rocker (without the toy bar) for one nap a day. When he stirred during sleep cycle changes, I rocked him gently (using my feet while I read or surfed the Internet) or switched on the vibrator for a few minutes and he could nap for up to 2 hours! I finally had some freedom back.
Kept Away Until Baby Becomes A Toddler
After Baby V could roll over at five months old, he preferred freedom over being strapped up in the rocker. Thus, we kept it away; it's foldable for easy storage. When the boy grows older, he could still use it as a recliner chair for reading. No wonder this rocker is so popular among parents!
Update on 27 Oct 2011: I took this rocker out before baby #2 arrives. Now, Vee loves to strap himself onto this "special chair" for his flashcards session. I certainly hope he'd share this chair with his baby brother!
—
Pros:
Long usage span: up to 18kg (40lbs) toddler
Vibration function helps fussy newborn baby take long cosy naps
Easy to wash: fabric is machine-washable
Foldable for storage and portability
Cons:
Legs of the chair may fold inwards easily when pulling it
Cannot be used when babies start rolling over and prefer to sit upright over a reclined position (at about 5 months old)
Battery for one of the toys in the toy bar cannot be replaced (Duh!)
—
Get Your Own
Fisher-Price Newborn-to-Toddler Portable Rocker is available in major departmental and baby stores.
You may also check the price at Amazon.com here: Fisher-Price Newborn-To-Toddler Portable Rocker
*
*: affiliate link to support the growth and maintenance of Mummy's Reviews™