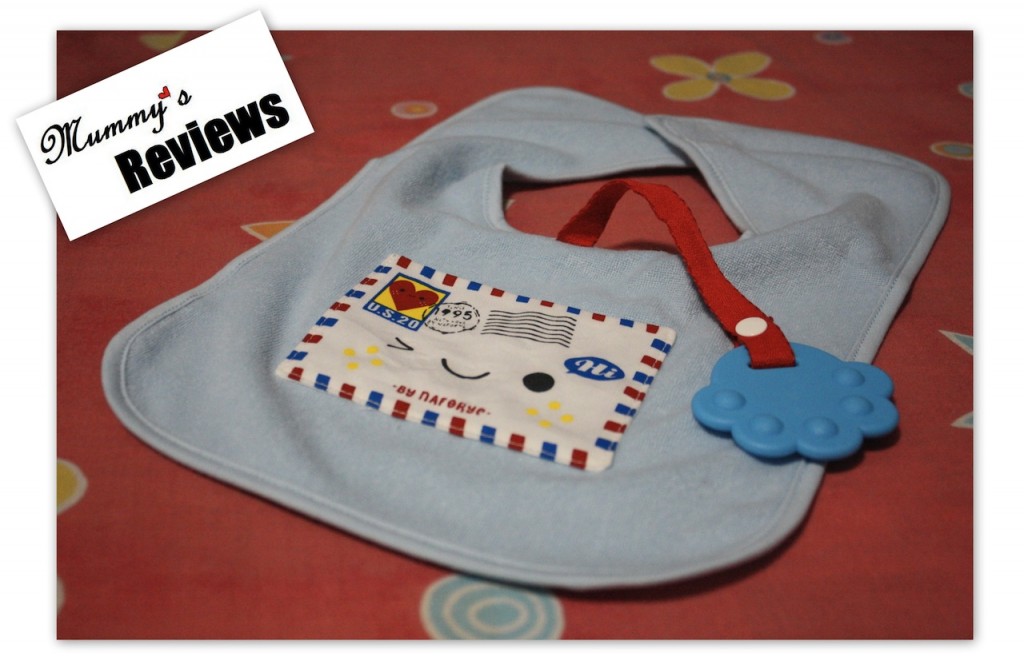 PrettyMums.com is started by a pretty mum in Singapore for pretty mums, and is the generous sponsor for this review and giveaway.
In conjunction with a guest article to Today's Motherhood on "Introducing Solid Foods to Babies" (to be published in February 2010 issue), I selected the Naforye Multi-Function Baby Bib (usual price S$13.20) to review (sponsored by PrettyMums.com). There are five yummy-licious designs and I zoomed in on "Love Letter" since I love postage stamps and parcels.
After handwashing the bib once, I tried it on Vee during his meal. The bib provides wide coverage across his entire shoulders, and I love its softness. The terry top layer is relatively absorbent and the waterproof lining at the back keeps wetness away from his clothes.
The front pocket is cute and holds the teether that comes with the bib. The pocket and teether keep Vee's little hands busy while I prepare to feed him. The cleverest part of the bib's design is the strap with snaps closure, which can be used to hold a teether, pacifier or toy. As Vee loves to bite things, I always bring a teether for him on the go; the bib ensures that he cannot throw the teether away.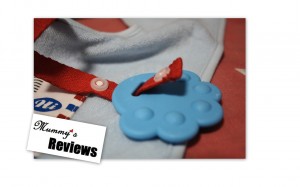 The attached teether is made from TPR (ThermoPlastic Rubber), which I read from here that it is BPA-free. Now I can rest my mind while Vee bites on the teether.
The bib is so lovely that I cannot bear to see Vee dirty it. Anyway, it has been easy to wash by hand. (The instructions on the packaging recommend handwashing using mild detergent. Naforye products are from Taiwan, and the instructions are written in Chinese.)
On the whole, this is a truly multi-functional bib that we like.
What we like about it:
Wide coverge
Soft and comfortable material
Absorbent terry layer
Strap with snaps closure to hold teether, pacifier or toy
Cute designs
What can be improved:
Would be perfect if it can be machine-washed
—
Get Your Own (with Discount!)
Visit PrettyMums.com for its wide range of Naforye and other baby products, including Moo Moo Kow™ One-Size Cloth Diapers (reviewed here). There are also lingeries, maternity wear, nursing accessories, nursing wear and post-natal wear.
Details:
Special Treat: 10% discount
Discount Code: MR2010
Validity Period : 1 February to 31 March 2010
—
Win Your Own
FIVE (5) lucky subscribers will win a Naforye Multi-Function Baby Bib worth S$13.20 each! This is how to participate:
To get EXTRA entries:

1 extra entry: First 3 participants (Hurry!)
1 extra entry: Become Mummy's Reviews fan on Facebook (existing fans counted)
5 extra entries: Share this Giveaway on your blog / website
Other Information
This Giveaway is open to subscribers with a mailing address in Singapore or West Malaysia.
It will run until 28 February 2010.
The usual Giveaway Terms apply.
Send in your entries now and good luck!