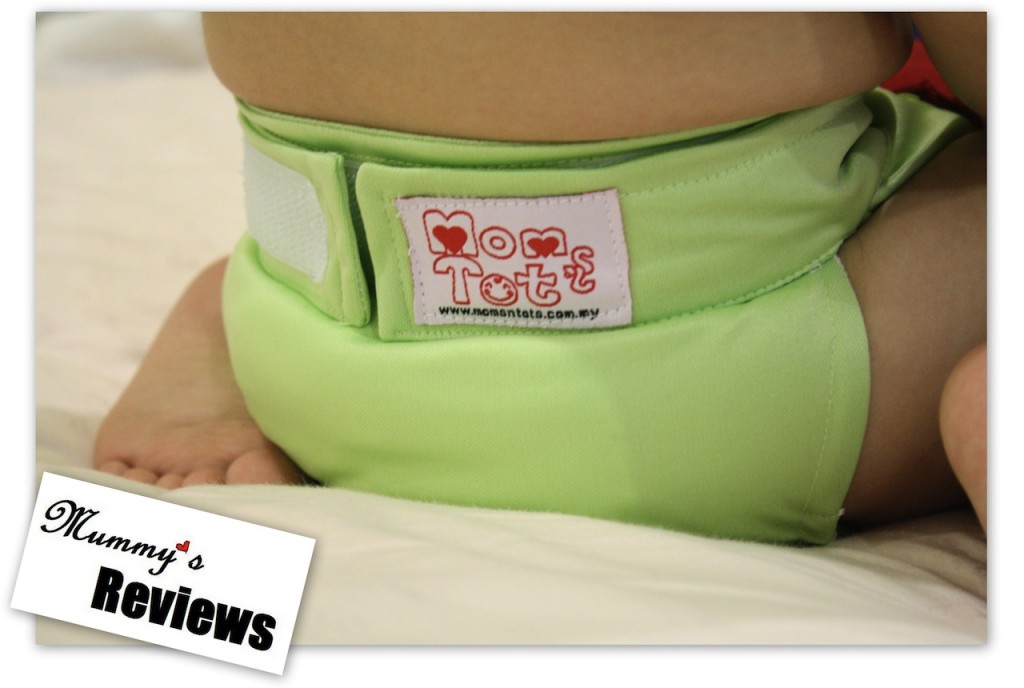 It is cloth diaper Review & Giveaway time again! Moms & Tots Store offered me a sample of its cloth diaper (listed price: RM75 / S$32 / US$23) to review and even hand-delivered it. I was keen to try it out on Vee because of the unique back-fastening designed for active babies and toddlers who would rather crawl or run away than lay still for a diaper change.
Background: I found out a bit more about Moms & Tots Store via email with one of the owners:
Moms & Tots Store was started in September 2009 by 3 mothers with babies in cloth diapers. They found a product gap in the cloth diaper market and decided to design their own diaper.
The outer PUL layer is 2 mil breathable.
The cloth diapers are manufactured in China. Moms & Tots Store requested its manufacturer to make samples accordingly to its design. Three samples were tested before production began.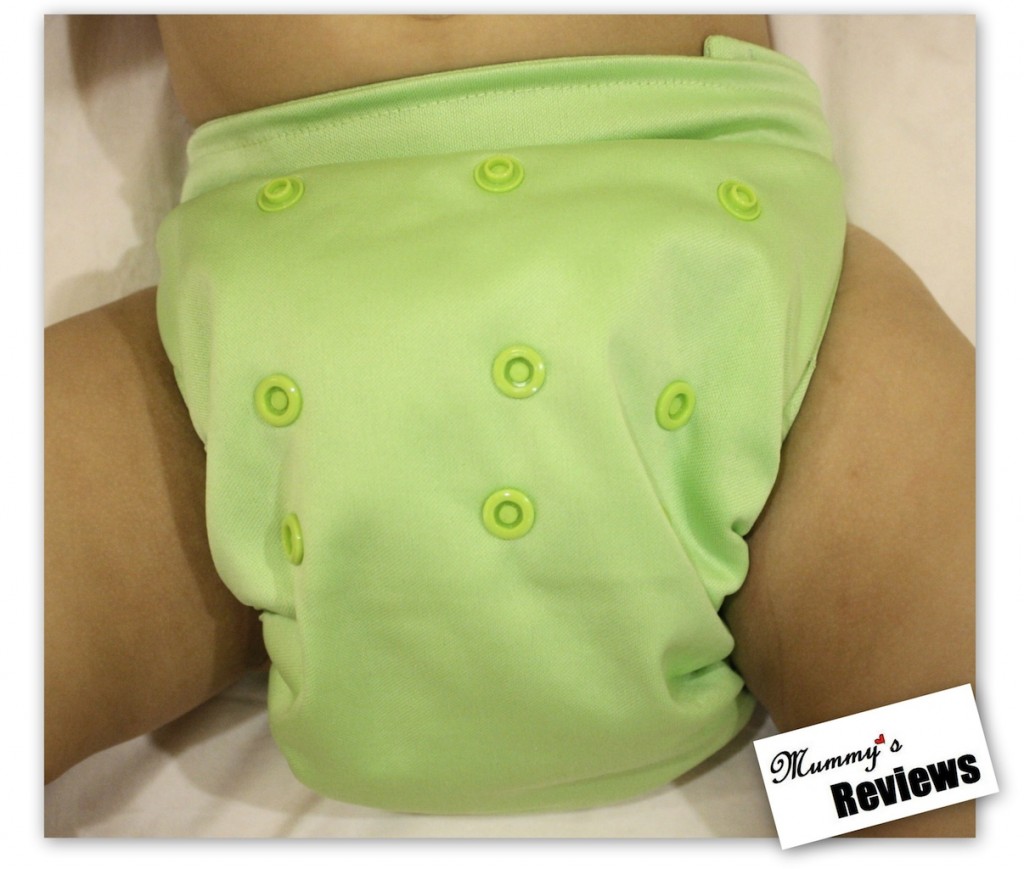 First impressions: A snap button is mis-aligned and some threads are a little too near the edge. Then I touched the two uber-soft bamboo-lined microfibre inserts which almost tempted me to rub them on my face!

Prewash: I hand-washed the new Moms & Tots Cloth Diaper on its own once and then machine-washed it with the usual laundry twice. (Laundry tip: Wash new garments separately for hygiene purpose and in case of colour-run and lint problems.)
Putting it on: It took a bit of learning to fasten the Velcro tabs at the back instead of front. Subsequently, it became easy to put the diaper on Vee since he could roll to his side or onto his tummy during diaper changes. This is a welcomed change because he does not like lying still on his back, even when asleep. With the Velcro tabs at the back, Vee cannot undo his diapers. Yeah!
Fit: Vee is on the maximum rise, so we did not need to use the snap buttons. Anyway, I tried snapping the buttons on and off, and they seemed fine. I LOVE the high-cut design at the thighs (now I understand the benefit of the narrow waist tabs) because they accommodate Vee's chunky thighs very well and leave absolutely no red marks. The diaper with the bamboo-lined insert provides a very trim fit and even Vee's Daddy complimented his "tight bums".
Functionality: The insert is very absorbent and one was enough to last Vee four hours in the morning. Even though the insert was soaked when I changed him, there was no leak. (We tested the sample several times over the week and there was not a single leak.) Personally, I would prefer the pocket opening to be at the back instead of front, so that I can check if the insert is saturated.
What we like about it:
bamboo-lined microfibre insert is soft, trim & absorbent
high-cut design accommodates chubby thighs, leaving no red marks
diaper provides a trim-fit
no leaks even when insert is soaked
child cannot undo Velcro tabs at the back
diaper washes well
What can be improved:
sewing skills — one snap button mis-aligned and some sewing too near the edge (from the perspective of a sewing-perfectionist!)
offer more colours and prints (to fulfil Mummy's vanity)
use more sturdy Aplix tabs (so that they can last through multiple babies)
use PUL fabric that can be washed on warm/hot instead of only cold (I washed the diaper on warm a few times and damaged the PUL. What a pity!)
—
Get Your Own (with Discount!)
Visit Moms & Tots Store for the promotion on its cloth diapers for the whole of February 2010!
——
Win Your Own
TWO (2) lucky subscribers will win a Moms & Tots Cloth Diaper worth S$32 (or RM75) each! This is how to participate:
To get EXTRA entries:

1 extra entry: First 3 participants (Hurry!)
1 extra entry: Become Mummy's Reviews fan on Facebook (existing fans counted)
5 extra entries: Share this Giveaway on your blog / website
Other Information
This Giveaway is open to subscribers with a mailing address in Singapore or West Malaysia.
It will run until 28 February 2010.
The usual Giveaway Terms apply.
Send in your entries now and good luck!