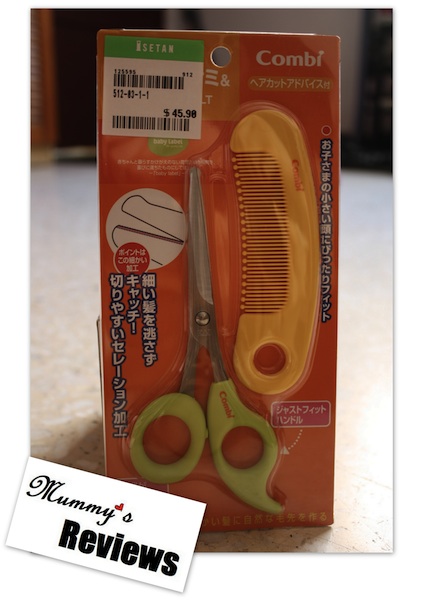 Dream Scissors
Since Vee was a newborn, I have been targeting the Combi Haircut Set, but was put off by the price tag of more than RM130. There was no competing brand offering such (round-tip) haircut scissors in departmental stores.
Why cut his hair personally in the first place? Reasons aplenty:
Hygiene (A friend's newborn developed bad rashes after a shave by a hairdresser using unhygienic tools.)
Safety (I am more able to handle my boy and know exactly when he would fidget than others.)
Saves money (Boys need a trim every couple of months. Multiply that by a few more children in future and the savings are significant if I learn to cut my kids' hair.)
Saves time (Haircut in the comfort of our home, during relaxed afternoons.)
Anyway, his full head of newborn hair fell and took months to grow back. Then his fringe started to reach his eyes and an urgent haircut was needed. Luckily, the Combi Haircut Set (original listed price: S$45.90) was on 20% promotion in Isetan Singapore when we were there and I bought it. Finally…
First Trial Cut
This was a HUGE drama involving my parents (to grab Vee), my sisters (to entertain him with toys) and myself (figuring how much to snip off). Vee was strapped up in his Fisher-Price booster seat and must have wondered what the whole fuss was about.
I completed the job and he looked fine until recently…
The REAL Cut
About two months passed and his hair was long all over, not just at the fringe. Strangers started greeted Vee, "Hi girl!" *Hmmph!*
Then Lunar New Year arrived and there is this strange superstition of no haircut during the festival (lasting 15 days) or bad luck would befall. Anyway, we were too busy celebrating the new year and Vee's birthday. During one gathering, a relative (ex-hairdresser) who cuts her truckload of children's hair briefly taught me how to do a boy's haircut:
Grab a bunch of hair at the front upwards, perpendicularly to the scalp, snip horizontally across
Move lower and grab another bunch of hair. Use the above cut hair as a guide to know how much to snip
Keep repeating for the front until getting a nicely-layered fringe
Repeat for the sides and back
Yesterday, Vee woke up early from his nap and we had lots of time to burn. I laid a huge piece of cloth on the floor, plopped him into the Bumbo Baby Seat with Play Tray, bribed him with a few toys and started snipping away.
How to Cut Boy's Hair
Snipped the front…
Snipped the sides…
Snipped the back…
Fun!
Got more confident and snipped more… Done! I was soooo proud of myself for making my son look like a boy again.
Vee was absolutely co-operative while I carried out the haircutting experiment. Phew!
—
More Tips for the Mummy Hairdresser-Wannabe
Being more experienced after 2 years, I prefer to snip the back and sides, leaving the front (and most irritating part to Vee) as the last.
Put a long-sleeved bib on the child for easier cleaning up later (I use the one from Ikea, same as for messy painting sessions as home.)
Do not blow the fan near you or risk getting hair all over the place — Consider switching on the air-conditioner for a short while.)
Though we usually don't watch TV, this is the time when Youtube videos are useful in keeping the toddler very still. (I simply play a few Sesame Street & Winnie-the-Pooh songs over and over again. Vee rarely gets to watch TV, so this becomes a rare "treat" for him.)
I recently saw haircut scissors at Daiso! Not sure if the quality is good.
—
What I like about it (the scissors):
Rounded-tip is a good safety feature
Easy to hold
Cuts well
What can be improved:
Sell the scissors without the comb so that the price is lower