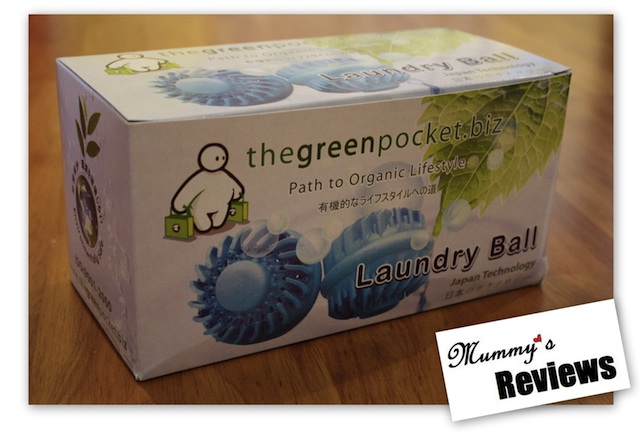 I am very excited to share this Review-cum-Giveaway with you! For months, I have been wanting to try washing clothes with laundry balls (and with NO detergent), so when thegreenpocket.biz and baby-mel.com offered me a set for review, I jumped at the opportunity. Yes, I absolutely love eco- and pocket-friendly solutions.
First Impressions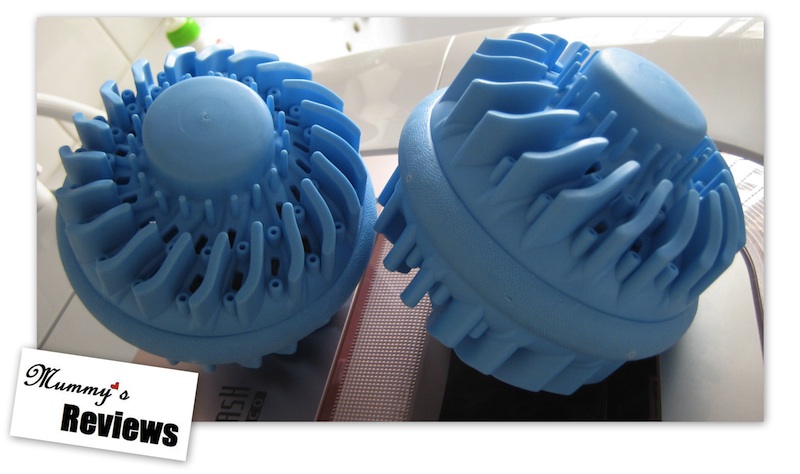 Each box contains a set of laundry balls (large blue rattles that Vee would love to play with), a stain remover and a brochure with instructions. As a careful Mummy, I studied the instructions and emailed the sponsor for some clarifications. Here is what I found out:
How It Works
The Green Pocket Laundry Ball generates strong infrared rays wavelength to break the bond between molecules, enabling the individual water molecules to penetrate into the fabric. The water is also highly charged with negative ions. The dirt, which is positively charged, is attracted to the individual water molecules and is flushed out with the water during the rinse cycle.
Tips
The laundry ball works more effectively in a top-loading washing machine. (Reason: The laundry ball needs soaking to carry out its function.)
When using the laundry ball for hand-washing clothes, you would need to shake it and rinse it often. You would also need to dry it more often.
It can used for washing cloth diapers and would not affect the absorbency. Rinse the diapers clean before washing them with the laundry ball.
The Tests
I have a front-loading washing machine while my mother has a top-loading type, so I brought the laundry balls to her place for my "experiments". We followed these simple steps — soak the laundry for one hour, wash without detergent, spin-dry, and line-dry under sun. Ta-da…. the clothes turned out clean and smelled clean too!!! This was repeated throughout the entire week and we still got clean clothes, without using any detergent.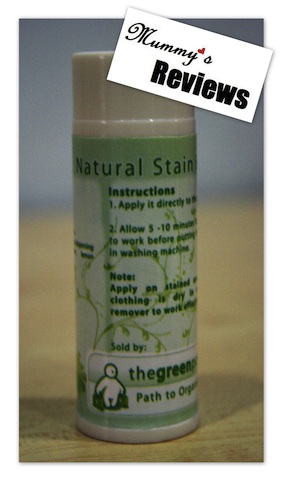 The next test was for the stain remover (made of natural ingredients such as coconut oil), which is meant to remove all types of dirt. An old T-shirt was dabbed with patches of soy sauce, chilli sauce, and mud (from the surface of lotus roots). After creating the stains, a layer of the stain remover was applied and left on for five minutes. It seemed like doing a facial mask for the stains. The T-shirt was then rinsed with water and the stains disappeared! With a toddler who loves self-feeding and making a mess during craftwork time, the stain remover would certainly come in useful.
Conclusion
Overall, we are very pleased with the cleaning effectiveness of The Green Pocket Laundry Ball and the stain remover. My mum is so pleased that she has kept the laundry balls for her own use! Now, I wish I were eligible to participate in the Giveaway…
—
What we like about them:
Easy to use
Clean clothes well
Save time, effort and money on buying heavy bottles of detergent
Especially suitable for people with sensitive skin (like Vee and myself)
Stain remover does its job very well
What can be improved:
Wish they could be as effective in front-loading washing machines (If the machine has a soak function, I think they may work.)
—
Get Your Own (with Discount!)
Visit thegreenpocket.biz and baby-mel.com for their wide range of eco-friendly and organic products for baby, Mummy and the family.
Details:
Special Treat (on Laundry Balls): RM20 discount + free shipping throughout Malaysia
Special Treat (storewide): 10% discount + free shipping for order above RM80
Extra Special Treat: RM10 voucher off for all BUDS baby skin care range with purchase above RM50.00
Discount Code: MMR2010003
Validity Period: 15 March to 15 June 2010
—
Win Your Own
ONE (1) lucky subscriber will win a set of The Green Pocket Laundry Balls worth RM169! And save on buying detergent too! This is how to participate:
To get EXTRA entries:

1 extra entry: First 3 participants (Hurry!)
1 extra entry: Become Mummy's Reviews fan on Facebook (existing fans counted)
1 extra entry (unlimited total): For each participant referred by you (e.g. through sharing the Giveaway on Facebook)
3 extra entries: Share this Giveaway on your blog / website
Other Information
This Giveaway is open to subscribers with a mailing address in Singapore or West Malaysia.
It will run until 18 April 2010.
The usual Giveaway Terms apply.
Send in your entries now and good luck!
—
Disclosure: I received a set of laundry balls (including stain remover) for review.