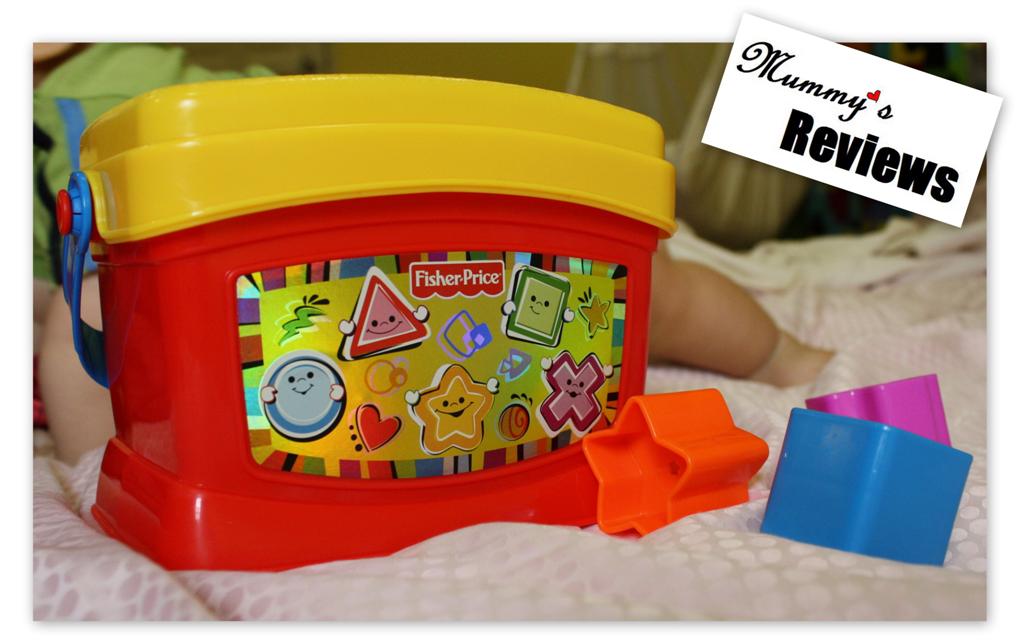 Recently, several mums have requested for more reviews on toys with mileage, so I am planning to share on Vee's toys. I believe a lot in free (unstructured) creative play, to let him develop his creative mind. Many times, the simplest toys allow the child to explore the most with his own initiative. Therefore, I hardly buy any electronic toys, which tend to limit the child's creativity.
My sister gave Vee The Fisher-Price Brilliant Basics™ Baby's First Blocks (approximate retail price: USD9.00) when he was about three months old. When he turned six months old and could sit up to play, I unwrapped the toy and introduced it to him.
Description
The cover to the bucket is easily opened and there are ten blocks of five shapes and colours. A handle is attached to the bucket.
How We Played With It
Most babies are unable to sort shapes easily until they grow into toddlers. (If you have a baby prodigy, do let me know!)
I used the blocks to teach him colours and shapes, using the flash method (i.e. flash the block in front of him and say its colour and shape). Flashing holds his attention much better than talking slowly.
I stacked the blocks to make little buildings. He loves to crawl to the buildings and knock them down. (Until now at 14 months, he cannot withstand seeing stacked blocks.) This helps him practice crawling at a fast pace.
He holds two blocks and knocks them together. This is an important milestone to reach before babies learn to clap their hands.
He loves taking off the yellow cover and pouring or taking the blocks out. Then he would put the blocks in and cover the bucket and keep repeating the process. This helps him strengthen his hand-eye coordination and finger-dexterity.
The two red circular blocks are his favourites. Since they rolled about easily, he would chase them all over the floor and have a good dose of exercise.
Since the lid does not stay on, another way to learn about shape-sorting to to place the lid on the floor and put the blocks through.
He used to put the pieces into his mouth and they can be washed clean very easily, to my relief. After 8 months of regular play, the toy is still as good as new and attracts his interest. Currently, he is learning to put the blocks through the holes and I hope he succeeds soon.
Update: Vee successfully sorted the shapes into the holes at 15 months old.
—
What we like about it:
Simple toy with different ways to play with
Washable and easily cleaned
Basic colours that attract Vee's attention
What could be improved:
Some parents prefer a snap-tight lid (However, this would be less fun for a younger baby. I am fine with the toy as it is.)
—
Get Your Own
Fisher-Price Brilliant Basics™ Baby's First Blocks is available in major departmental and baby stores.
You may also check the price at Amazon.com here: Fisher-Price Brilliant Basics Baby's First Blocks
*
*: affiliate link to support the growth and maintenance of Mummy's Reviews™
—
P.S. Read more toy reviews here.