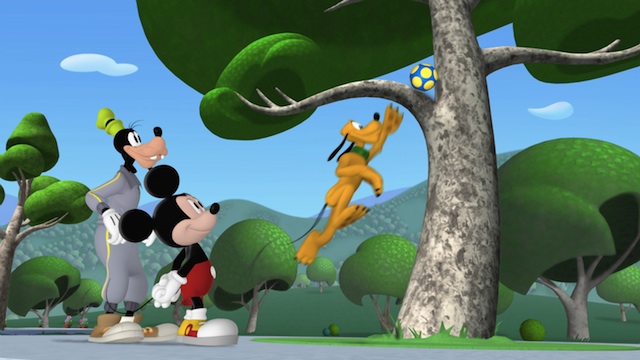 Since 14-month old Vee would be watching television programs someday, I am doing my homework by screening appropriate ones for him. Last month, I had the privilege of having dinner with the Playhouse Disney team to understand more about the thinking and planning done behind its programs. My verdict: Yes, Vee would be watching the Playhouse Disney channel (together with me) when he is older!
Fit Fit Hurray: Health-Themed Programs
Tomorrow (1 May 2010), Saturday from 9.30a.m. to 1.30p.m., stay tuned to Playhouse Disney (in Kuala Lumpur: Astro Channel 613) to catch health-themed episodes of your preschoolers' favourite series.
Additionally, four special short-form programs – Mickey Mousekersize, Dance-a-lot Robot, Tasty Time with Zefronk and Adventures in Nutrition with Captain Carlos – will also be aired throughout the day for the little ones' enjoyment!
I have previewed two of the programs and here is my take on them:
Mickey Mousekersize
Hosted by Mickey Mouse, Mickey Mousekersize focuses on the fun of exercising and encourages kids at home to get up and move along with Mickey and pals.
My views: It encourages children to exercise through bending and stretching to music. Vee loves dancing to music and this is something he would enjoy. To reap full benefits from the segment, a parent (or caregiver) ought to watch it with the child, demonstrate the exercise and encourage him/her to move. This way, Mummy or Daddy gets to exercise too!
Captain Carlos
Adventures in Nutrition with Captain Carlos spotlights a six-year-old boy who shows how healthy meals and regular physical activity make him feel like a superhero.
My views: Fussy-eaters should watch this. It educates children to build healthy eating habits such as avoiding junk food and choosing healthy snacks. For instance, the episode that I previewed shares that carrots are good for eyesight.
—
What I like about Playhouse Disney:
Commercial-free channel
The team encourages co-viewing and recognises its benefits
Carefully chosen programs based on the Whole Child Curriculum
What can be improved:
Extend the health-themed programs to longer than 5 minutes each (Good things are never enough, ha!)
—
Win Your Own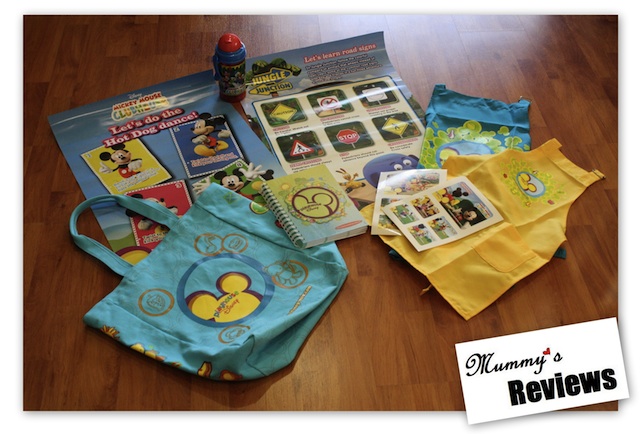 During my dinner with Playhouse Disney, I received a goodie bag packed with what else but goodies! Beautiful fabric shopping bag, large and small aprons for craftwork, poster on road signs, and more.
THREE (3) lucky subscribers will win a set of exclusive Playhouse Disney goodies each (something like the ones I received)! This is how to participate:
Send an email to me with the following information:

Your name
Facebook nickname, if any
Watch the Fit Fit Hurray programs with your preschooler.  Tell me which is his/her favourite program and why.
If you are a new reader, mention how you got to know of this Giveaway
Blog / Website URL, if any
To get EXTRA entries:

1 extra entry: Become Mummy's Reviews™ fan on Facebook (existing fans counted)
1 extra entry (unlimited total): For each participant referred by you (e.g. through sharing the Giveaway on Facebook)
3 extra entries: Share this Giveaway on your blog / website
Other Information
This Giveaway is open to subscribers with a mailing address in Singapore or West Malaysia.
It will run until 15 May 2010.
The usual Giveaway Terms apply.
Send in your entries now and good luck!
—
Fit Fit Hurray Programs Schedule
9.55a.m. Mickey Mousekersize
10.25a.m. Dance-a-lot Robot
10.55a.m. Tasty Time with Zefronk
11.25a.m. Adventures in Nutrition with Captain Carlos
11.55a.m. Tasty Time with Zefronk
12.25p.m. Dance-a-lot Robot
12.55p.m. Adventures in Nutrition with Captain Carlos
—
About Playhouse Disney
Playhouse Disney is the first preschool-learning channel in Asia specially designed for kids aged two to five, their parents and caregivers.  Based on the Whole Child Curriculum, the commercial-free service combines award-winning preschool programs and locally produced hosted activity segments which engage and stimulate preschoolers' imagination and learning in a fun and creative environment.  Playhouse Disney is available in ten markets in the Asia Pacific – Brunei, Cambodia, Hong Kong, Indonesia, Korea, Malaysia, the Philippines, Singapore, Thailand and Vietnam.  For programming information, log on to www.playhousedisneychannel-asia.com.
—
Disclosure: I attended a dinner organised by Playhouse Disney for parent bloggers to understand more about the channel and received a goodie bag.