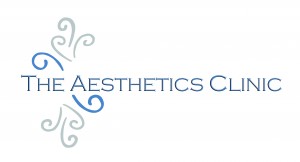 To celebrate Mummy's Reviews™' first Mother's Day, this review article is dedicated to all Mummies — a break from the usual review of toys, cloth diapers and other baby essentials. After having a baby, it is amazing how often we shop for him and not for ourselves. The pampering sessions of manicure / pedicure, facial treatments and massage (remember preparing for wedding day?) have been squashed out of our calendars. I aim to be a Mummy (and wife) well-maintained in all major beauty departments — skin, hair and body.
When Dr. Dana Elliott Srither of The Aesthetics Clinic (Singapore) offered me a laser treatment for review, I was overwhelmed! I had done only ONE facial treatment ever since Vee was born 14 months ago. I seriously needed this laser treatment meant to reduce mild acne scarring, open pores and for overall skin rejuvenation.
As the ever cautious Mummy, I made some clarifications with Dr. Dana over e-mail:
MieVee: My skin is dry and sensitive (history of hand eczema). Is the laser treatment appropriate?
Dr. Dana: The laser treatment will be done on your face. Most eczema lesions are over the limbs, so if you do not have any on your face, it is fine. I will have to start at a low safe level anyway, which is my safety protocol.
MieVee: How long would the treatment and visit take?
Dr. Dana: The treatment will take not more than 1 hour, from stepping into the clinic to leaving.
MieVee: What are the common effects on the skin after treatment? (E.g. peeling, redness) What is the recovery time needed, if any? (I need to take a flight back to KL on the following day)
Dr. Dana: Slight redness (of course depending on the level of intensity I choose). No peeling seen, but because the laser is slightly exfoliative (helps to get rid of dead skin layers), redness tends to last till that night, or latest the day after. Your treatment will be the safe low intensity.
My First Laser Treatment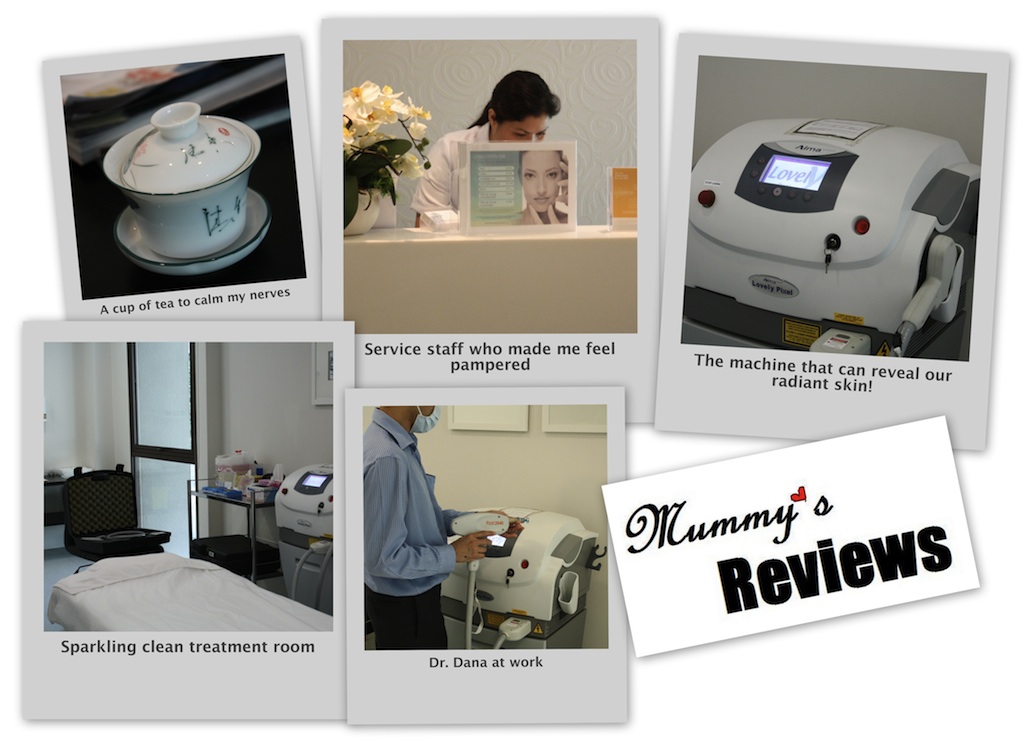 I arranged for the appointment to match our recent Singapore trip, left Vee in my Mum's care while I sneaked out for a pampering session. The clinic's branch at Bukit Batok Civil Service Club is surrounded by lush greenery and it felt like going to a spa resort. Immediately, my mind was tuned to vacation mode. Fe, the service staff, was very polite and made me feel welcomed. She cleansed my face and applied numbing cream on it. The numbing effect was apparent after 5 to 10 minutes.
Dr. Dana gave me a short presentation comparing four treatments available to solve skin issues — chemical peel, Q-Switch, Erbium and Fractional CO2. In general, the higher the treatment intensity, the larger potential benefits offered. His treatment protocol is to start at a low safe level.
After I signed a consent form, my eyes were covered and Dr. Dana started with one round of Q-Switch laser. As I have loads of facial hair, there were countless sparks and I could even smell the burnt hair! (Dr. Dana must have witnessed a mini National Day fireworks display.) The area around the nose and lips were more sensitive, yet it was nearly painless.
He then proceeded with one round of Erbium laser, which felt warmer and still almost pain-free. (By the way, I have a sky-high pain threshold — think: birth contractions for 27 hours without ANY painkiller/gas.) Anyway, compared to facial treatments where the beautician squeezes out blackheads till you cry, this pales in comparison.
After the laser treatment, Fe applied a cooling mask on my face, followed by moisturizing serum and sunblock.
Observations After The Treatment
My cheeks turned rosy (not very red) and the skin felt a bit taut. On the same evening, I brought Vee to a play-date and my good friend did not mention anything about my face. This seems like no downtime at all. Over the following few days, I diligently applied moisturiser and sunscreen lotion even at home. Powder make-up was easily applied onto my face on day 4 and I was pleased to look beautiful again.
Conclusion
Erbium laser exfoliated my skin effectively in just a short time. It is a very time- and cost-efficient way of maintaining youthful complexion and I am looking forward to my next laser treatment!
—
What I like about it:
Hygiene and safety — face being taken care of by a doctor
Saves time — only 1 hour needed occasionally, great for busy Mums
Hardly any pain
Clinic situated in lush environment — I felt very relaxed
Polite staff
What can be improved:
Consider setting up a branch in Kuala Lumpur!
—
Get Your Own
The Aesthetics Clinic is organising complimentary workshops on "Solutions for Skin Laxity versus Skin Quality – Any Difference?" You would also get to clarify your skin concerns with the doctor. Yes, admission is FREE!
29 May 2010 (Sat) 2-4pm (Bukit Batok Civil Service Club)
12 June 2010 (Sat) 2-4pm (Shaw Centre Penthouse)
17 July 2010 (Sat) 2-4pm (Bukit Batok Civil Service Club)
Feel free to share this post with your friends and invite them along. There are only 10 seats per workshop, so act fast. To secure your seat, email your name and contact number to Dr. Dana.
The Aesthetics Clinic @ Bukit Batok Civil Service Club
91 Bukit Batok West Avenue 2
Blk D #05-01
Singapore 659206
Tel : 6316 5282
The Aesthetics Clinic @ Shaw Centre Penthouse 27th Floor
1 Scotts Road
Level 27
Singapore 228208
(Access by Lift A, B or C only)
Tel : 6235 8770
Visit The Aesthetics Clinic here.
—
Disclosure: I received a laser treatment for review.