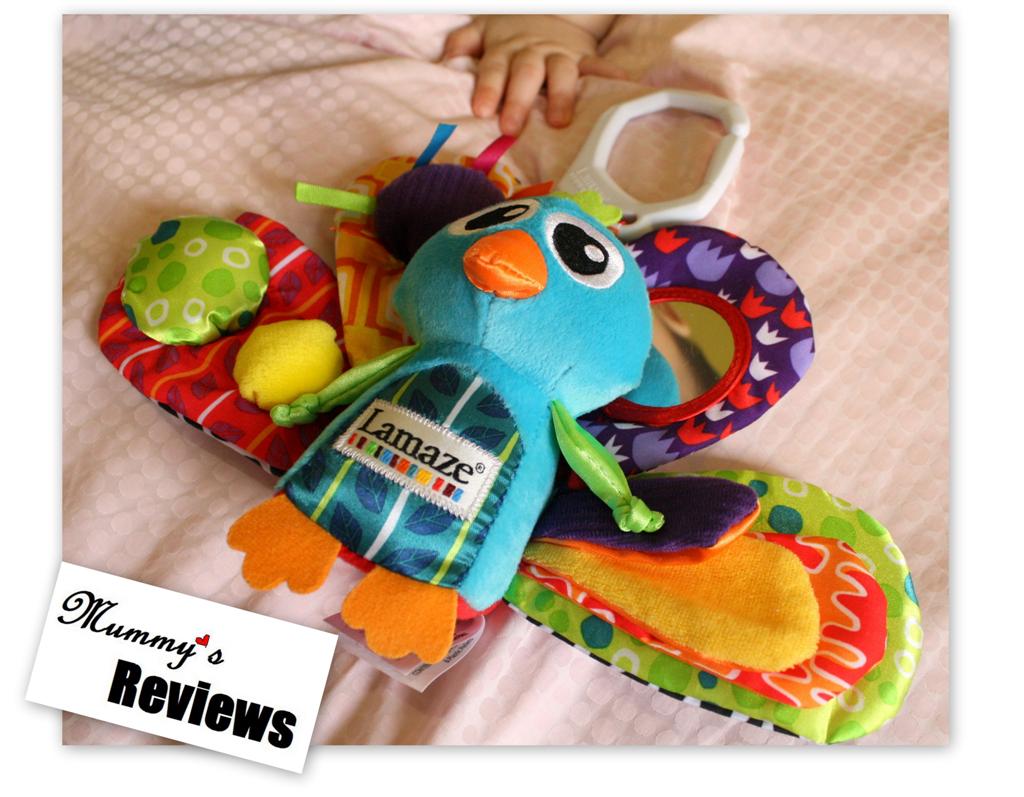 Before Vee was born, I started researching on best value toys by reading reviews written by other parents. One of the top picks for newborns was Jacques the Peacock (RRP: USD13.99) by Lamaze. You should have seen me searching for Jacques at the stores. When I zoomed to the rack of Lamaze toys, there were Eddie the Elephant,  Marina the Mermaid and Morgan the Monkey, but where was Jacques?!? He is THAT popular.
Description
The bright colours on Jacques are visually stimulating, just take a look at it again. Vee is especially attracted to the back, which has patterns made of red, black and white. He loves the crinkly plasticky sounds when the left wings are rubbed. The tiny mirror gets his attention too. The button on the right wing sounds like a horn when pressed and Vee likes to hear that. This is an all-in-one soft toy suitable for outdoor trips.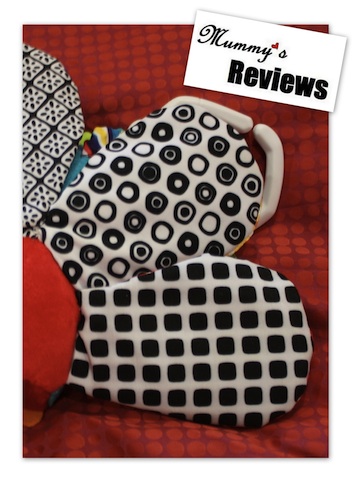 How We Played With It
For many months, Jacques lived in the car, so that it could entertain young Vee during our rides. When he got fussy, I would start trying every part of the toy to distract him. Usually, the horn won hands down. Jacques was also hooked to his car sear travel system / stroller, to entertain him while we shopped.
Toddler Vee has finally outgrown the soft toy. I took it out again just now; he held it for a second, then flung it away. Duh… poor Jacque!
One complaint is that it can only be surface cleaned (which means no washing). This is challenging when babies like Vee chew / bite / suck ALL his toys. Therefore, I wipe it with a clean damp cloth and use a steam cleaner on it occasionally. It looks as good as new and shall entertain the next baby.
—
What we like about it:
Visually stimulating
Many different parts to entertain baby
Very well-made
Attached hook makes it easily portable with car seat & stroller
What could be improved:
I prefer soft toys that can be washed
—
Get Your Own
Lamaze Jacques The Peacock is available in most major babystores such as Isetan and Robinsons. He's hot among parents and often out of stock.
You may also check the price at Amazon.com here: Lamaze Jacques the Peacock
*
—
*: affiliate link to support the growth and maintenance of Mummy's Reviews™
—
P.S. Read more toy reviews here.