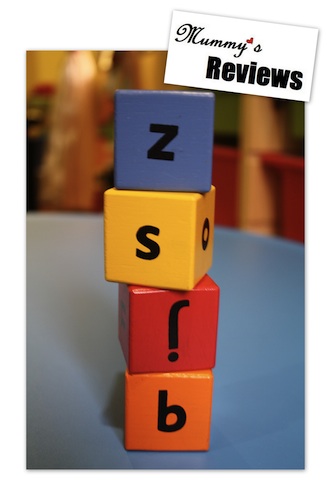 Vee achieved two major milestones in sleeping (our toughest challenge) and potty-training. Read on:
Learning & Communication
I bought a 'truckload' of materials from Shichida and other books and puzzles for our home practice sessions. He loves jigsaw puzzles (just like me) and has attempted to put each piece into place.
He surprised me by showing that he recognises alphabets! I was washing my hands and did not want him to follow behind, so asked him to bring the "Q" alphabet foam over. He dug it out and brought it to me. I tried again and he brought the next "Q" over again!
Instead of knocking down towers of blocks, he suddenly started stacking blocks up and looks very pleased when doing it.
He is starting to speak in short sentences such as "Ma-ma, poo poo". My heart melts whenever he says "妈妈" (Ma-ma) in perfect Mandarin pronunciation.
Physical
He is toddling all over the place recklessly and the biggest danger: not going down steps carefully.
Vee insisted on climbing the stairs yesterday and suddenly fell backwards, hitting the back of his head. Though I was right behind, I could not break his fall in time. It happened too fast. He was shocked, did not cry and stared into space. I carried him, asked him to call me — no reaction. He remained silent for about a minute. I knocked on my mum-in-law's door for help — he called out "mama" (Granny in Cantonese). Phew! Luckily until now, he has been his normal self. I have been super paranoid since his fall. Pray that all would be fine.
Diet & Feeding
Four teeth are STILL in the process of erupting. Thankfully, no fussiness due to this.
His current favourite food is BREAD, to the extent that I need to hide bread during meals so that he eats his other food before getting bread.
Weaning him off breastmilk is progressing very slowly. I only managed to drop the feeds when he is awake in the morning and after his nap. After he is asleep, he still keeps waking up to nurse. One month away from my target…
Besides drinking fresh organic full cream milk, he also loves the fresh yoghurt that I make.
Potty Training
He finally tells me when he wants to poo! I was elated when he said it the first time. Next target: telling me before pee-ing (very tough because he pees about every hour)
Sleep
For most nights during the past week, he has been falling asleep with his head on his pillow on his mattress (not on me). This is possible with lots of massaging and singing to him. I totally feel like a human jukebox.
The longest is sleeping for 3 hours before cuddling up to me again. Still a distance away from sleeping through 5 hours.
Please help: How do you wean your toddlers off the breasts?
—
P.S. View more developmental milestones (from 8 months old onwards).
P.P.S. Our latest homeschooling updates are posted at MummysHomeschool.com HERE,