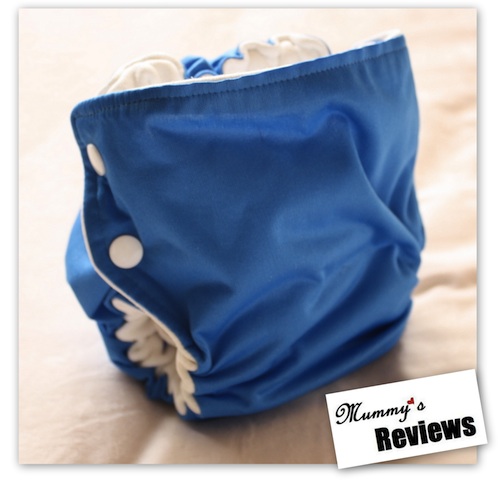 This Review & Giveaway article is sponsored by Bottombumpers and baby-mel.com (Malaysia's sole distributor).
As I type this article, Vee is sleeping soundly wearing his Bottombumpers Side Snapping All-in-One Cloth Diaper, with my full confidence that it would hold all his pee through the nap. After all, we have tested it over nearly two months. This is the first All-in-One (AIO) cloth diaper that toddler Vee has tried and we are absolutely pleased with it — trim, absorbent, well-made, fits well and contains certified organic materials.
What is an All-in-One (AIO) Cloth Diaper?
In simple terms, an AIO cloth diaper means the absorbent fabric (or soaker) and waterproof cover are connected in one piece. This means neither stuffing of inserts nor covers are needed. During each change, the entire diaper is replaced. An AIO diaper with hook and loop closures (e.g. Velcro or Aplix tabs) would be very suitable for daycare centres, babysitters, Dads, Grannies or super-busy Mums.
About Bottombumpers Side Snapping All-in-One Diaper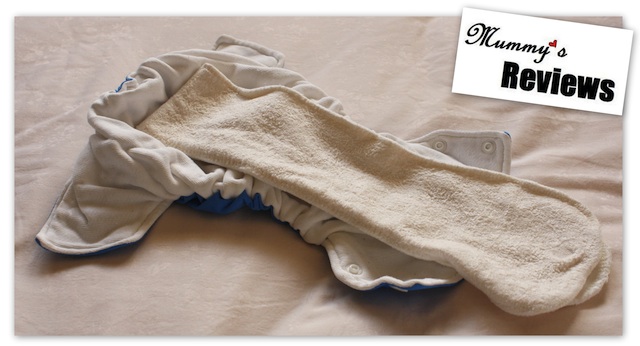 These are the main features of the diaper:
Outer layer: Made of waterproof 2mil polyurethane laminated (PUL) knitted fabric
Inner lining: Made of absorbent certified organic cotton
Absorber / Soaker: Contains 4 layers of organic cotton and topped with bamboo velour (total: 6 layers of absorbency); attached to the diaper by 2 snaps at the top
Closures: Hidden side snaps, 5 waist and thigh snap settings that can be independently adjusted
Country of origin: Made in the U.S.A. by a small family and select few contracted seamstresses in smoke- and pet-free sewing studios.
It comes in 15 solid colours and custom orders (with embroidery designs) are available at selected retailers.

First Impressions
The workmanship of the diaper is excellent and the bamboo velour top feels luxurious. As Vee is wearing Large for his usual diapers, I wondered initially if the Medium Bottombumpers would fit him. The diaper is relatively narrow at the crotch; elastics are thick and gentle. The label stating the size is sewn outside the diaper, enabling quick identification.
How We Tested It
Prewash: Since the diaper is in a dark solid colour, I prewashed it once by hand with warm water. No colour run, great! The smartly designed snap-on AND bifold soaker means quick drying time, which makes it unique among AIO cloth diapers.
Regular Laundry: The diaper has been machine-washed in 60 degrees Celsius and still stays as good as new after two months. Tip #1: Put the diaper in a laundry net before washing, to prevent the cotton lining from picking up lint.
Ease of Use / Fit: Being used to side-snapping diapers, I find it easy to get the correct fit. I can even put it onto Vee while he is standing and busy playing. The soaker is slightly long in the front, so I had to make sure it is tucked in. Medium fits Vee beautifully and he is currently on the third waist setting and largest thigh setting. No red marks appeared on him. Tip #2: Side-snapping diapers allow independent adjustments for waist and thigh settings, which is suitable for babies / toddlers with chunky thighs.
The diaper is very trim and fits well under pants. The elastics at the thighs are not sewn in with a second row of stitches. Tip #3: To prevent wicking, always ensure that the cotton lining at the crotch area is rolled in.
Absorbency: Excellent day-time diaper for active play, outings and naps. We have not faced a single leak. Even after only one prewash, the Bottombumpers lasted through 2 hours of active play, with the soaker being 2/3 full. Most of the time, I change Vee (a super-heavywetter) after 3 hours and the soaker would be 2/3 to completely full. The cotton lining helps to absorb pee too, which ups the absorbency a notch. Tip #4: To further boost the absorbency, add a cotton / hemp / bamboo doubler below the soaker.
Both the cotton lining and bamboo soaker feel damp when wet. In the early months when Vee was a fussy newborn, I would have preferred cloth diapers with a stay-dry layer. Now, I actually like feel-wet fabrics, which would help him potty-train faster. To protect his sensitive skin, I simply change him every 2 to 3 hours.
Poo: Vee poo-ed on the diaper once. The solid is easily dunked into the toilet and a little spraying cleaned the rest off the bamboo velour.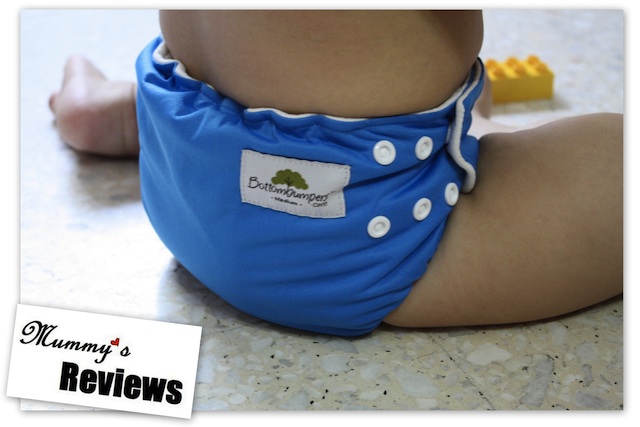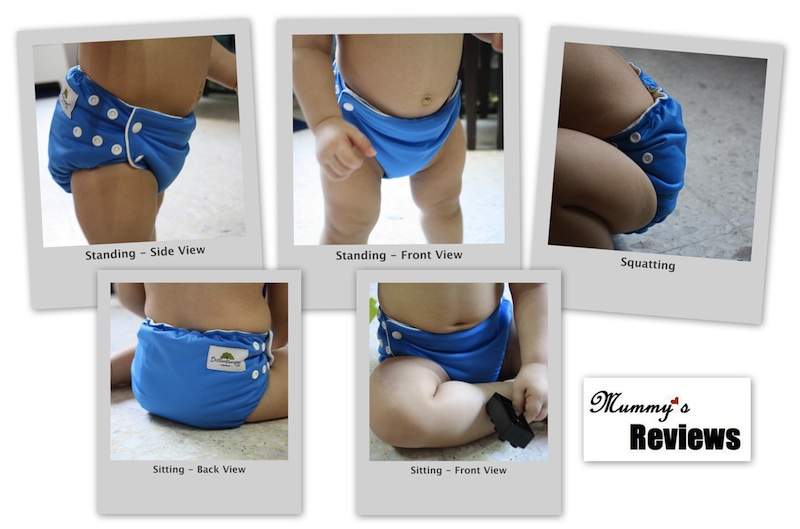 Overall, we love the Bottombumpers Side Snapping AIO Diaper!
—
What we like about it:
Easy to use
Absorbent
Trim
Dries fast
Fits chubby thighs well
Gentle elastics leave no red marks
New snap-on soaker can be purchased if the original is worn out or stained
Contains certified organic cotton and bamboo materials
What can be improved:
Shorten soaker a little so that it does not tend to stick out in front, or shift the back snaps higher
—
Win Your Own
THREE (3) lucky subscribers will win a Bottombumpers Side Snapping All-in-One Cloth Diaper worth RM89 each, sponsored by Bottombumpers and baby-mel.com. This is how to participate:
To get EXTRA entries:

1 extra entry: "Like" Mummy's Reviews™ Facebook page (existing fans counted)
1 extra entry: "Like" Bottombumpers AND baby-mel.com Facebook pages here & here (existing fans counted)
1 extra entry: Register here to become a member of baby-mel.com
1 extra entry (unlimited total): For each participant referred by you (e.g. through sharing the Giveaway on Facebook)
3 extra entries: Share this Giveaway on your blog / website
Other Information
If you are one of the winners of this Giveaway:

The colour of your Bottombumpers diaper will depend on the stock available.
You would need to send in three (3) photos of your baby in the Bottombumpers diaper won. The photos may be used in marketing materials.

This Giveaway is open to subscribers with a mailing address in Malaysia.
It will run until 14 July 2010.
The usual Giveaway Terms apply.
Send in your entries now and good luck!
—
Get Your Own
To get your own Bottombumpers cloth diapers, visit these retailers based in Malaysia:
The entire list of retailers is available here.
You may also check the price at Amazon.com here: Bottombumpers All In One with Side Snaps
*
—
Disclosure: I received a Bottombompers cloth diaper for review.
*: affiliate link to support the growth and maintenance of Mummy's Reviews™