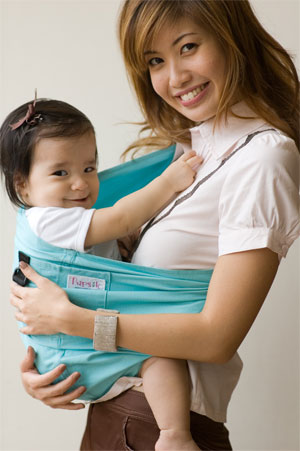 This Review & Giveaway article is sponsored by Pupsik Studio based in Singapore.
Most babies love to be carried and Vee is no exception. At 16 months old, he probably still misses living in Mummy's womb sometimes. I love babywearing Vee as it keeps him calm on clingy days while freeing up my hands. We have two ring slings and a soft structured carrier, and were eager to try out Pupsik Studio's baby pouch carrier.
What is a fitted pouch carrier?
A fitted pouch carrier is a simple one-piece design, with no adjustment needed through rings and buckles. The size is meant to fit the caregiver (usually Mummy!), and there are 3 to 5 carrying positions to meet baby's needs as she grows from a newborn to a toddler.
About Pupsik Baby Pouch Carrier
These are the main features of the carrier:
Material: Made of high quality cotton fabrics with a slight stretch for comfort
Sizes: S, M, L, XL
Limit: Up to 20kg child
Extras: (1) Leg padding (2) Pocket to hold loose items
Choices: Currently 6 solid colours and 10 lovely prints
Country of origin: Made in Malaysia
First Impressions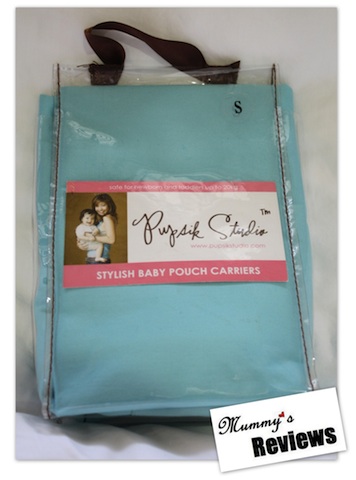 The baby carrier is packaged in a durable plastic pouch with snaps, which keeps it clean when not in use. I am very impressed by how compact it is — only slightly bigger than my palm! The pouch carrier comes with a small booklet explaining safety precautions and wearing instructions. There are step-by-step photos showing how to put on the pouch and wear it for 3 carrying positions — cradle carry, kangaroo carry and front carry. The sewing is also very well done.
How We Tested It
Fit / Ease of Use: Pupsik Studio has a user-friendly online sizing calculator that helps customers choose the correct size based on weight, height and bra cup. It recommended the Small for me and the fit is perfect. It took very little learning to wear the pouch and put toddler Vee in it. No rings and buckles means absolute convenience indeed!
Home: It comes in useful when I need to carry him up/down the stairs and hold other things (usually cups and handkerchiefs) at the same time. Otherwise, it is difficult to juggle so many things while ensuring he does not tumble down the stairs.
Outdoors: Nowadays, he is more willing to sit in the stroller, so I pack the Pupsik pouch carrier (instead of the soft structured carrier) in the diaper bag. This saves lots of space and we can travel with a light diaper bag. If he becomes clingy, it is easy to pop him into the pouch while we continue running errands. (Note: A sized carrier means only I or another caregiver of similar size may use it.)
Period of Use: Since the weight of the child is bore by one shoulder and Vee is already 28% of my weight, I use the carrier only for short periods of time (less than 30 minutes). I love the thick leg padding which protects Vee's chubby thighs.
Laundry: I washed the pouch carrier once by hand and there was colour run. The water became clear after 5 to 6 rinses (erm… I lost count as I was preventing Vee from barging into the washroom). The simple one-piece design means quick drying time for reusing again. (Tip: Always wash new garment by hand or separately before first use.)
Overall, we like the Pupsik Baby Pouch Carrier and it would be in our diaper bag for a long time.
—
What we like about it:
Light and compact — saves space in diaper bag
Packaged in a reusable plastic pouch to keep the pouch clean
Easy to use
Machine-washable
Leg padding protects baby's thighs
Variety of colours and lovely prints to match Mummy's skin tone and wardrobe
What can be improved:
Prevent colour run by choosing fabric/dye which is less prone to colour run, prewashing the carrier, or reminding customers to wash separately before first use.
—
Win Your Own — CLOSED
ONE (1) lucky subscriber will win a Pupsik Baby Pouch Carrier worth S$45.90 each. This is how to participate:
To get EXTRA entries:

1 extra entry: "Like" Mummy's Reviews™ Facebook page (existing fans counted)
1 extra entry (unlimited total): For each participant referred by you (e.g. through sharing the Giveaway on Facebook)
3 extra entries: Share this Giveaway on your blog / website
Other Information
This Giveaway is open to subscribers with a mailing address in Singapore and Malaysia.
It will run until 5 July 2010.
The usual Giveaway Terms apply.
Send in your entries now and good luck!
—
Get Your Own (with Discount!)
To get your own Pupsik Baby Pouch Carrier and a wide range of unique products for Mummy and baby, visit Pupsik Studio.
Special Treat: 10% discount on baby pouches
Discount Code: MUMMYSREVIEWS
Validity Period: Until 31 July 2010
The Pupsik pouches are also available at these retailers based in Malaysia:
Mothercare (MidValley, KLCC, The Curve, 1Utama, Subang Parade, Bangsar Shopping Centre, Pavilion, Alamanda, Gurney Plaza)
Little Me Store (Kota Kinabalu — 4 stores throughout, Sandakan)
Kid's Avenue, Kota Kinabalu
Poppies (Kuching, Sibu)
Toys World (Miri)
Baby's Gallery (Miri)
Peekaboo Baby (Penang)
—
Disclosure: I received a Pupsik Baby Pouch Carrier for review.
—
Read more on Why I Love Babywearing.