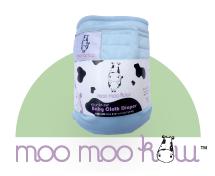 These few weeks have kept my busy with organising several reviews-cum-giveaways. A cough/cold bug running around the house has given Vee a runny nose PLUS he is all clingy with 4 teeth that take a million years to erupt. I try not to think that after these 4 teeth, there are EIGHT more to go… which means another 2 million years of torture we need to go through.
Anyway, the winners of Giveaway #7 sponsored by Moo Moo Kow™ are out! Thank you very much to all who have participated. The response from you was great and I have been super-excited over drawing the winners.
Here are the lucky winners (first two name generated by Random.org):
Suzi Fadhilah Ismail who would like a Moo Moo Kow™ One-Size Snap Diaper in Candy Pink
Jenny Kartika who would like a Moo Moo Kow™ One-Size Aplix Diaper in White with Blue Snaps
Timestamp: 2010-06-24 07:46:38 UTC
Congratulations to you on winning the diaper of your choice and two bamboo cloth wipes each.
To claim your prize, please notify me of your shipping address (in Singapore or Malaysia) within 7 days of this post via email.
Thank you again for your support and do encourage your friends to visit Mummy's Reviews™. And remember to participate in Giveaways #8, #9 and #10 for loads of prizes!