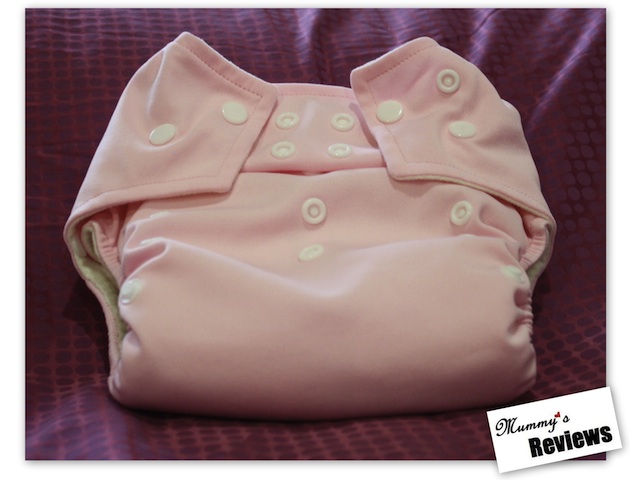 After bouncing back from a MEGA flu with fever hitting 38.5 degree Celsius, I am finally able to publish this Review & Giveaway article on Bouncy Baby One Size Cloth Diaper and Wet Bag– designed by the team at Tiny Tapir. Vee and I have tested the diaper over almost 2 months and we like that it is made of high quality materials, good workmanship and the introductory prices are jaw-droppingly LOW!
What is a One-Size Diaper?
(This short section is for mums new to cloth-diapering.) A one-size  diaper means it comes in only one size (i.e. no XS, S, M, L or XL). It usually fits babies well from 3 to 5kg onwards (depending on the brand) to an average-sized toddler. It is a suitable choice if:
your newborn/toddler is nether too petite nor too huge, or
you plan to have one or two children, or
you are on a tight budget.
About Bouncy Baby One Size HEMP Pocket Diaper
These are the main features of the diaper:
Outer layer: Made of soft and thick breathable polyurethane laminated (PUL) fabric (Up to 300 washes at 40 degree Celsius or below.)
Inner lining: Made of Alova suedecloth
Insert (Large, Hemp): Contains 2 layers of 55% hemp & 45% cotton. When folded: 6 layers of absorbency
Insert (Small, Microfibre): Contains 2 layers of microfibre. Snapped onto hemp insert.
Closures: Diagonal front snaps.

2 rows of 10 waist and thigh snaps. 5 to 6 possible settings.

Country of origin: Made in Malaysia, in a small dedicated sewing studio
The introductory colours are blue and pink, with more to be launched.
First Impressions
I received the review sample during the Mom & Baby Expo at MidValley in May, on the first day of Bouncy Baby's soft launch. Li from Tiny Tapir described her new diaper with conviction, while coming across as socially responsible and passionate about cloth diapering. I appreciate that she chooses to manufacture the diapers in Malaysia to ensure close supervision and humane treatment of workers.
Both the workmanship of the diaper and the quality of materials used are indeed excellent. It is the first time that I felt Alova suedecloth (the stay-dry layer)– extremely soft and comfortable! This is the most unique point that drew me to test Bouncy Baby out. (Most cloth diapers use suedecloth, microfleece and bamboo. Alova suedecloth is really outstanding!)
The pocket opening has a flap that keeps inserts in place without using elastics.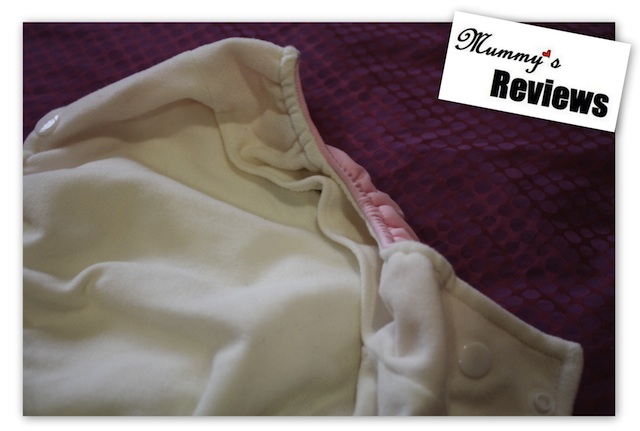 My review sample comes with an extra set of snaps at the thigh, intended to prevent wing droop for newborns. This feature would probably be removed for newer batches.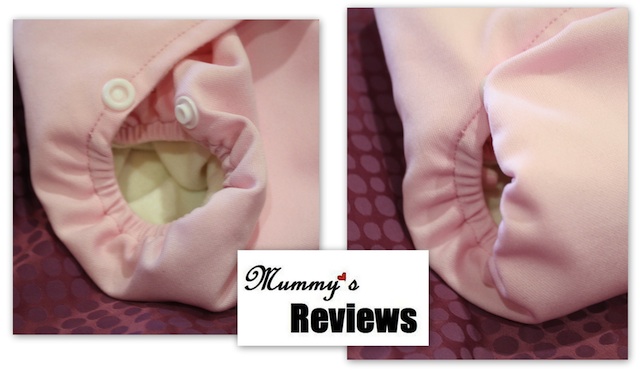 Bouncy Baby HEMP Pocket comes with a large prefold size hemp insert and a small microfibre insert. Hemp is known for its superb absorbency, while microfibre soaks up liquid very fast. By combining the two (with microfibre layer closer to baby's bums), the diaper technically becomes a super-soaker.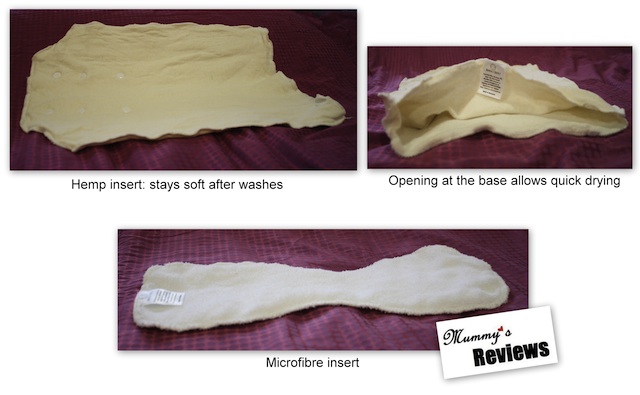 How We Tested It
Prewash: I prewashed the diaper and inserts with warm water once by hand . The hemp insert is uniquely designed with a large base opening that allows quick drying. Otherwise, hemp inserts could take a few days to dry since they are very absorbent.
Tip #1: Prewash new hemp inserts SEPARATELY from other diaper items to remove its natural oils.
Tip #2: To help hemp achieve its full absorbency faster (i.e. prep it), wash it in WARM/HOT water or boil it once. However, do not boil if it has snaps on it.
Regular Laundry: The diaper has been machine-washed at 60 degree Celsius and still stays as good as new after almost two months. The Alova suedecloth and hemp insert are still soft after many washes.
A significant amount of lint was found inside the hemp insert though. I could not tell if the lint was originally present or caught up from the laundry. Anyway, I removed them and wash the hemp insert in a laundry net subsequently. No more lint has been found in the insert since.
Update on 13 Jul 2010: Part of the PUL has separated after about 30 washes at 60 degree Celsius. The PUL manufacturer just confirmed with Bouncy Baby that the PUL fabric needs to be washed on cold. Bouncy Baby is sourcing for new PUL fabric. Therefore, if you get Bouncy Baby, please note that it is for cold wash (maximum 40 degree Celsius).
Ease of Use / Fit: It took a while to figure out how to use the inserts since the hemp insert is really one-of-a-kind. There are 6 snaps on it, and no instructions provided on the packaging. It is possible to snap it in various combinations to meet the child's needs (boy / girl / small / medium / large). Hence, I created the step-by-step pictures below to help you understand better how the inserts work.
This is the first time I try putting on a diaper with diagonal front snaps on Vee. There are only 2 snaps per side, which take up little time. He is using the third rise setting and the front of the diaper rests nicely below his tummy. The back elastic is relatively thin, so if the snap settings are tight, there could be red marks on baby. Thicker and gentler elastics would be more ideal.
Trimness: The inserts combination above, with the extra layers of hemp placed in front (for a boy), resulted in a thick bulk below his tummy. Therefore, I would suggest reserving this configuration for naps or night-time only. During the day, I prefer to skip Step 1 for a trimmer diaper.
The diaper with its hemp plus microfibre inserts are designed for night-time cloth-diapering, therefore it is not trim. We use it only at home, so this is acceptable. (Bouncy Baby is also sold with microfibre inserts only, which would be trimmer for day-time use.)
Absorbency: The hemp insert was absorbent for at least 2 hours even after one prewash. We have tried it for up to 4 hours without any leak. When Vee is changed, the inserts are at most 3/4 full, which means they can last even longer. The absorbency is very high, considering Vee is about the heaviest-wetter in town.
Stay-dry: Alova suedecloth stays dry and comfy against baby's bums, so if your baby is fussy over wet diapers, this is very suitable.
Poo: No 'luck' with poo accidents in the diaper as Vee is potty-trained for poo.
I know you've been waiting for this… View photos of Vee's sexy bums below: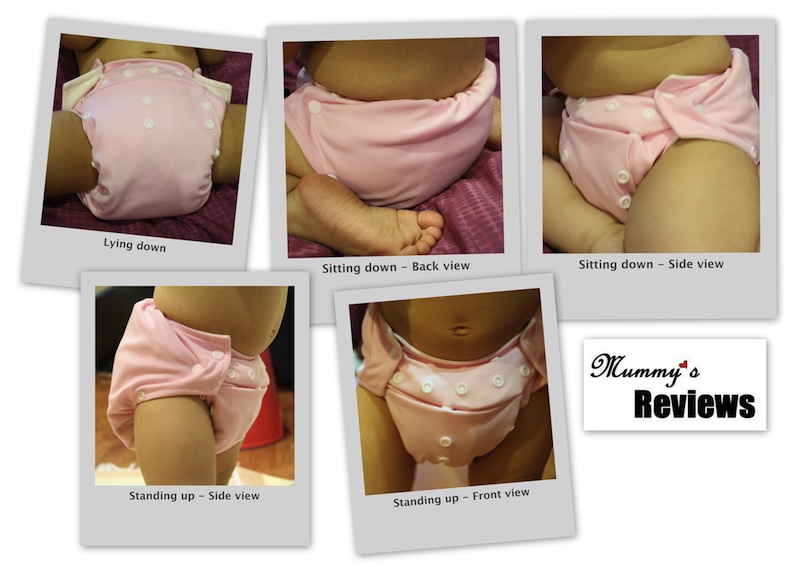 The price of a Bouncy Baby One Size Pocket Diaper with hemp and microfibre inserts is RM69.90 (~USD22 or SGD30); introductory prices are at only RM52 (~USD16 or SGD22)! For such quality and functionality, it is absolutely value-for-money.
—
What we like about it:
Alova suedecloth has won my hearts over! Stay-dry, soft and comfortable for baby
Hemp insert is soft and very absorbent, perfect for night-time use
Hemp insert dries fast, thanks to its unique design
Large cutting fits chubby babies well
What can be improved:
Use PUL fabric that can be washed on hot
Provide instructions on how to combine inserts
Thicker and gentler back elastics to prevent red marks
Introduce printed fabrics for fashionista Mums
—
Win Your Own
TWO (2) lucky subscribers will win a Bouncy Baby Value Set & 1 hemp insert worth at least RM159.90 (~USD50 or SGD69) each! This means each winner gets:
Three x One Size Pocket Diapers (Pink or Blue)
Six x Microfiber inserts (3 large + 3 small)
One x Hemp insert
One x matching colour zippered wet bag with handle, fits up to 5 cloth diapers (Read the review here or click on the thumbnail below for a larger image.)
This is how to participate:
To get EXTRA entries:

1 extra entry: "Like" Mummy's Reviews™ Facebook page (existing fans counted)
1 extra entry (unlimited total): For each participant referred by you (e.g. through sharing the Giveaway on Facebook)
3 extra entries: Share this Giveaway on your blog / website
Other Information
This Giveaway is open to subscribers with a mailing address worldwide.
It will run until 30 July 2010.
The usual Giveaway Terms apply.
Send in your entries now and good luck!
—
Get Your Own
To get your own Bouncy Baby One Size Pocket Diapers, visit Tiny Tapir.
Limited Period Offer: Introductory discounts of 25% to 30% (until the full range of colours are out)
There is also a large range of other items for Mummy and baby. (Warning: It is hard to stop shopping once you are in the store!!!)
—
Disclosure: I received a Bouncy Baby One Size Cloth Diaper for review.