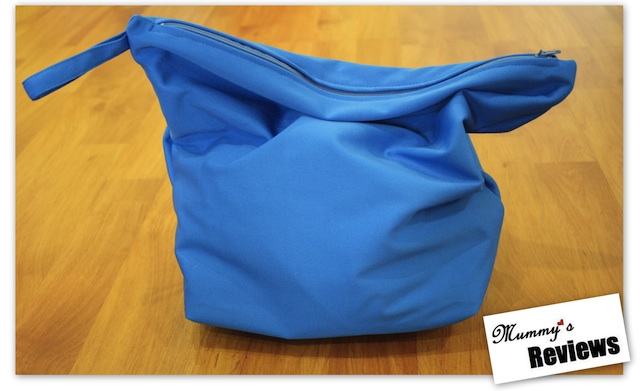 Wet bags are a must-have for EVERY diaper bag. If "wet bag" is totally an alien term to you or sounds something like a bag accidentally dropped onto a puddle of water, then please read on:
What is a Wet Bag?
A wet bag is a cloth bag with a zip closure and waterproof inner lining. It was originally designed to hold wet or soiled cloth diapers when Mummy and baby are on the go. There are various sizes to suit different needs. Since its invention by the cloth-diapering industry, Mums have found a trillion uses for wet bags, limited by only your own imagination:
for the

poopy / pukey newborn

: hold wet/soiled cloth diapers, bibs, handkerchiefs, clothes, etc.
for the messy eater: hold cutlery, utensils, boxes of snacks, spare bibs, etc. After a messy meal, dump everything back into the wet bag.
for the water baby: hold wet swimwear and towels after a dip in the pool
for the toddler in daycare: hold a spare change of clothes. After bathing and changing, keep used clothes in wet bag.
for the young Picasso: hold used painting accessories after enrichment activity
for the grandchild camping over at Granny's place: a large wet bag that can be hung at the door knob serves as a travel-size laundry basket
for Mummy: hold soiled cloth pads, cloth wipes, make-up accessories, etc.
Now you'd probably understand why I never have enough wet bags.
About Bouncy Baby Wet Bag
These are the main features of the wet bag:
Single layer: Made of soft and thick breathable polyurethane laminated (PUL) fabric
Loop handle: Yes
Dimensions: Approximately 32cm (length) x 29 (height) x 12cm (base width)
Capacity: Up to 5 of most brands of cloth diapers
Country of origin: Made in Malaysia, in a small dedicated sewing studio
There are 4 solid colours to choose from.
How We Tested It
Laundry: Before initial use, I washed it by hand and there was no colour run. Normal laundry has been easy: To reuse it in a rush, simply give the inner surface a good wipe. Otherwise, flip it inside out and toss into your normal laundry.
Performance: I use the wet bag to hold Vee's meal-time accessories when dining out. It is very roomy and contains everything needed. The waterproof lining works well in keeping the dampness of his wet handkerchiefs in.
I like the loop handle that makes holding easy. Often at home, I need to carry Vee up/down the stairs while grabbing a few dirty handkerchiefs and a cup for washing. Instead of using a baby carrier, I could also dump the messy stuff into the wet bag and still carry Vee.
The capacity is large because of its wide bottom design. The stretchy fabric means you can stuff it like a dumpling.
The price of a Bouncy Baby Wet Bag is RM27 (~USD8 or SGD12). A similar-sized wet bag imported from the U.S. could cost twice as much.
—
What we like about it:
Wide bottom provides large capacity
Stretchy fabric allows stuffing to the max
Simple one layer design
Loop handle eases holding it
What can be improved:
Introduce more colours and prints
—
Win Your Own
Participate in Giveaway #11 here.
—
Get Your Own
To get your own Bouncy Baby Wet Bags, visit Tiny Tapir.
—
Disclosure: I received a Bouncy Baby Wet Bag for review.