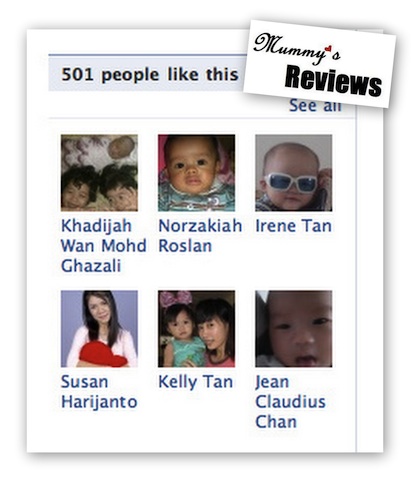 Over the weekend, the number of Mummy's Reviews™' Facebook fans (or people who "like" it) has reached 500! The number may seem small, yet to us, it is a very BIG deal. Mummy's Reviews™ was started in July 2009 when Vee (then known as Baby V) finally started to take regular long naps. I wanted to share about the products that helped to solve my parenting challenges or made mothering Vee easier.
A year has almost passed and it is interesting to reflect on how much Mummy's Reviews™ has evolved:
July 2009: First hosted on Blogger.com
Aug 2009: Started Facebook Fan page
Oct 2009: Moved to WordPress.com, registered own domain name under MummysReviews.com
Nov 2009: Giveaway #1 launched
Dec 2009: First article published on Today's Motherhood
Jan 2010: Incorporated company in Singapore, moved to private host
To date, these are our mini achievements:
11 Giveaways hosted!!!
5 articles published in Today's Motherhood
Pageviews: 5,782 in June 2009
Absolute unique visitors: 1,938 in June 2009
RSS Feed Subscribers: 236
Fans on Facebook page: 501
While being a Stay-At-Home-Mum, Mummy's Reviews™ has enabled me to keep my mind active while helping other parents with my little experience. Through it, I also learnt from like-minded parents, which is important as parenting could be a lonely journey at times.
It warms my heart when some of you send me "love letters" (see Testimonials here). Knowing that you have benefitted from my writing certainly brightens my day and keeps me motivated. I read every email from you and try to reply promptly. If I don't, it simply means mothering has been too overwhelming.
Thank you very much for growing with Mummy's Reviews™ and I.
What do you wish to read more about at Mummy's Reviews™?