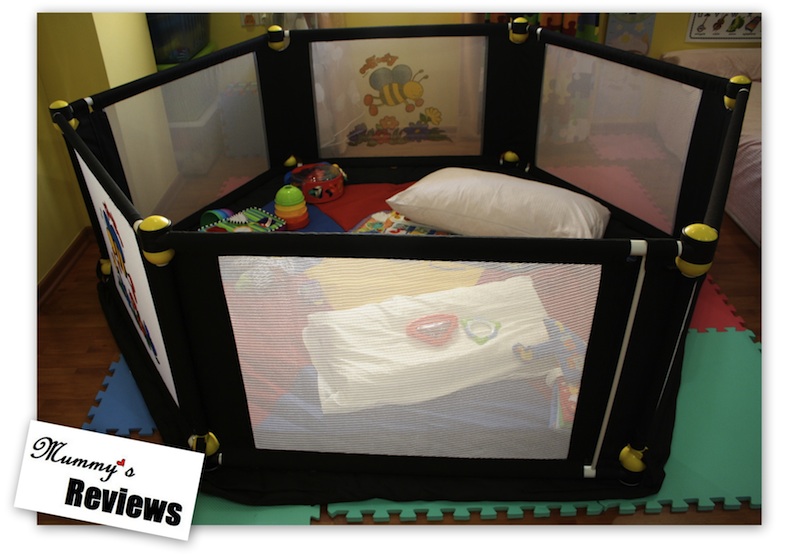 Ok, the title is exaggerated. I can survive a weekend without this play yard, since hubby helps out. We have been using the Vee Bee Play Yard for 8 months and thought it is a good time to share this review with you.
Why Do We Need a Play Yard?
When Vee was younger, he loved playing at his Tiny Love Gymini. At 7 months old, Vee started crawling forward rapidly. One month later, he was pulling himself up to stand.
He refused to be confined in the small baby cot or play pen. When I needed to do something without babywearing him, he screamed in the cot / play pen. Letting him roam dangerously around wasn't an option either.
He repeatedly did these: pulled himself to stand in the cot, let go of his hands and fell against the wooden rails. I was paranoid that he would get concussion soon!
I like to give him some independent play time daily and needed a baby-safe zone for his free play sessions.
How Did We End Up with this Vee Bee Play Yard?
As usual, I shopped around and narrowed my options to the Haenim Play Yard and Vee Bee Play Yard. Key differences:
Haenim 6-Panel Play Yard: about S$174 (USD126), made of PVC
Vee Bee 6 Sided Play Yard: about RM999 (USD312), made of steel and fabric
I nearly bought the Haenim until I read that it is made of PVC (see note at the bottom). After viewing the Vee Bee Play Yard twice, we decided to invest in one.
About the Vee Bee 6 Sided Play Yard
These are the main features of the play yard:
Dimensions: 180cm hexagon
Country of origin: Made in Taiwan (by Valiant Enterprises Pty Lyd, an Australian company)
First Impressions
My husband was responsible for setting up the play yard and it was up in a short while. I was sooooo excited to see it in the room as it spelt F-R-E-E-D-O-M for me… finally! It is huge and can comfortably fit all three of us in.
Although the play mat is thick, it cannot cushion a fall on the head well enough. Therefore, we place foam play mats below it.
Update: With #2 Baby Jae, I place a thin foldable mattress ON top of the play mat. This way, I only have to change the bedsheet every week and wash the mat only when necessary.
Our Experience Using It
Best Time: The best time to place Vee in it is when he is freshly awake in the morning or from his nap. The boy would be happy to play with his toys inside while I rush to clean up, sort out the laundry and do stuff at lightning speed. He could be so engrossed with his toys until I need to coax him for his bath!
Safety: When Vee was learning to stand / walk and falling a lot, I threw 3 pillows into the play yard to cushion his falls. Sometimes, he would fall and hit the steel rods at the base but nothing serious.
Cleaning: Every 2 weeks, our domestic helper washes the play mat. It usually dries over the weekend. Vee loves to suck the horizontal rails (gross!) and I figured the only way to sanitise it is by using an electric steamer. Erm… I am guilty of not doing this. Good for building Vee's immunity?
Irritating Velcro tabs: Inside the play yard, the fabrics are attached with strips of Velcro tabs, which Vee would curiously undo all the time, which irritates me to the core! Outside the play yard, the play mat is attached to the steel rods via 6 strips of fabric with Velcro tabs (AGAIN!!!). Vee would happily go round the play yard, pull off the 6 strips of connectors and leave them all over the place, like a treasure hunt trail for me. If cloth diaper makers can use snap buttons, why can't Vee Bee?!?
Alternative Uses:
Child Outside, Toys Inside: When Vee is roaming freely outside the play yard, I keep some toys away from him in the play yard to prevent a mega mess in the room.
Everyone Inside: When I am exhausted, such as during the recent fever episode, I rested in the play yard while he played around me. Full confidence that he would be safe even if I fell asleep.
Some Mums have a tough time getting baby to play independently in a play yard, here are some tips I have learnt over time:
Tip #1: From the time baby is a newborn, allow her to have some independent play time daily (about 15-30 min). This gets her used to playing by herself occasionally.
Tip #2: Fill a new play yard with baby's favourite toys to give her a sense of belonging.
Tip #3: Accompany baby into the play yard, get her interested in a toy. Excuse yourself by telling baby you need to do a small task such as switch on the fan or close the door. If baby is fine playing on her own, then let her do so for a short while.
Tip #4: Use the play yard for mainly for independent play. If you are in it with baby too often, baby may associate it with Mummy-time and may need you to be in it with her.
Tip #5: Do not leave baby crying badly in the play yard or use it as a "Naughty Corner". If baby associates the place with negative experiences or emotions, she may dislike being in it.
Overall, we find the Vee Bee Play Yard a worthwhile purchase, which allows me to do chores with ease for short periods every day.
Update: With #2 Baby Jae, this play yard allows me to separate the boys, keeping the baby safe. Baby plays inside, preschooler plays outside, while I use the loo!
—
What we like about it:
Extra large size gives baby ample room to play without feeling too confined
Easy to set up
Only fabric is in contact with baby
Play mat is easily washable
Bright and cheerful colours (play mat) keep baby interested
Light-weight frame — easy to shift play yard when cleaning the room
What can be improved:
Use snaps instead of Velcro tabs (hook & loop closures)
—
Get Your Own
So far, we have only seen it sold at First Few Years:
Paragon in Singapore
The Curve, Petaling Jaya in Malaysia
The price in Malaysia was RM999 when we bought it. First Few Years members may get a 10% discount.
—
P.S. Read why PVC is known as "The Poison Plastic" here
P.P.S. To stay updated on latest baby product reviews, join Mummy's Reviews™ Parents Club now: