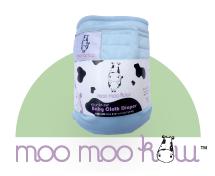 As one winner of Giveaway #7 sponsored by Moo Moo Kow™ has yet to respond, here is new lucky winner (fourth name generated by Random.org):
Allison Ng who would like a Moo Moo Kow™ One-Size Snap Diaper in Royal Blue
Timestamp: 2010-06-24 07:46:38 UTC
Congratulations to you on winning the diaper of your choice and two bamboo cloth wipes.
To claim your prize, please notify me of your shipping address (in Singapore or Malaysia) within 7 days of this post via email.
Thank you again for your support and do encourage your friends to visit Mummy's Reviews™.
—
Important Note: If you take part in Giveaways, please ensure that you subscribe to Mummy's Reviews™ updates via an online reader or email (remember to confirm the subscription), and check your inbox regularly for winner announcement posts such as this one.