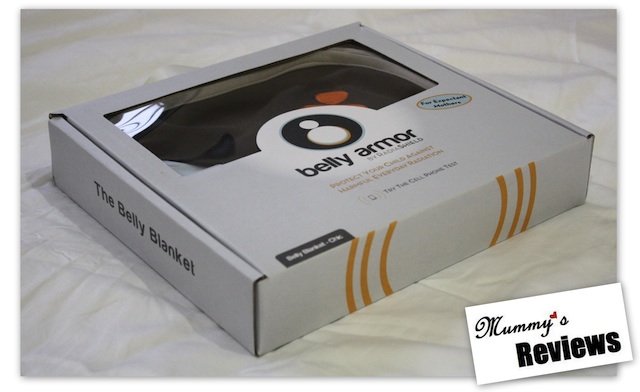 For a decade, I have been cautious about radiation exposure. As a heavy laptop (computer) user, I was exhilarated to review The Belly Blanket – Chic by Belly Armor — the EXACT solution I have been looking for to protect my baby during the next pregnancy.
Health Risks Associated With Radiation Exposure
Belly Armor provides a list of resources for information related to health risks linked to radiation exposure: Visit Further Reading.
Since handphones are among the most common devices used, these are excerpts from Cell Phone Radiation Science Review:
"significantly increased risk of developing glioma, a usually malignant brain tumour (International Agency for Research on Cancer (IARC) 2008; Lahkola 2007)"
"significantly increased risk of acoustic neuroma, a type of benign brain tumor (IARC 2008; Schoemaker 2005)"
"increased risk of benign parotid gland tumors (IARC 2008; Lonn 2006)"
"highest risk of brain tumors among people who started using cell phones during adolescence (Hardell 2009)"
"young children who use cell phones and whose mothers also used cell phones during pregnancy are 80 percent more likely to suffer emotional and hyperactivity problems (Divan 2008)"
Ways to Limit Radiation Exposure
Belly Armor also provides suggestions to limit radiation exposure when using electronic devices: Read Sources.
These are the ways that I have already adopted for several years:
Limit the duration and proximity of exposure to cell phone
Find alternatives to cell phone use, such as text messaging or using a landline
Do not sleep next to your cell phone while it is on
Limit use of cell phone by young children
Stay away from young children when using the cell phone
Do not place laptops directly on your lap while working
If you have the option, use an LCD monitor instead of a CRT
Do not sleep with your portable music players on
Avoid standing or sitting near the microwave oven when it is on as EMF from microwave ovens can cover quite a large area (In fact, I do not use a microwave oven.)
To limit radiation exposure to a foetus, a solution such as The Belly Blanket would be ideal.
About The Belly Blanket – Chic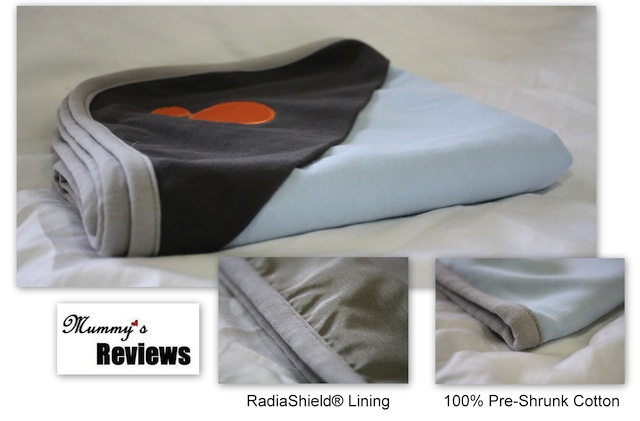 These are the main features:
Efficacy: Shields 99.999% of incoming radiation (60dB)
Dimensions: 30″ x 35″ (75cm x 90cm)
Material: 100% pre-shrunk cotton and RadiaShield® lining
Country of origin: Made in Indonesia (Factories adhere to Good Manufacturing Practices standard)
The available colours are cosmo (blue), juno (cream) and metro (black). There is a Luxe version made of cotton micro-fleece and satin.
First Impressions
I like the well-designed packaging, which makes it a wonderful gift for new Mums. The material is soft and smooth, which is significantly more superior than another shield apparel I have seen before at a motherhood fair. I couldn't wait to wash and use it!
How We Tested It
Prewash: I prewashed the Belly Blanket with cold water by hand once. There is no colour-run. After line-drying in the sun, the blanket remains soft and smooth, and retains it shape. Thanks to the pre-shrunk cotton!
Normal laundry: After several warm 40°C machine washes (placed in a laundry net), the blanket still remains soft and smooth.
Cell Phone Test: The Belly Blanket passed the test several times:
Before laundry: handphone 3G reception decreased from 7 to 4 bars after 3o seconds
Before laundry: handphone 3G reception decreased from 7 to 4 bars after 3o seconds
After laundry: handphone 3G reception decreased from 7 to 4 bars after 3o seconds
After laundry: iPod Touch WIFI reception decreased from 3 to 2 bars after 3o seconds, to 1 bar after 1 minute
Ease of use and comfort: I fold the large blanket into halves and use it to cover my tummy while Vee nurses at night. It is also big enough to cover Vee while he naps, to protect him from radiation as I use the laptop.
The cotton side is more suited to touch the skin than the stiffer RadiaShield® lining. The blanket is thin and breathable, well-suited for our tropical climate. Since there is a hood, I try swaddling Vee for fun and he enjoyed it. The result… a 17-month old MEGA-dumpling!
The price of The Belly Blanket – Chic is USD69 while the Luxe version is USD109. I certainly look forward to using it to during my next pregnancy. In the meantime, it would be Vee's and my blanket.
—
What we like about it:
Consistently passed the "Cell Phone Test"
Pre-shunk cotton allows blanket to retain its shape
Cotton material is very soft and smooth
Generous size provides large coverage for covering pregnant belly and swaddling baby
Machine-washable — convenient during laundry
Packaging made with recycled paper
What can be improved:
Add one more layer of cotton to conceal RadiaShield® lining
—
Get Your Own (with Discount!)
To get your own Belly Armor Belly Tee, Belly Blanket or Belly Band (coming soon), visit Belly Armor.
Special Treat: 15% discount
Discount Code: MUMREV
Validity Period: Until 15 Sep 2010
You may also check the price at Amazon here: Belly Armor Belly Blanket Chic
*
*: affiliate link to support the growth and maintenance of Mummy's Reviews™
—
Disclosure: I received The Belly Blanket – Chic for review.