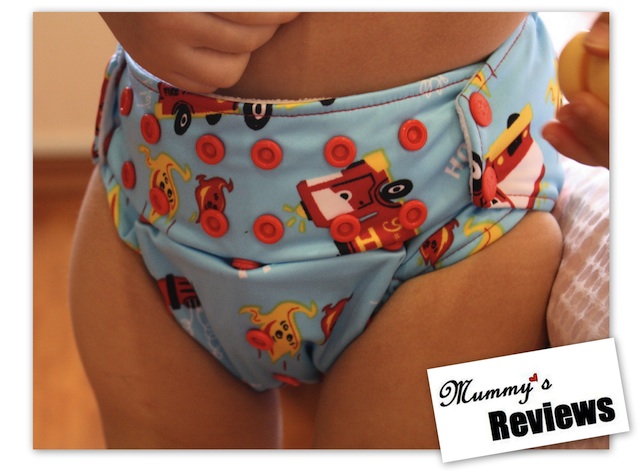 Tiny Tapir is having a MEGA clearance sale on Rumparooz G2 One Size Cloth Diapers. Vee, our professional diaper tester, has tested the pocket diaper with fountains of pee. We are impressed by its excellent design and performance, and can't wait to share the discounted prices with you!
About Rumparooz G2 One Size Cloth Diaper (Snaps)
These are the main features of the pocket diaper:
Outer layer: Made of waterproof PUL fabric (1000 thread count polyester interlock knit with a urethane laminate)
Inner lining: Made of hypoallergenic no-pill micro chamois
Insert (Large, Microfibre): Contains 3 layers of microfibre. When folded: 6 layers of absorbency
Insert (Small, Microfibre): Contains 2 layers of microfibre. Snapped onto large insert.
Closures: Vertical front snaps.

2 rows of 10 waist and thigh snaps. 5 possible settings.

Country of origin: Made in China by a small European-owned company (details of manufacturing standards)
It is available in a wide range of solid colours and prints, which are aimed at winning the hearts of Mama fashionistas.
First Impressions
The "Ladder 6" print looks as beautiful as its picture online and is among my favourite diaper prints now. Vee's fair skin looks fabulous against the red and blue combination.
The workmanship is excellent and every component of the diaper speaks of quality — bright colours, luxurious micro chamois fabric, signature label, and even the snap buttons are customised with Rumparooz' kangaroo logo! The eye to details lifts the diaper-making benchmark way up.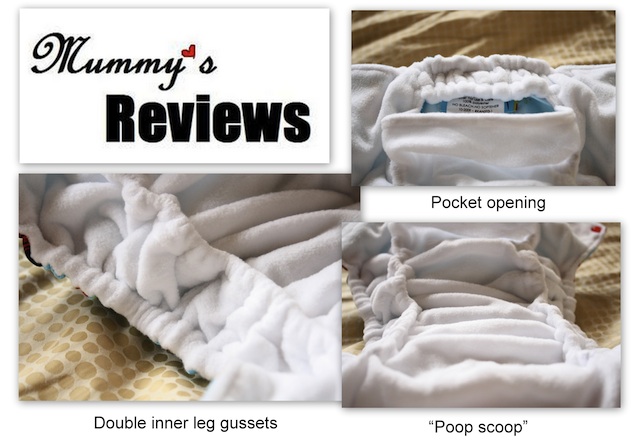 How We Tested It
Prewash: I prewashed the diaper and inserts with warm water once by hand. No colour run, good.
Regular Laundry: To rush this review article out for you, the diaper has only been used and machine-washed at 40 degree Celsius 3 times, so it has yet to withstand the test of time. (Note that I have lowered the washing temperature from 60 to 40 degree Celsius. This saves energy and preserves the life span of PUL fabric.)
Ease of Use / Fit: The 6R soakers (set of 2 microfibre inserts) allow 6 size and absorbency settings. The packaging illustrates the combinations clearly, which is helpful to new cloth diaper users. Personally, I prefer inserts without snaps for more flexibility and to save time.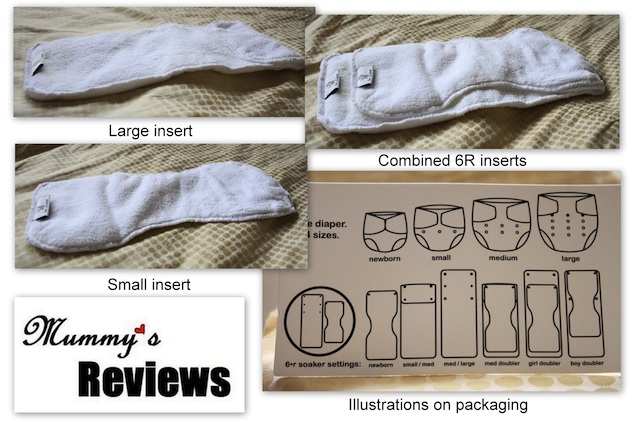 As for the diaper, there is only one column of 2 snaps to fasten per side, so putting it on the baby is relatively fast. Vee is on the third rise setting and the front of the diaper rests comfortably below his tummy.
I like the thick and gentle elastics that leave no red marks on his chubby thighs.
Trimness: When using the 2 microfibre inserts, the diaper becomes thick, so I would suggest using this for bedtime. For daytime, I prefer to use only the large insert.
Absorbency: After one prewash, the inserts already lasted 3.5 hours. The second time round, I adventurously let Vee wear the Rumparooz for an outing. They were completely soaked at 4.5 hours before leaking a little at the back. Microfibre tends to absorb more with further washes. In the meantime, I am satisfied with its initial performance. (For regular use, please change baby's diaper every 2 to 3 hours.)
Stay-dry: Micro chamois stays dry and feels very luxurious even after 4 washes. I like it!
Poo: Since Vee is potty-trained for poo, we need the next baby to test this area. I am especially excited over the double inner leg gussets and "poop scoop" which are claimed to be "100% leak proof against the messiest explosions". Only breastfeeding mums would understand how explosive poop can be.
Parade of Vee's sexy bums again…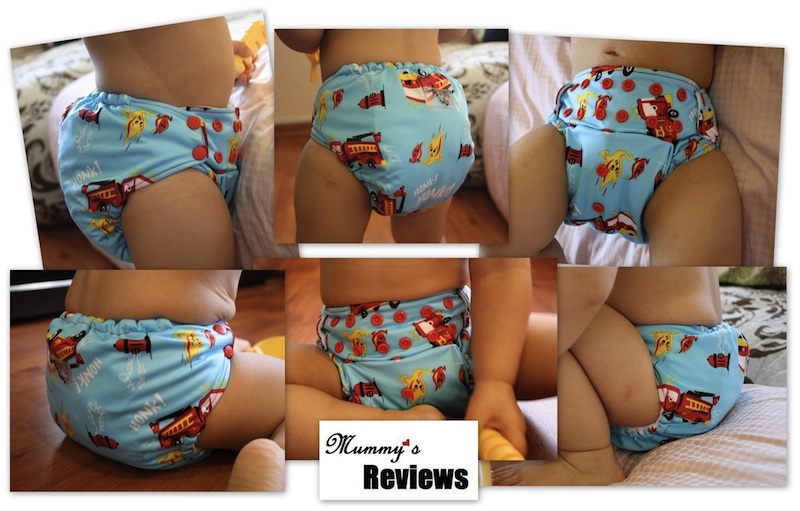 At the clearance sale, the price of a Rumparooz One Size Cloth Diaper with a set of 6R microfibre inserts is RM62.30 for solid colours (~USD20 or SGD27) and RM78.40 for prints (~USD25 or SGD34). The quality and functionality is certainly worth the price.
—
What we like about it:
Unique double inner leg gussets and "poop scoop" to keep messes in
Micro chamois is a wonderful stay-dry fabric — soft and comfortable for baby
Thick elastics that are gentle on baby's skin
Wide range of attractive colours and prints
Packaging clearly illustrates diaper and inserts combinations
What can be improved:
I can do without the snaps on the inserts
—
Get Your Own (with HUGE Discounts!)


To get your own Rumparooz G2 One Size Cloth Diapers at slashed prices, visit Tiny Tapir.
(There is an Aplix version too.)
Solid colours: 30% off
Prints: 20% off
Validity Period: While stocks last
You may also check the price at Amazon.com here: Rumparooz One Size Diaper – Aplix
* (I couldn't find the link for the snaps version.)
—
Disclosures: I received a Rumparooz G2 One Size Cloth Diaper for review.
*: affiliate link to support the growth and maintenance of Mummy's Reviews™
—
Need help to get started on cloth diapering? Read Cloth Diapering Essentials – A Quick Guide.