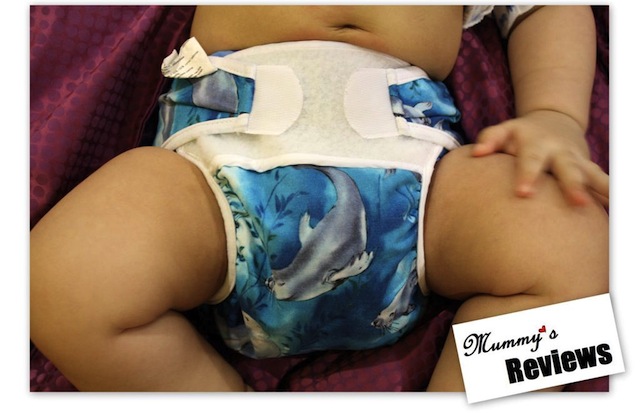 Mums and Dads with water babies, this article is for you! 🙂
What is a Swim Diaper?
A swim diaper is a diaper for babies and non-toilet-trained children to wear for swimming. It is less absorbent than normal diapers, so does not sag down heavily when the child is in the pool. It has a waterproof layer and elastics to prevent poo from contaminating the water.
About Bummis SWIMMI Swim Diaper
These are the main features of the diaper:
Outer layer: Made of cotton printed fabric coated with nylon layer
Inner lining: Polyester mesh
Closures: Velcro tabs
Country of origin: Made in Canada
There are 5 prints in 3 sizes.
How We Use It
Vee is a water baby who LOVES swimming and having long baths. When he was 6 months old, we bought a shallow pool for him to swim at home. Erm… actually, it was more like sunbathing while immersed in 20cm of water.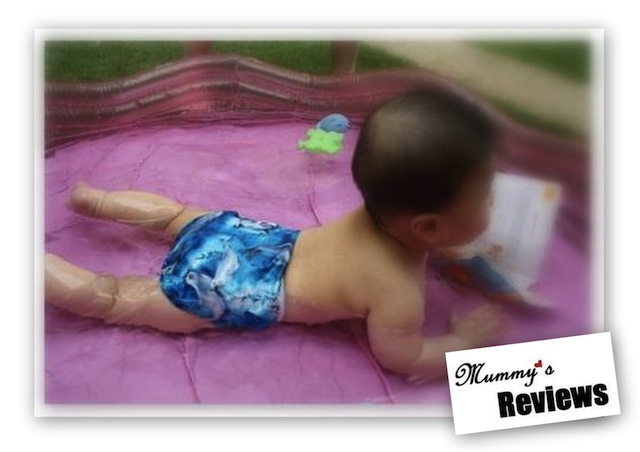 He is a big baby with chunky elephant thighs and several brands of cloth swim diapers could not fit him. Finally, I found Bummis SWIMMI with adjustable Velcro tabs.
Laundry: After wearing the diaper in chlorinated water, the recommendation is to wash the diaper separately from other clothes. I would handwash it with other swimwear. We hardly swim in public pools, so on other days, Vee uses the SWIMMI as a breathable diaper cover over fitted diapers. The sturdy Velcro tabs have withstood washes over the past 12 months.
Ease of use / Fit: For swimming, no insert or soaker needs to be put inside the SWIMMI. Velcro-style means it is very easy for anyone to put it onto a baby. It is adjustable and fits Vee well — he has been wearing the same SWIMMI in size Large for a year!
Poo: The real test for a swim diaper is if it holds poo in when swimming. Thankfully, Vee has never poo-ed under water, so we can't conclude for this test. In case of any poo-accident, wear the diaper snugly on the baby, especially at the thighs.
Convenience: For resort holidays, bringing 1 swim diaper is certainly more convenient and compact than buying disposable swim diapers (which are not widely available). Since babies swim for about 20 to 30 minutes, throwing away a diaper after such a short time is not economical too.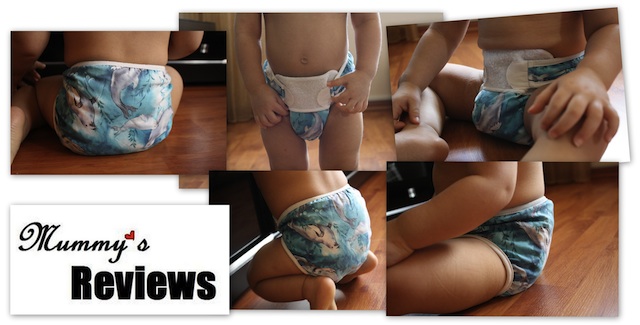 The price of a Bummis SWIMMI is SGD25 (~USD18 or RM58). Considering we have been using it for a year and it should still fit Vee (and other babies) for months or years ahead, it is a very worthwhile purchase.
—
What we like about it:
Breathable cotton fabric
Adjustable size to fit growing babies, especially those with chubby thighs
Thick and sturdy Velcro tabs
Lovely print to be shown off at the swimming pool
What can be improved:
—
Win Your Own
TWO (2) lucky subscribers with water babies will win a Bummis SWIMMI in your favourite print worth SGD25 (~USD18 or RM58) each!
This is how to participate:
Send an email to me (MieVee [at] MummysReviews.com) with the following information:

Method of subscription: in a reader or via email
Your name
Your name in Facebook (to get extra entry mentioned below)
Visit Tiny Pants (go to Products –> Get Wet) and tell me (in your email) why you would like to win a Bummis SWIMMI
If you are a new reader, mention how you got to know of this Giveaway
Blog / Website URL, if any (to get extra entries mentioned below, indicate URL of your exact post)
To get EXTRA entries:

1 extra entry (unlimited total): For each participant referred by you (e.g. through sharing the Giveaway on Facebook / Twitter / email)
3 extra entries: Share this Giveaway on your blog / website
Other Information
This Giveaway is open to subscribers with a mailing address in ASEAN (Singapore, Malaysia, Brunei Darussalam, Cambodia, Indonesia, Laos, Myanmar, Philippines, Thailand, Vietnam).
It will run until 29 August 2010.
The usual Giveaway Terms apply.
Send in your entries now and good luck!
—
Get Your Own (with Discount!)
To get your own Bummis SWIMMI and a wide range of cloth diapering products for baby, visit Tiny Pants.
Special Treat: 10% discount storewide
Discount Code: MV10A (Note that "0" is for the number "zero", not the alphabet.)
Validity Period: Until 29 August 2010, 2359hr
You may also check the price at Amazon.com here: Bummis Swimmi Cloth Diapers
*
*: affiliate link to support the growth and maintenance of Mummy's Reviews™
—
P.S. Need help to get started on cloth diapering? Read Cloth Diapering Essentials – A Quick Guide.