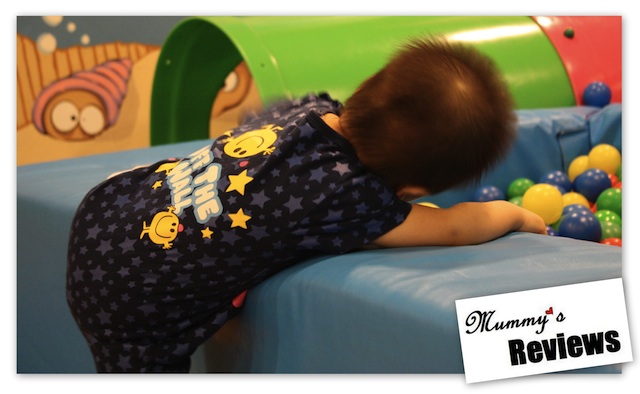 Every day holds a surprise as Vee is growing up at a blazing speed. Here are his little achievements over the month:
Learning & Communication
After learning his name for a few weeks, he suddenly started blurting out his first perfect 5-word phrase in Mandarin: "我是 _ _ _" (which means "I am _ _ _"). I was amazed!
He loves reading and has been pulling out books while saying part of their titles. I am wondering if he is starting to recognise words.
He "sings" parts of songs when relaxed. I am looking forward to singing with him soon!
Physical
Finally, we brushed aside fears of hand-foot-mouth-disease and brought Vee to the play gym. He had tonnes of fun climbing, sliding and being buried in hundreds of small, colourful balls.
After many sessions of water play, he has mastered pouring and scooping water from one container to another. (Read about water play tips.)
He has been diligently practising scooping and transferring small items with a spoon.
He can also put a thread through a large wooden bead.
Diet & Feeding
New favourite foods include soup (a large bowl during lunch) and sushi (gobbled down 5 cucumber makis after his dinner). His Daddy needs to work harder to feed our little glutton.
He has progressed from finger-feeding to fork-feeding. Still not very good at spoon-feeding though.
Night-weaning is almost successful! (Read section on Sleep below.)
Potty Training
On two occasions, his diaper was completely dry after nap. *Impressed Mummy*
In the morning, his diaper is less soaked than before and he can frequently hold the first pee (A LOT!) until sitting on the potty
Sleep
Naps are near-perfect as he falls asleep rather easily and through 1.5 to 2 hours. No more nursing during naps. Yay, freedom at last!
Mr. Fussy Sleeper FINALLY relaxes enough to doze off in the car-seat or stroller when he is tired and ready to nap. (Instead of screaming his lungs out.) He even continued sleeping when I carried him out at home. This has NEVER ever happened in the past.
His recent best performance at night: sleep for about 2 hours, fuss and let me soothe him back to sleep with light patting. Then suckle only once during early morning, and continue sleeping. I can finally declare that he is sleeping through the night, at 18 months old.
I am a happy and well-rested Mummy who is suddenly dreaming of organising play-dates and attending Pilates lessons. I seriously need to enjoy life before having baby #2! Time to practise my rusty driving skills again.
—
Need Your Help: Mums-who-drive, how should I overcome fears of driving alone with a potentially-fussy toddler?
—
P.S. View more developmental milestones (from 8 months old onwards).
P.P.S. Our latest homeschooling updates are posted at MummysHomeschool.com HERE,