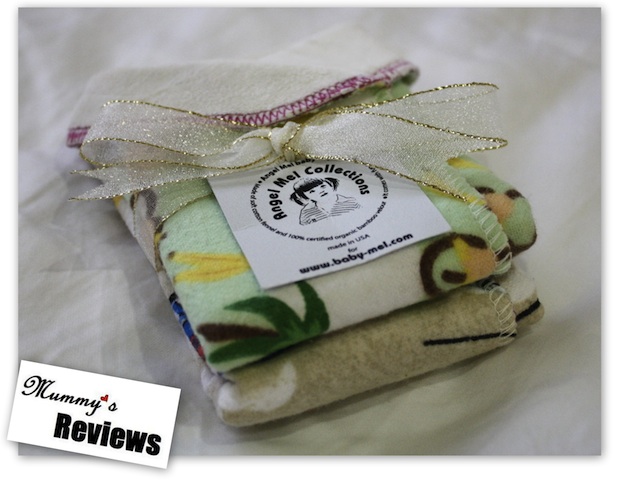 After 18 months, most of Vee's original stash of low-cost cotton washcloths have been stained (by food) or torn at the hems. They are small and slightly rough, which aren't gentle enough for Vee's eczema-prone face. He has 18 cloth wipes for his bums and 3 for baths, yet none for his delicate face. Just in time, I received a set of two organic bamboo cloth wipes from baby-mel.com to review.
What are Modern Cloth Wipes?
Modern cloth wipes are quite different from the washcloths commonly seen in baby stores. They are usually made from premium quality fabrics that last through many washes. Fabrics such as cotton sherpa terry and bamboo velour are able to grab messes well, so are great for wiping food-smeared faces after meals or cleaning up the messiest poopy bums. When baby has a runny nose (*touch wood*), using soft cloth wipes are much kinder to the skin than bleached tissue paper or chemical-laden disposable wipes.
About Angel Mel Organic Bamboo Baby Wipes
These are the main features of the wipes:
Upper layer: 100% cotton flannel
Lower layer: 100% certified organic bamboo velour
Country of origin: Made in U.S.A.
The wipes are available in Plain, Gender Neutral, Boy and Girl prints.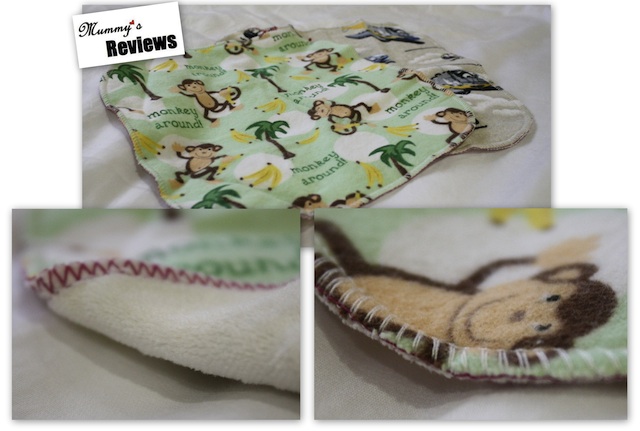 First Impressions
As a fan of origami, I like that the wipes are creatively folded into shirts. This would be a practical and pretty door gift for events or parties. The wipes are sooooo… soft and smooth; I simply love bamboo velour!
How We Tested It
Laundry: The laundry instructions state "machine wash 30°C", "do not tumble dry" and "hand wash with warm soap water". I actually took the risk and broke ALL three laundry "rules". Occasionally, I handwash the wipes with cold water. Usually, I put them into a laundry net and machine-wash them at 40°C with tumble drying at high speed, together with the daily load of clothes and cloth diapers. After a month, they still remain soft and smooth. Phew!
Effectiveness: Vee has eczema-prone skin, especially on his chin and cheeks. Therefore, we need to wipe his mouth very regularly and thoroughly. I'm sure you know how babies eat — cereal, rice, milk, yoghurt, bananas, etc. smeared all over the face, especially when they insist on feeding themselves. The bamboo velour side of the wipe grabs the mess well while being ultra-gentle on the skin.
The price of a set of two wipes is RM19.90 (~USD6 or SGD9). Since it is on the high side (expected of organic fabrics), I'd suggest using them exclusively for the face or as gifts, instead of the bums.
—
What we like about it:
Fabric remains soft and smooth even after 1 month of regular washing
Grabs food messes well
Machine washable
Available in cute prints
Attractive packaging makes it a presentable gift
What can be improved:
Allow choice of specific prints since I prefer using different prints according to purpose or family member
—
Get Your Own
To get your own Angel Mel Organic Bamboo Baby Wipes and a wide range of organic products for Mummy and baby, visit baby-mel.com.
—
Disclosure: I received a set of two Angel Mel organic bamboo wipes for review.