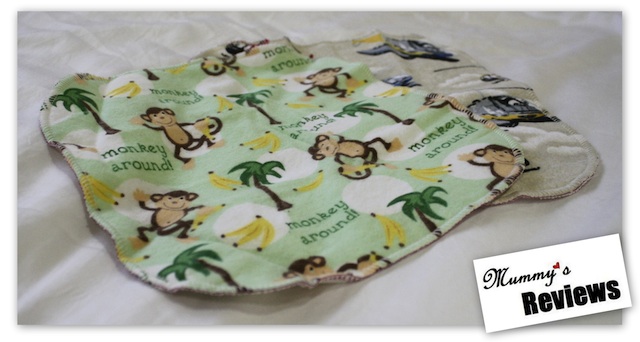 Just after I cleaned Vee's poopy bums with cloth wipes, this question from Joey reached me via email:
Hi MieVee, I have several Happy Heiny's cloth wipes which are not put to good use yet. I've tried using them to clean my baby's bum after he pooped but the affair seemed messy. May I know how do you use the cloth wipes in cleaning poop? Dip it into the water, wipe bum and dip into water again or use a clean cloth wipe? Hope you can explain. Thanks!
Why Use Cloth Wipes?
For the benefit of mums new to this idea, these are my reasons for converting to cloth wipes:
Cloth wipes clean more effectively than cotton wool: In the early weeks, we used cotton wool dipped in cooled boiled water. It was a tedious and messy affair — need to stock up on cotton wool, tear the roll into small pieces, keep in a container, hard to clean big poo mess well, and lint flies all over the place, making me sneeze. Hubby and I could complain ALL DAY about using cotton wool on a baby who poo-ed up to 11 times a day!
Cloth wipes clean more effectively than disposable baby wipes: Cloth wipes made of fabric such as cotton sherpa terry or bamboo can grab poopy mess very well. Usually 2 are enough per poopy bum. For the king-of-poo-messes (think 1 poo in 4 to 10 days — normal for breastfed babies), 4 wipes are enough. Disposable baby wipes are thin and skimpy, so many are needed for a big mess.
Cloth wipes clean baby up without unnecessary chemicals: We used disposable baby wipes when cotton wool ran out and Vee's super-sensitive skin would start turning red. Our nurse advised us to rinse the baby wipes before using them. (Duh, what's the point of getting wet wipes then?!?) My Pigeon Baby Wipes recycled box states "Methylparaben" among its list of ingredients. I try to avoid parabens in our skincare products because of its controversy linked to breast cancer. (To find out more about parabens, read this on Wikipedia.)
Cloth wipes don't expire: I received 6 packs of free AVENT baby wipes when we bought our steriliser. They expired even before Vee was born! They were recycled to clean the house. (Always check the expiry date of wet wipes. The discounted ones are suspects nearing expiry.)
Cloth wipes don't run out: With a decent stash of 18 wipes and daily laundry, we have never run out of cloth wipes, even on a breastfed pooping-machine. Even if they are washed and still damp on a rainy day, they can be used. No running out means no constant checking for best buys, no running to the stores to stock up, no taking up precious wardrobe space.
Cloth wipes save money: I spent RM82.50 on 15 cloth wipes (3 wipes were free) and that was all. Assuming Vee uses 10 Pigeon Baby Wipes a day, he'd need 3,650 wipes after 1 year. That's 52 packs of Pigeon Baby Wipes (70 pieces per pack), costing RM312 (based on RM6 per pack bought in bulk), for the FIRST year only. I'd rather use the money to build his education fund.
Cloth wipes don't need me to carry a fussy baby to the bathroom and risk slipping 10 times a day: My confinement lady is an expert in washing Vee's poopy bums over the sink. But as a first-time mother, I certainly wasn't confident of doing that, especially when he poo-ed so many times a day. And definitely not when he already weighed 9kg at 6 months old! Changing him on the changing table is my comfort zone.
How to Clean Poopy Bums Using Cloth Wipes?
Things to get ready:
Stash of cloth wipes (I have 18 on rotation and never run out):

Tip #1:

one side of the cloth wipe should be made of fabric good at grabbing messes, for. e.g. cotton sherpa terry or bamboo velour. Tip #2: Use same print for bums purpose to avoid confusion with those for baby's face!
Flask of cooled boiled water (I used this in the first 6 months when cooled boiled water is recommended for cleaning babies.)
At home: Small tub
Outdoors: Small squirt bottle with "lock" (I recycle a makeup remover bottle.)
An alternative to using cooled boiled water is a wipes solution without preservatives. Personally, I find this unnecessary and cooled boiled water has worked fine for us.
Steps (At Home):
Pour water into small tub (For older babies, simply wet cloth(s) using drinking-quality tap water.)
Wet 1 or more cloth wipes in water. Wring a little. (Experience with your baby will tell you how many to prepare.)
Open up poopy cloth diaper.
Use the rough side to grab poo mess (For baby girl, always wipe from front to back.)
Place poopy cloth wipes into poopy cloth diaper.
Close up the cloth diaper and place it into a dry pail.
Steps (Outdoors):
Pour cooled boiled water / tap water into small squirt bottle and place in diaper bag.
Squirt water onto 1 or more cloth wipes.
Open up poopy cloth diaper.
Use the rough side to grab poo mess (For baby girl, always wipe from front to back.)
Place poopy cloth wipes into poopy cloth diaper.
Close up the cloth diaper and place it into a wet bag.
For fully breastfed babies (not started on solid foods), the poo is water soluble, so you may throw everything into the washing machine without spraying. Otherwise, on wash day, spray the poopy cloth wipes together with poopy cloth diapers before washing.
Line-drying under the sun would remove any stains naturally.
Cloth wipes can also be used for potty-training babies and toddlers who poo into the potty. (Read 18 Sure-Fire Tips to Early Potty Training Success in case you missed it.) Happy poop-cleaning!
—
Read reviews of cloth wipes here.
—
Sharing Time: What are your favourite cloth wipes?