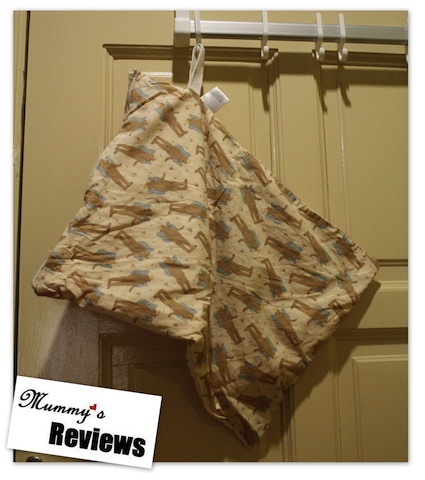 I bought this Wahmies Fun Prints Wet Bag (All Day) in Angel Bears print from Babe Hause during a clearance sale. Since then, this portable laundry bag has accompanied us to every out-of-town and overseas trip.
About Wahmies Fun Prints Wet Bag (All Day)
These are the main features of the wet bag:
Outer layer:

Printed fabric

Inner layer: Waterproof polyurethane laminated (PUL) fabric
Loop handle: Yes
Extra: Sewn in 2.5″x5″ pad of hemp french terry or hemp fleece (You may place a few drops of essential oil to help control odour.)
Dimensions: Approximately 16″ (width) x 20″ (height)
Capacity: Up to 1 day of laundry
Country of origin:

Made in the U.S.A.
There are many beautiful prints to choose from.
First Impressions
Angel Bears isn't my ideal type of print. I'd prefer something brighter and more cheerful. Since this was the only design left on clearance, I bought it.
The little piece of fabric wasn't sewn onto my wet bag. I am not bothered by this as I don't use essential oil anyway. Perhaps this is the reason for its clearance.
Our Experience Using It
Laundry: It has stood up to washes after 1 year of use and still look as good as the day I received it.
Performance: I use it to store Vee's dirty laundry and cloth diapers in the hotel room or my mum's place. It can be hooked behind the door, on the door knob or anywhere convenient. The capacity is big enough to hold 1 day's worth of laundry. The waterproof PUL layer keeps any dampness in, while the zip prevents odour from escaping.
When my Medium wet bag is in the wash, I'd put this large wet bag in the diaper bag. It is rather compact after folding.
The retail price of this wet bag is USD18.50, while I bought it at RM55 (about USD17.70). The lasting quality is worth the price.
—
What we like about it:
High quality fabrics and materials that last through many washes
Loop handle for hooking onto anywhere convenient
What can be improved:
The little piece of fabric wasn't sewn onto my wet bag.
—
Get Your Own
To get your Wahmies Fun Prints Wet Bag, search for a Wahmies' retailer.
You may also check the price at Amazon.com here Wahmies Fun Prints Wet Bags – All Day
*
—
Disclosures: I bought my own Wahmies Wet Bag and simply wanted to review it.
*: affiliate link to support the growth and maintenance of Mummy's Reviews™