Before revealing the bag, just a short update here… In case you've been wondering, I'm still very much alive. My 1-week vacation back to Singapore has been absolutely splendid!
Besides spending time with family (which means THREE babysitters), I received several interesting product samples from sponsors based in the little sunny island. So stay tuned for these upcoming reviews:
bumGenius 4.0 One-Size Cloth Diaper
Weehuggers Diaper Cover
Bummis Diaper Covers, Organic Cotton Prefolds and Liners
Flip One-Size Disposable Inserts (Updated from the first version reviewed here)
Moo Moo Kow™ One-Size Microfibre Insert
The Pat-a-Cake Baby Wet Bag
Bummis Wet Bag
wee-be-gone™ Hobo Bag from weehuggers
PUDDLETON BABY Diaper Changing Mat Clutch
Some of the designer fabrics look soooo yummy-licious. Yes, I'd be indulging in diapering Vee for months to come…
The Blunder and The Bag
And while bringing the samples home with Vee, I made a BIG blunder:
It was tough packing all our stuff plus the samples into my luggage and still keep within the 20kg limit. I (very unwillingly) left some Drybees Pocket Diapers, diaper inserts, clothes and Tony Buzan's book (Brain Child: How Smart Parents Make Smart Kids
*) with my Mum — these weighed around 5kg.
To relieve more weight from the check-in luggage, my diaper-bag-cum-handcarry-luggage was stuffed until it nearly exploded.
In total, I was lugging home a 12kg toddler (who napped 2 hours in my beloved Beco carrier), 22kg check-in luggage, 7kg diaper bag, a handbag AND a 6kg stroller. That's a whopping 47kg!!! The 7kg diaper bag nearly killed my shoulders.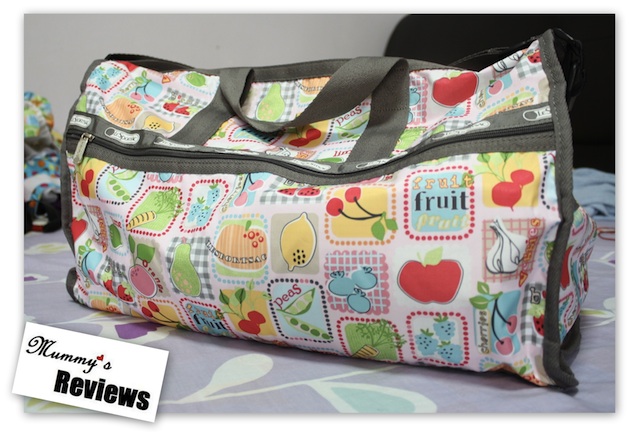 Then upon reaching my seats onboard the plane, I realized I'd 2 tickets, not 1! That means my baggage limit was actually 40kg and not 20kg! Ahhhhh!!! I should've dumped the 5kg of left-behinds and more items from my diaper bag into the check-in luggage. Why didn't I realise this earlier?!?
Now my poor shoulders need a rest. Enjoy your weekend!
—
P.S. The bag in the picture is a LeSportsac Extra Large Weekender, which I grabbed at 50% off during a sale. It is my must-have handcarry luggage for every flight with Vee. Cloth diapers, wipes, several wet bags, packed meals and snacks, water bottles, toys and my MacBook laptop fit in, with room to spare. During the trip, it dual-functions as a huge diaper bag. When it's stuffed till heavy, I hold it by the strap, never by the handles, to prevent tearing. Since it is made of cloth, washing it is a breeze.
—
*: affiliate link to help support the growth and maintenance of Mummy's Reviews™