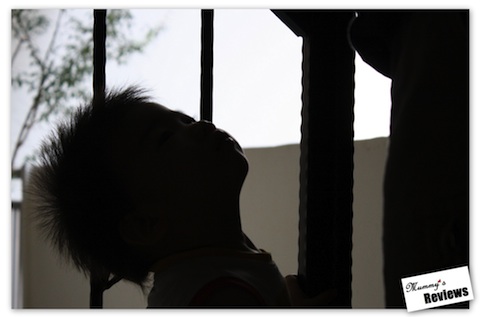 Inspiration this month: I hope to be a Mummy whom Vee looks up to!
Here goes Vee's progress…
Learning & Communication
After mastering his Chinese name, he is now learning to say his English name and age: "My… is Vee!" and "I… two… old!"
With his progress in speech, we realise that he knows MANY books and songs by heart. One of our favourite activities is to pause while reading or singing, allowing him to fill up the blank.
He knows the sequence of numbers (1 to 10) in English, Chinese and Bahasa Melayu, pronouncing some of the words rather clearly.
We have FINALLY completed 1 cycle of The Shichida Method's 63-Day Lightning Rapid Calculation Programme, spending an extra month, since we skip the programme during busy weekends.
Currently, his favourite book is The Very Hungry Caterpillar by Eric Carle*, which we go through twice a day before nap and bedtime. Amazingly, he remembers the entire story, including the sequence of the TEN items that the caterpillar ate on Saturday. (This is similar to the  linking memory exercise we do in The Shichida Method).
Motor
He grips the pen very well and enjoys doodling.
Walks up the stairs by holding on to the wall for support
An expert at fork-feeding and getting much better at spoon-feeding.
Diet & Feeding
He loves drinking watermelon juice and can down a glass after a full meal! Of course, this is restricted to about once a week.
Night-weaning is successful! This means he has been weaned off the breasts for about 2 weeks. A full-stop to our once-in-a-lifetime breastfeeding relationship.
Potty Training
No significant progress from last month. Sometimes he tells me before pee-ing; sometimes he's engrossed with activities and REFUSES to let me remove his wet diapers.
In the day, we're using more of prefolds without any stay-dry layer. And change after every pee, which is about 1 per hour.
Sleep
Besides sleeping through the night, Vee has weaned himself off the early morning feed. Which means he can last 12 hours without any food — counting from his last milk feed to breakfast. His body has adjusted by taking in more milk during supper.
Vee is such a pleasant boy at this stage and I really love it!
P.S. View more developmental milestones (from 8 months old onwards).
P.P.S. Our latest homeschooling updates are posted at MummysHomeschool.com HERE,
—
*: affiliate link to support the growth and maintenance of Mummy's Reviews™