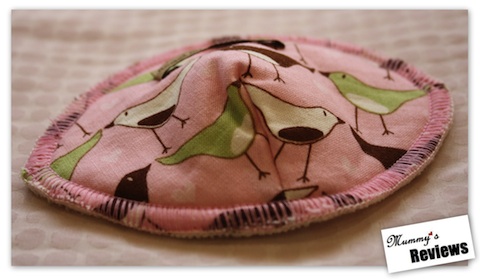 Since disposable nursing pads threatened to break my wallet and adhesives were irritating, I swopped to cloth ones a long time ago. Just as my 3 pairs of cloth pads are getting worn out from hundreds of washes, I received a pair of Angel Mel Hot Mama Organic Nursing Pads from baby-mel.com to review.
About Angel Mel Organic Nursing Pads
These are the main features of the breast pads:
Top layer (next to skin): Bamboo velour (natural, undyed cream colour)
Inner core: Organic hemp
Outermost layer: 100% merino wool
Country of origin: Made in Malaysia
The pads are available in a range of prints designed by Robert Kaufman.
First Impressions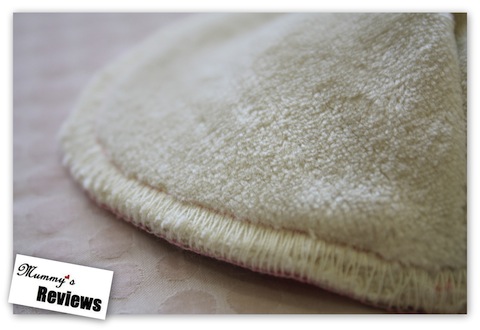 Oh my, these nursing pads are: Lovely. Super-soft. Super-smooth. I've a soft spot for bamboo velour and prints, and these nursing pads hit both right on!
How I Tested Them
Laundry: After every shower, I simply handwash the pads in cold water, wring and hang dry. After 1.5 months, they still remain soft and smooth.
Comfort: I have eczema and was initially concerned about the merino wool on the outside. The wool did nothing to my skin, since it faced outside anyway. The pads felt very comfortable and cool, which is fantastic for hot and humid weather. A concern is that the pointed tip of the nursing pads could show against thin bras and clothes. It's better to use them with T-shirt bras.
Effectiveness: I've never been "leaky" (in between breastfeeding sessions) and already started weaning Vee when testing the nursing pads. So I experimented by pouring water slowly on them. They absorb A LOT!
The price of a pair of nursing pads is RM38.90 (~USD12 or SGD16). Since the materials are organic, very comfortable and come in prints, the price is considered reasonable. They'd still be much cheaper than disposable nursing pads, anytime.
—
What I like about it:
Fabric remains soft and smooth even after 1+ month of regular handwashing
Absorbent
Available in cute prints
What can be improved:
Update design to remove the pointed tip
—
Get Your Own (with Discount & FREEBIE!)
To get your own Angel Mel Organic Nursing Pads and a wide range of organic products for Mummy and baby, visit baby-mel.com.
Special Treat 1: 15% discount on Angel Mel Organic Nursing Pads
Special Treat 2: Free flannel pouch with purchase of every two (2) pairs of nursing pads
Discount Code: LZEF37T09BQ6Y
Validity Period: 14 October to 15 November 2010
—
Disclosure: I received a set of Angel Mel organic nursing pads for review.