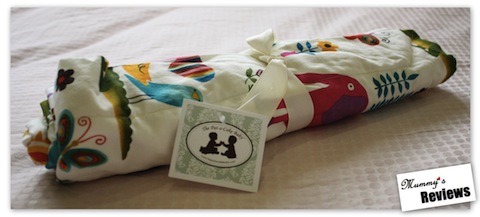 Welcome to Mummy's Reviews™' Stylish Mum's Essentials series! In this series of 3 articles over the week, I'd be sharing with you baby products that up your style factor when shopping with baby.
Mutya, co-founder of Spinkie, approached me to review her store's products. Spinkie is a Singapore based online store that specialises in stylish baby products handmade by designer Mums and Dads. Ooo… its store is full of blankets, bibs and dresses made from lovely printed fabrics! I chose to review The Pat-a-Cake Baby Blanket in Alexander Henry's popular "Juicy Jungle" print.
About The Pat-a-Cake Baby Blanket
These are the main features of the blanket:
Upper layer: Made of 100% cotton, printed, quilting fabric
Lower layer: Made of minky-dot fabric
Dimensions: About 30″ x 23″
Country of origin: Made in the U.S.A.
The blankets are available in a range of lovely designer prints.
First Impressions
The baby blanket arrived in an adorable bundle, shown in the first picture above. After opening the bundle, Vee and I wowed at the attractive pictures of animals. He happily pointed out the elephant, lion and giraffe.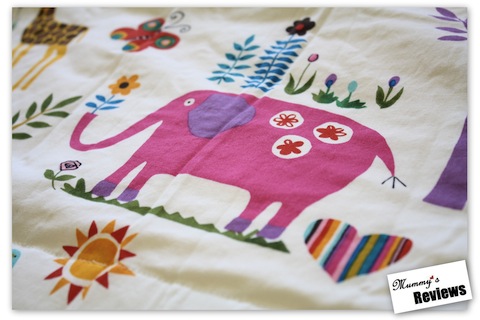 The minky fabric felt very soft and plush, and I couldn't help running my hands over the dots many times.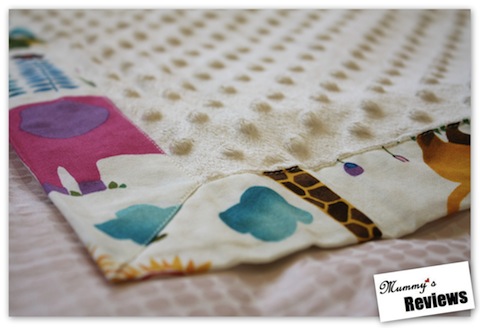 How We Tested It
Laundry: Before initial use, I handwashed it once, and it remained soft. In the middle of our recent trip, I washed it using the washing machine and dried it on warm. It remained as soft as before.
Comfort: It felt very plush and comfortable against my skin, when I used it to cover my tummy in case Vee wanted to nurse at night. When he didn't nurse anymore, I used it to cover his feet at night, which usually lasts only a few hours because he kicks all blankets off. Initially, I thought this lovely blanket has a chance of being his comfort blanket. Hmm… no luck, he still loves clinging on to me in the middle of the night.
Size: Since it's rectangular, it can't be used to swaddle a newborn. Being smaller than our other baby blankets makes it the ideal stroller or travel blanket.
Each blanket is retailing at USD35, which is still reasonable as it comes in attractive designer prints, quality fabrics and excellent workmanship. It's suitable as a stylish stroller blanker for outdoor trips. Or your fashionista girl-friend would love it as a beautiful baby shower gift.
—
What we like about it:
Trim — perfect as a stroller or travel blanket
Unique minky-dot fabric, with irresistible texture
Beautiful print that livens up the nursery or stroller
Machine-washable for easy maintenance
What can be improved:
Specify content of fabrics used (I found out the content from the sponsor, Spinkie.)
—
Win Your Own
THREE (3) lucky subscribers will win a The Pat-a-Cake Baby Blanket worth USD35 each!
This is how to participate:
Send an email to me (MieVee [at] MummysReviews.com) with the following information:

Method of subscription: in a reader or via email
Your name
Your name in Facebook (to get extra entry mentioned below)
Visit Spinkie and tell me (in your email) your favourite print (among the blankets priced at USD35)
If you are a new reader, mention how you got to know of this Giveaway
Blog / Website URL, if any (to get extra entries mentioned below, indicate URL of your exact post)
To get EXTRA entries:

1 extra entry (unlimited total): For each participant referred by you (e.g. through sharing the Giveaway on Facebook / Twitter / email)
3 extra entries: Share this Giveaway on your blog / website
Other Information
This Giveaway is open to subscribers with a mailing address worldwide (except countries that don't allow participation in lucky draws).
It will run until 7 November 2010 (Sunday) 2359hr (GMT+8).
If you are one of the winners, the print of your blanket depends on the stock available.
The usual Giveaway Terms apply.
Send in your entries now and good luck!
—
Get Your Own (with Discount!)

To get your own The Pat-a-Cake-Baby Blanket and a wide range of stylish products for baby, visit Spinkie. Be prepared to drool at all the designer prints!
Special Treat: 20% STOREWIDE discount
Discount Code: 20MUMMY2010
Validity Period: Until 31 December 2010
—
Disclosure: I received a The Pat-a-Cake Baby Blanket for review.
—
P.S. More articles in this Stylish Mum's Essentials series: