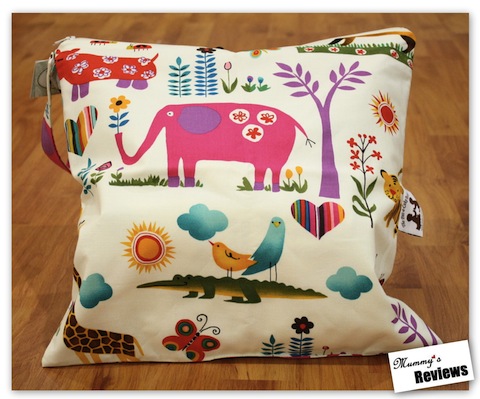 Welcome to Part 2 of Stylish Mum's Essentials series! Spinkie gave me the opportunity to review The Pat-a-Cake Wet Bag, which is the perfect match to The Pat-a-Cake Baby Blanket in the same Alexander Henry's popular "Juicy Jungle" print. In case you're new to Mummy's Reviews™, read the many uses of wet bags and why I never have enough of them here.
About The Pat-a-Cake Wet Bag
These are the main features of the wet bag:
Outer layer: Made of printed cotton fabric
Inner layer: Made of waterproof ProCare fabric
Loop handle: Yes, with snap button
Dimensions: (Large) About 14.5″ x 14.5″
Capacity: 4 to 6 cloth diapers (Actual test: up to 8 cloth diapers)
Country of origin: Made in the U.S.A.
The wet bags are available in 2 sizes (small or large), and a range of lovely designer prints.
First Impressions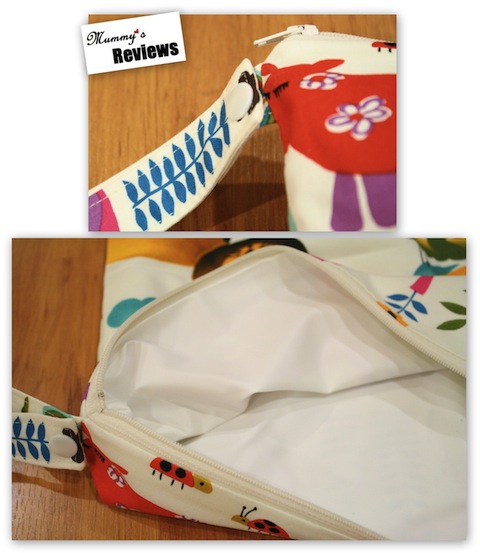 The wet bag is beautiful, big and roomy. I like the snap handle, which means it'd be easy to attach it to the stroller, diaper bag or virtually anywhere convenient.
The is the first time that I try a wet bag with ProCare as waterproof barrier. ProCare feels thicker than polyurethane-laminated (PUL) fabric. It also gives off an odd smell, which is common with new plastic items. Suddenly, a thought ran through my mind, "Please don't let this contain PVC!" If it contains PVC, I wouldn't use it (see note at the bottom).
As a cautious Mummy, I did a search on ProCare. Wazoodle says that it contains 25% polyester and 75% vinyl. It is a proprietary formulation that does not contain DEHP, Phlalates or BPA plasticizers. Furthermore, the barrier fabric comparison page mentions that ProCare is of higher duty than PUL and can withstand more washes. This convinces me that ProCare is a safe fabric to use and puts my mind at ease. Phew!
How We Tested It
Laundry: Before initial use, I handwashed it once. I didn't like the lingering odd plasticky smell, so aired it by the window for 2 days. After another wash, the smell finally disappeared.
Performance: During our recent trip to Perth, this became our spare wet bag in the diaper bag, since we went out every day for a week. It's thicker than my usual PUL wet bag, so takes up a little more space in the diaper bag. But that's a marginal difference.
It's very spacious, and can actually hold up to 8 medium and large cloth diapers, instead of 4 to 6 as described. As what wet bags should do, it successfully keeps dampness and smell in.
Each large wet bag is USD25, while the small version is USD18. This is reasonable as it comes in attractive designer prints, quality fabrics and excellent workmanship, the same qualities found in The Pat-a-Cake Baby Blanket. For a short trip, it is pretty enough to hang on its own by the stroller. And yes, your fashionista girl-friend would definitely love it as a baby shower gift.
—
What we like about it:
Loop handle with snap button for attaching to anywhere convenient
Durable ProCare fabric that can last many washes
Beautiful print that livens up the nursery or stroller
Machine-washable for easy maintenance
What can be improved:
Specify content of fabrics used
Air the ProCare fabric beforehand to remove the odd smell
—
Win Your Own – CLOSED
THREE (3) lucky subscribers will win a The Pat-a-Cake Wet Bag (Large) worth USD25 each!
This is how to participate:
Send an email to me(MieVee [at] MummysReviews.com) with the following information:

Method of subscription: in a reader or via email
Your name
Your name in Facebook (to get extra entry mentioned below)
Visit Spinkie and tell me (in your email) your favourite print among the wet bags
If you are a new reader, mention how you got to know of this Giveaway
Blog / Website URL, if any (to get extra entries mentioned below, indicate URL of your exact post)
To get EXTRA entries:

1 extra entry (unlimited total): For each participant referred by you (e.g. through sharing the Giveaway on Facebook / Twitter / email)
3 extra entries: Share this Giveaway on your blog / website
Other Information
This Giveaway is open to subscribers with a mailing address worldwide (except countries that don't allow participation in lucky draws).
It will run until 12 November 2010 (Friday) 2359hr (GMT+8).
If you are one of the winners, the print of your wet bag depends on the stock available.
The usual Giveaway Terms apply.
Send in your entries now and good luck!
—
Get Your Own (with Discount!)


To get your own The Pat-a-Cake-Baby Wet Bag and a wide range of stylish products for baby, visit Spinkie. Be prepared to drool at all the designer prints!
Special Treat: 20% STOREWIDE discount
Discount Code: 20MUMMY2010
Validity Period: Until 31 December 2010
—
Disclosure: I received a The Pat-a-Cake Baby Wet Bag for review.
—
Read why PVC is known as "The Poison Plastic" here
—
P.S. More articles in this Stylish Mum's Essentials series: